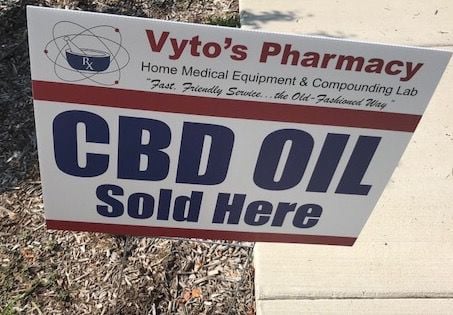 A Colorado processor of industrial hemp plans to open one of Indiana's first factories to produce cannabidiol, the CBD that's being sold across the Region at pharmacies, health food stores, vape shops, gas stations and even a fireworks store.
Denver-based PHM Brands LLC plans to open a new plant in Michigan City that would be one of the state's first large-scale producers of CBD since the farm bill that became law in December legalized hemp and CBD production.
PHM Brands, a vertically integrated food manufacturer that makes agricultural-based specialty ingredients and blended products, had purchased the Prinova wheat germ plant in Michigan City but found demand and sales were so low it decided to convert it to industrial hemp processing and CBD production, said Economic Development Corp. Michigan City Economic Development Manager Jenilee Haynes Peterson.
The company is keeping the Prinova employees at the plant and expanding by hiring 32 more workers at an average wage of about $20 per hour.
"Michigan City has become a top location for companies looking for a competitive advantage. Our location, quality of life and workforce are key assets for a growing business," Michigan City Mayor Ron Meer said.
"I am happy to welcome another corporation to our community that is bringing more high-paying jobs for our residents."
PHM Brands is investing $6 million in the first phase of the project and plans to hire another 20 workers in the second phase, likely sometime within the next five years, Haynes Peterson said.
"They will be hiring for manufacturing positions. There will be a few supervisory positions."
PMH Brands secured an industrial hemp research license in February and is one of the few companies in Indiana that has one.
"Michigan City was an easy choice for us after we had an opportunity to look at surrounding states and communities," PHM Brands partner John Mason said.
"The city staff and the EDCMC were very helpful and responded quickly to our needs and concerns. Michigan City customer service was impeccable and we are looking forward to being part of your community."
CBD has been soaring in popularity in Northwest Indiana, turning up everywhere from lattes to bath bombs to skateboard shops. People have been using it to treat a number of conditions, including neuropathy, epilepsy, Parkinson's, inflammation, chronic pain, depression and anxiety, though some academics caution more research is needed into its efficacy.
It's being sold at many retailers like the Blackbird Hemp dispensary, Baums Natural Foods, Willy's Works Fireworks, Island Nutrition Smoothie & Juice Bar, Vapin in Valpo, and Revolution Valparaiso, and is being fused into everything from gummies to smoothies.
The business news you need
With a weekly newsletter looking back at local history.