Q: I can't find anything on using Lady Bird deeds in Indiana. Does Indiana recognize them and if so, can any attorney prepare them?
If the settlor is disabled rather than deceased, make sure that you have complied with the requirements to assume your position. 
Wow, it's 2020 folks. Not only have we started a new year, we've started a new decade. Although it's been a turbulent 10 years, I think I'm go…
Obviously everything is online these days. If you search your town and "estate planning attorney," my guess is that you you'll get a number of names.
Capital gains are subject to capital gains tax and should be picked up on your personal tax return.
Q: You recently wrote that people shouldn't put funeral instructions in their wills and that they should use a funeral declaration instead. Wh…
I received an interesting text from a buddy over the Thanksgiving holiday. The text read "Does my wife need to be on the mortgage? She isn't o…
Q: What happens if you can't find the will?
Q: My parents are in their 70s and they don't have anything planned. I've spoken with them about the importance of planning. My mom is willing…
Q: Does a Power of Attorney ever lapse? What happens if I change my mind and want to take the Power of Attorney back? Can the Power of Attorne…
Q: How can I leave my home to my son and then have it transfer to my other children so that they can sell it?
Q: We named our daughter health care representative several years ago. She is now married. Do we need to update the document or can she just p…
This past weekend, my wife and I attended her cousin's wedding. The bride was beautiful and everyone had a great time; until they didn't.
Q: I want to favor my son over my other children because he is the one who has been taking care of me. Will it lead to problems if I leave him…
Q: I had a real estate agent tell me that you can't sign a deed using a power of attorney. Is this correct?
Q: I read your column on planning for your pet. Do people really leave money to their pets?
Q: What do you do if a bank won't retitle an account into the trust?
Q: Can you temporarily change a will?
As I write this column today, people are celebrating National Dog Day. Yes, that's actually a thing — at least on Facebook.
Q: I am the trustee for my parent's trust. I am attempting to sell some stock owned by the trust, but I need to get a notary guarantee and the…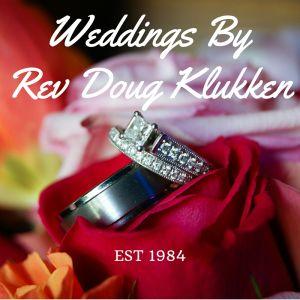 Weddings by Rev. Doug Klukken - NWI Wedding Officiant
Q: We provided our investment adviser with a copy of our trust. He asked for a copy of our wills also. We told him we didn't have wills becaus…
Q: My father has created numerous wills. Is there a point where he has to make a final decision and stop with all of the changes?
Q: If a person has a living will, why do they need a living trust?
Q: Does an heir of an estate or a trust need an attorney?
Q: What happens if a person who is an heir in an estate dies before the estate pays out the inheritance? Would it be any different if it were …
Q: In order to claim insurance benefits, the insurance company has asked me to send it Letters Testamentary or Letters of Administration. The …
The other night I was watching the news when a segment entitled "Digital Afterlife" came on. I know it's a little weird but I get excited when…