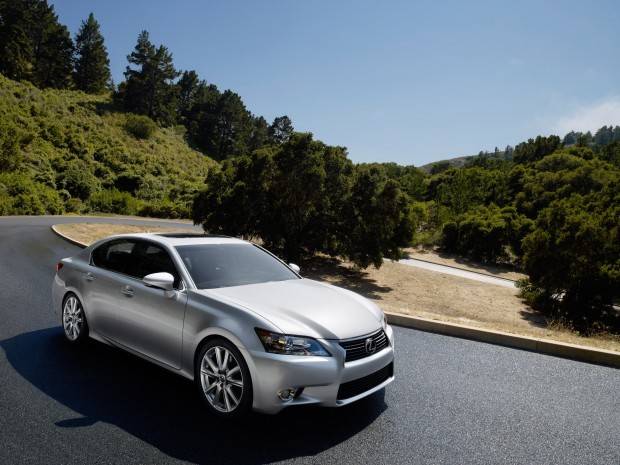 Toyota's luxury brand Lexus closes 2011 with the introduction of the 2013 Lexus GS 350.
The Lexus GS and stable mate ES models occupy the premium brand's midsize sedan segment.
For 2013, sporty styling punctuates the Lexus GS 350 with a redesigned front–end highlighted by carved headlamps, a deep–drop, two–tier grille and sculpted lower valance.
Out back, muscular contours dominate the GS taillight treatment and rear haunches anchored by geometric exhaust ports that announce GS's true dual exhaust system.
The 2013 Lexus GS 350 power is generated is by a 306 horsepower, 3.5–liter V6 engine mated to a six–speed transmission to manage its rear– or all–wheel drivetrains.
Buyers looking to raise the Lexus GS driving dynamic may opt for the F Sport package available on rear– and all–wheel drive models.
The rear–drive 2013 Lexus GS 350 F Sport is available with a Dynamic Handling package that adds rear–wheel steering.
Rear–wheel steering tips an additional turning angle into the back wheels relative to steering wheel input for precision control that pivots the car slightly when cornering.
An adaptive variable suspension is also offered on F Sport for driver–directed shock absorber settings controlled by a dial on the center console.
Recently, I exercised the 2013 Lexus GS 350 and F Sport models on the Las Vegas Speedway infield road course outside Las Vegas.
The standard Lexus GS delivers excellent handling with a compliant ride quality that soothes the rigors of a daily commute. Acceleration is brisk at any speed.
F Sport ramps the driving experience to a higher level as the rear–wheel steering system negotiates corners with lateral posture. Body pitch is greatly reduced for precise control akin to a sports car.
Instrumentation is intuitive and easy to manipulate without sifting through layers of fussy levels to reach common audio or climate control functions.
Both GS 350 and GS 350 F Sport feature four–door convenience to suit five occupants. Rear seat knee and legroom is roomy for adults. Front and rear head room is equally impressive in GS's leather–appointed cabin.
Buyers interested in the greener side of the Lexus GS lineup can turn to the 2013 Lexus GS 450h hybrid.
The rear–drive 2013 Lexus GS 450h pairs a 3.5–liter V6 gasoline engine with a battery–powered electric motor for a collective 338 horsepower coupled to a continuously variable automatic transmission.
Lexus GS 450h is not a plug–in electric car, yet it can travel less than 30 miles per hour on electric power only for short distances. Generally, the electric motor serves to assist the gas engine.
Driving dynamics of the Lexus GS 450h are very spirited with confident handling and control on the boulevard or when traveling at interstate speeds.
The 2013 Lexus GS 350 and Lexus GS 450h will be available February 2012. Prices have not been released.