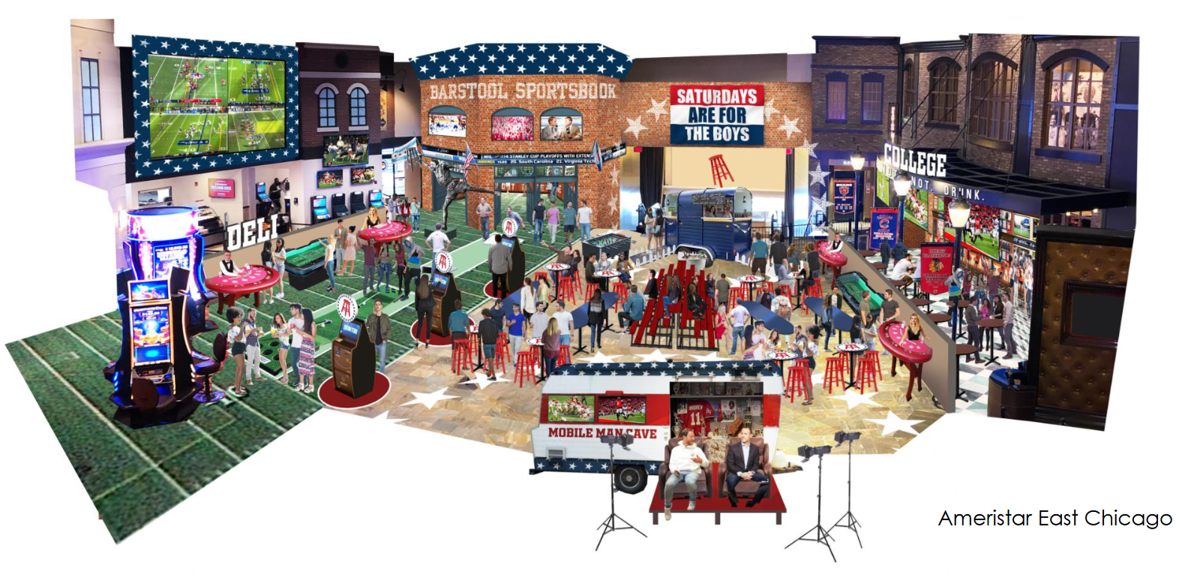 EAST CHICAGO — The sportsbook at the entrance to the Ameristar Casino will be remodeled and rebranded in December as the Barstool Sportsbook.
Jay Snowden, president and CEO of Penn National Gaming Inc., confirmed Thursday the company's East Chicago casino will be among the first in-person Barstool Sportsbooks across the company's properties.
A rendering included in Penn National's quarterly financial report shows the remodeled East Chicago sportsbook will have Barstool-themed seating, tables and mobile betting kiosks, a cornhole game area, and space for live Barstool events, among other amenities.
"It certainly has been a challenging year, and we have had to make very difficult business decisions over the last several months in response to the restrictions in place and the evolving customer visitation and volume trends," Snowden said.
"We look forward to an exciting finish to the year as we introduce Barstool-branded retail sportsbooks across our portfolio."
Penn National acquired the Barstool Sports digital media company earlier this year and launched a Barstool-branded mobile sports wagering application last month in Pennsylvania.
Snowden said the app generated total handle of $78 million across 30,000 first-time depositors in the first 37 days of operation, despite "very limited" external marketing.
He said the app has high user engagement, thanks in part to wagers promoted by Barstool personalities, and he's confident the company's Barstool sportsbook branding makes it well-positioned "to achieve meaningful and profitable market share" in the sports betting industry.
"With Barstool actively promoting our retail and online sports betting offerings to their massive and growing audience, we believe we can retain and cross sell these customers to visit our land-based casinos," Snowden said.
In addition to sports wagering improvements, Snowden said Penn National casinos are moving toward more cashless technology to improve efficiency and customer service, and appeal to a younger demographic that generally expects cashless transactions.
How Northwest Indiana casinos have changed over the past 20 years