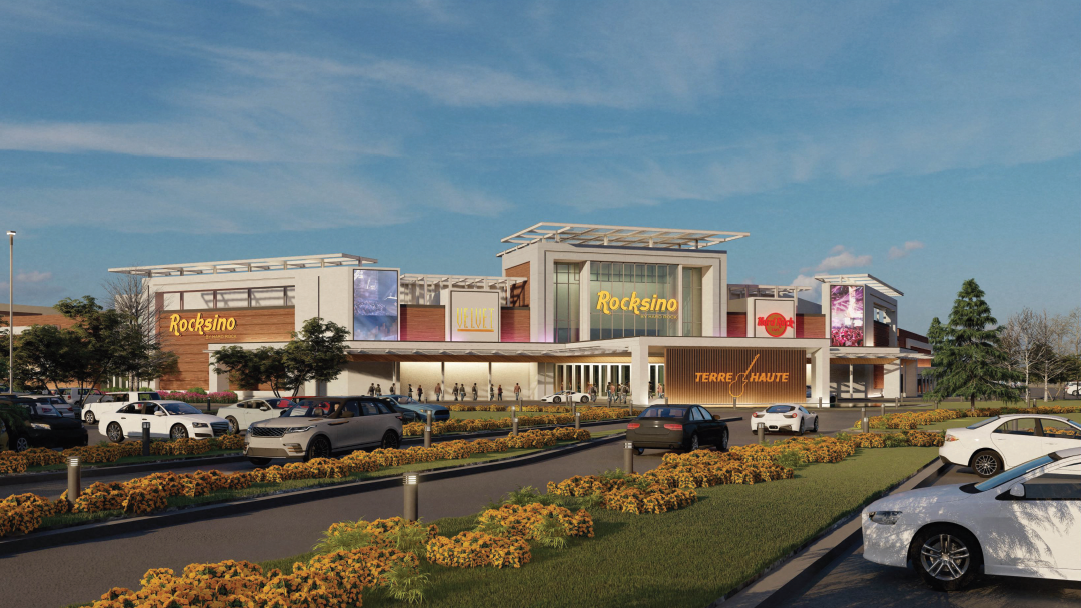 An owner's license once held by a future president of the United States when Donald Trump operated a riverboat casino in Gary was reassigned Friday for a new casino set to be built in the west central Indiana city of Terre Haute.
The Indiana Gaming Commission unanimously agreed to award the license to Spectacle Jack LLC after evaluating its plans to construct a $120 million "Rocksino," in partnership with the Hard Rock International brand of the Seminole Tribe of Florida.
The plans call for a 100,000-square-foot building on a 20-acre site located on the east side of Terre Haute, near the intersection of Interstate 70 and U.S. 40, approximately seven miles from the Illinois state line.
The music-themed casino will offer 1,150 slot machines, 50 table games, four restaurants including a Hard Rock Cafe, four bars, and a 300-seat Velvet Sessions showroom, with a hotel potentially to be added later.
Construction tentatively is scheduled to begin in September, with a grand opening in September 2021. Approximately 700 permanent employees are expected to work at the casino, which is projected to generate $26 million a year in gaming tax revenue for the state.
"I couldn't be more excited to bring to my community something that, until last year, no one even thought possible," said Greg Gibson, Spectacle Jack chairman and a lifelong resident of Terre Haute.
The relocation of the Gary gaming license to Terre Haute was made possible by House Enrolled Act 1015, signed into law by Republican Gov. Eric Holcomb on May 8, 2019.
That statute authorized Gary's Majestic Star Casino and Majestic Star II Casino, formerly known as the Trump Casino, to be consolidated onto a single owner's license, and moved to a land-based site adjacent to the Borman Expressway at Burr Street in Gary.
Ground was broken there in January for the $300 million, 200,000 square-foot Hard Rock Casino Northern Indiana that could open as soon as Dec. 31. An onsite hotel and multistory parking garage are due to be added in coming years.
The Majestic Star casinos and the Hard Rock Casino are owned by Spectacle Entertainment, which was established in 2018 by several individuals who previously owned the two central Indiana horse track casinos.
Hard Rock International will operate the new Gary casino on behalf of Spectacle once the Hard Rock Casino replaces Spectacle's gaming boats at Buffington Harbor on Lake Michigan.
Records show Spectacle Jack used to be a subsidiary of Spectacle Entertainment. But Spectacle Jack was spun off in March after the Gaming Commission began investigating two Spectacle Entertainment owners in connection with an alleged federal campaign finance violation from 2015.
Gaming Commission Chairman Michael McMains said the Terre Haute license would not have been issued if Gibson had not separated Spectacle Jack from from Spectacle Entertainment.
According to Sara Tait, executive director of the Gaming Commission, there's been no change in the ownership of the Gary gaming properties while the commission continues its investigations of Spectacle Entertainment CEO Rod Ratcliff and Vice President John Keeler.