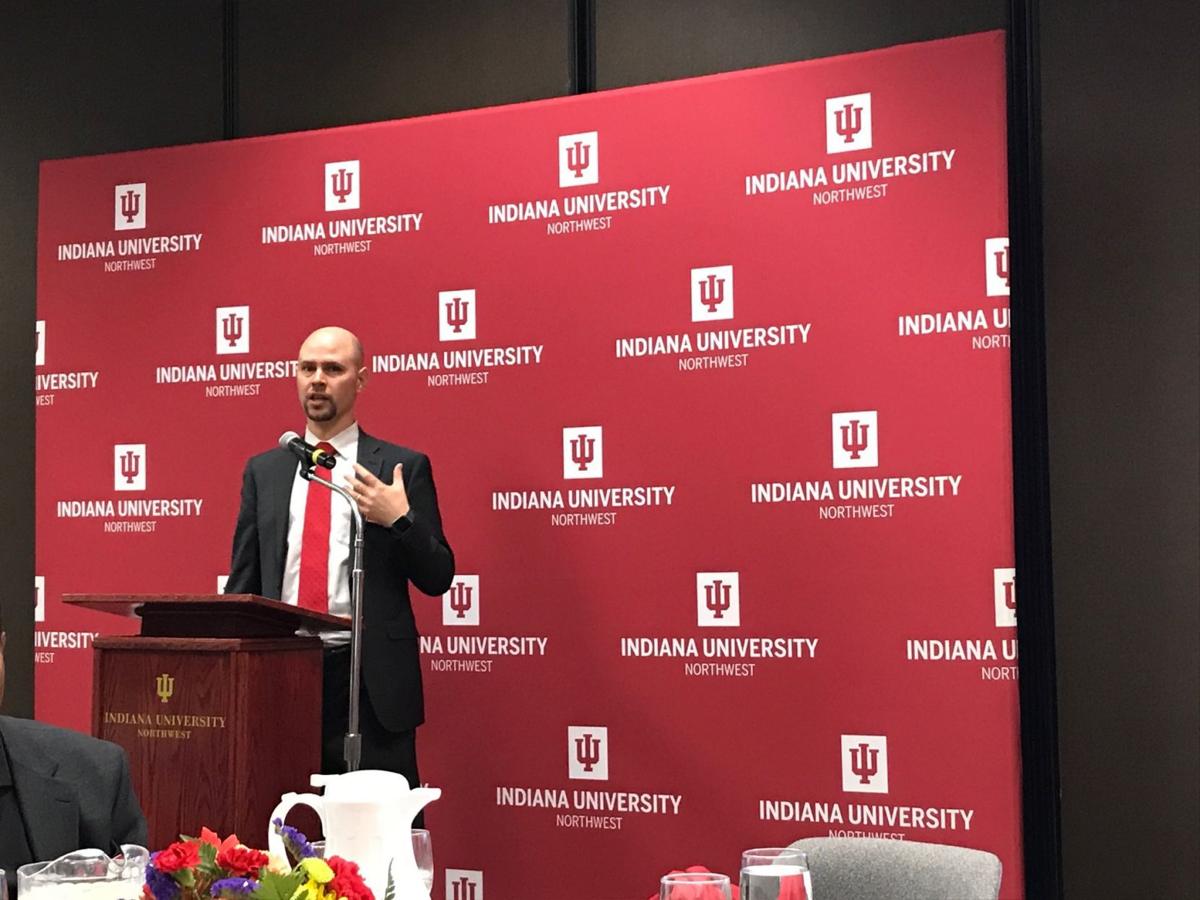 GARY — All signs point to the Region's economy growing in 2018. 
This is according to a forecast shared Tuesday during the fall meeting of the Chancellor's Commission for Community Engagement at Indiana University Northwest. Data, including new home construction, stock market performance, manufacturing output and interest rates, studied and tracked by Micah Pollak, assistant professor of economics at IUN, suggest the Region's economy will grow at a rate of 2 percent in 2018. 
"When you look at the economic variables right now, compared to our historical average, (2018) is looking a little better than 2017," Pollak said. The Region's economy is growing at a rate of 1.5 percent in 2017. 
Since 2012, Pollak and Bala Arshanapalli, professor of finance and Gallagher-Mills chair in finance at IUN, have tracked the Region's economic activity and growth through the Northwest Indiana Coincident Economic Index. Analyzing national and state economic data also helps IUN measure the region's gross metropolitan product, the total of all goods and services produced in the Region, which IUN's data defines as Lake, Porter, Newton and Jasper counties.  
Pollak said the Region's economy has grown 45.1 percent between 1992 and 2016. The Region's economy contracted 4.6 percent between 2008 and 2009 when the nation was in the Great Recession but fully recovered by May 2010. 
Since the recession, the Region's economy has grown at an average annual rate of 1.5 percent. Pollak said since manufacturing dominates Northwest Indiana's economy, growth hasn't kept pace with the state, which experiences a 2-percent growth rate or the country overall, which averages about 3-percent annual growth. 
Northwest Indiana is an economic force as it represents about 8.6 percent of Indiana's entire gross domestic product, Pollak said. When lumped in with neighboring metropolitan Chicago, it represents 4.6 percent of that region's GDP. 
Pollak said an issue facing the Region is the declining number of good paying jobs, due mostly to losses in manufacturing. He said unemployment has remained low in recent years but new jobs coming in have been lower paying service sector and retail jobs. 
Pollak said between 2012 and 2017, the Region lost 6,000 goods producing jobs but gained 7,000 service sector jobs in that same period. The lost manufacturing jobs saw wages as high as $80,000, while some of the service industry jobs peaked at $39,000. 
If Indiana wants to compete for higher paying jobs, it needs to retain its college graduates and provide the kind of work they want to keep them from relocating, Pollak said. Analyzing local economic data can provide insight to economic development professionals so they can focus efforts to lure businesses and professions sought by today's young educated professionals.
"The Region has done a good job of retaining its manufacturing base but the problem is in the future, we'll be fighting for a declining pool of new (manufacturing) jobs," Pollak said.  
He said millennials, the generation born after 1980, which is mostly college educated, tend to leave the Region for better paying work. Pollak applauded efforts by the Region to pursue online retail giant Amazon's second headquarters because of its potential to bring in 50,000 executive-level jobs. 
"There's been a shift happening in the Region," Pollak said. "We have to think of more creative solutions to lure those higher paying service jobs."