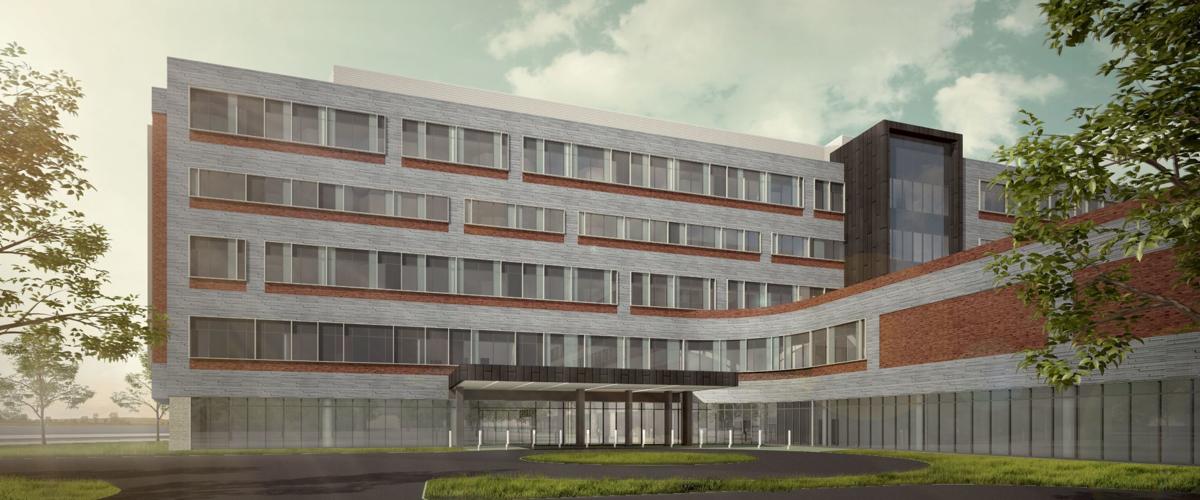 A major development is being planned for the southeast side of Crown Point that eventually will include a new hospital and the potential relocation of Andrean High School.
The 510-acre property at the southeast corner of Interstate 65 and U.S. 231 eventually will house the new Franciscan Health hospital, an expanded University of Saint Francis, retail and residential projects, and a possible new home for the Catholic high school now located in Merrillville.
It's an expected investment of between $227 million and $300 million for the hospital and university, Franciscan officials report. And all told, one source close to the project believes it could leverage in a total of $400 million or $500 million in investment.
"This location will better serve a growing population and a state-of-the-art facility will deliver the latest health care technology to the community," said Cal Bellamy, board chairman for Franciscan Alliance's northern Indiana division. "We're thrilled to begin planning a comprehensive medical and educational development that will serve both body and mind."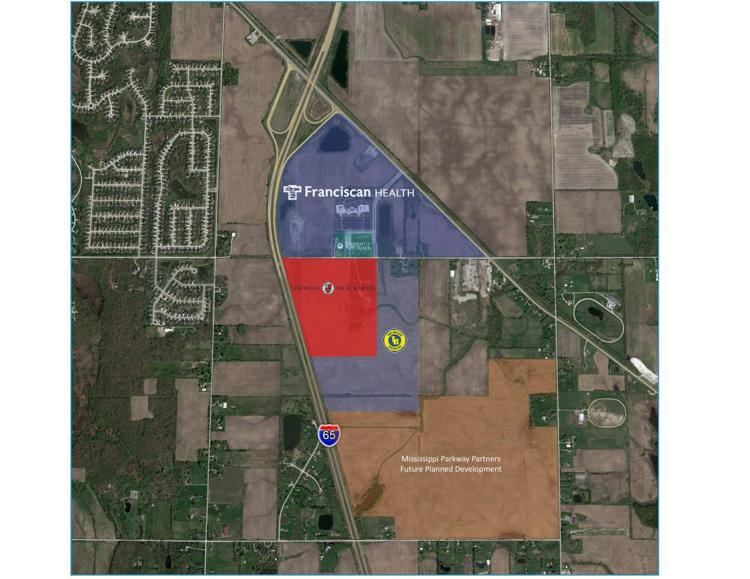 The announcement marks one of the largest health care investments and biggest overall economic development projects in the Region in recent years. It also continues a trend of hospitals being located near major expressways, such as the $243 million facility that Franciscan opened along I-94 along Michigan City earlier this year. Franciscan said the location will also better allow it to serve the growing south Lake County market, as well as Porter, Newton and Jasper counties, and meet the needs of a technology-driven, outpatient-heavy health care industry.
The University of Saint Francis, which offers mostly nursing education at that site currently, plans to double in size.
"This announcement is a generational development that we haven't seen in decades, and I'm proud that Franciscan Health has partnered to enhance the educational and health care needs of our great city," Crown Point Mayor David Uran said. "It will create new jobs and professions, including using our local trades and skilled labor force for the new construction involved, notwithstanding all the educational, medical, and nursing fields to be represented and expanded."
The new Crown Point hospital is projected to be a spitting image of the one in Michigan City, which Franciscan designed to be "the prototype of future hospitals in our system," said Jon Gilmore, president and CEO of Franciscan-owned contractor Tonn and Blank Construction, which is based in Michigan City. He said the only difference will be what's inside; Crown Point, for instance, has a larger cardiovascular department, while Michigan City has behavioral health.
Franciscan expects to break ground on the new hospital next spring and open it in late 2022. The nonprofit Catholic health system plans to repurpose the old campus at 1201 S. Main St., with those plans to be decided.
The hospital will initially be five floors and have 150 to 200 beds, with the ability to double in size vertically to meet future needs, Gilmore said.
The facility will add a "state-of-the-art" acute rehabilitation unit, as well as a comprehensive stroke center, said Dr. Daniel McCormick, president and CEO of Franciscan Health Crown Point.
McCormick said a new building was needed because the current facility, built 45 years ago, was constructed at a time when patients stayed in the hospital longer and technology was way behind where it is today. He noted that procedures like hip and knee replacements and open-heart surgeries used to require stays of a week or more; now patients are released within a few days or hours.
"When our facility was built, no hospitals were run with computers, equipment was all manual, electronic medical records were unheard of, and robots were science fiction," he said. "The new facility will not only have the appropriate space to accommodate advanced equipment and procedures but will take advantage of the latest advances in artificial intelligence. ... The new design will have the flexibility to accommodate changes that just are not possible in an old facility."
Sister M. Elise Kriss, president of Fort Wayne-based University of Saint Francis, said the school's Crown Point campus has been at or past capacity for the past few years. It currently has 230 students, most of them earning associate's degrees in nursing. Many go on to work for Franciscan Health hospitals in the Region (both organizations are owned by Sisters of St. Francis of Perpetual Adoration in Mishawaka).
The university plans to double the size of the campus and add more degree programs, like the physical therapy, radiology and surgical tech ones offered in Fort Wayne, Kriss said, predicting the expansion would be completed in 2021.
Kriss said that when the campus was constructed in 2008 she had discussions with local officials about building this kind of development. But then the recession hit.
"To see this really coming to fruition, it's just exciting we can be a part of it," Kriss said.
Franciscan Alliance and the University of Saint Francis own 120 acres of the property, while Tonn and Blank owns 140 acres: 60 for the potential new high school and 80 for commercial and retail development. The remaining 250 acres is owned by Mississippi Parkway Partners, a local private investment group which is said to be looking into residential, commercial and business park options.
Kevin Leahy, president and CEO of Franciscan Alliance said "This development will be a place where people can live, learn, work and thrive."
The business news you need
With a weekly newsletter looking back at local history.