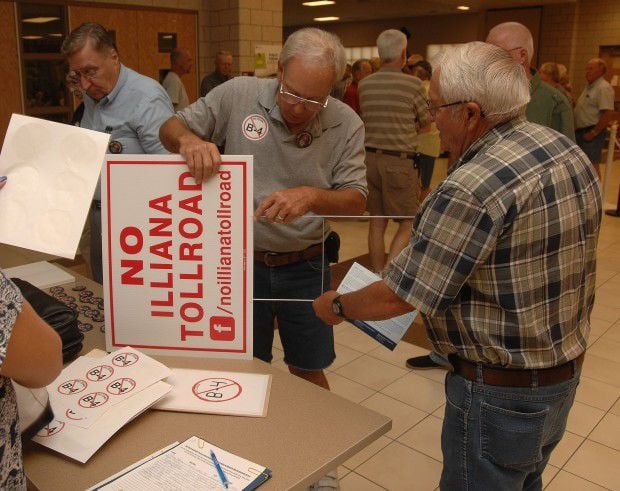 A proposed $8.4 billion Illinois highway plan unveiled last week includes $118 million for preliminary work on the Illiana Expressway, but the 50-mile toll road project remains in limbo, according to the Illinois Department of Transportation.
Gov. Bruce Rauner's inauguration day executive order putting the $1.5 billion Illiana Expressway under review remains in place, according to Illinois Department of Transportation spokesman Guy Tridgell.
"Overall status remains unchanged," Tridgell stated in an email sent in response to an inquiry on the Illiana Expressway. "On pause and under review. No timeline as to when the review process will be complete."
The multi-year highway construction plan unveiled by IDOT last week specifies funding amounts for several projects needed to get Illiana Expressway construction underway. It specifies $73.1 million for moving utilities, $20 million for land acquisition, $18.1 million for engineering work and $6.8 million for wetland mitigation.
On Jan. 12, in an executive order aimed at cutting spending, Rauner suspended planning and development of any major interstate construction projects pending a "careful review" of costs and benefits. Less than two weeks later he gave the green light to $175 million in Illinois Tollway Authority projects, but kept IDOT projects such as the Illiana Expressway on hold.
In Februrary, the Indiana Department of Transportation formally suspended work on developing its own 10-mile portion of the Illiana Expressway, pending a decision by Rauner. The planned toll road would run from Interstate 65, near Lowell, to Interstate 55, in Illinois.
The set-asides for the Illiana Expressway in IDOT's proposed multi-year plan for 2016 to 2021 confirms some opponents' view that despite the tide of public opinion turning against the road, it could still be built.
"It's being pushed by a handful of people even though it has been shown it won't work," said Sandy Linden, of Lowell. "It's not dead until someone says it's dead."
Linden said she and other opponents always felt the drive to build the Illiana Expressway was a political one, so anything could still happen.
Opponents have been heartened by the fact former Chicago Metropolitan Agency for Planning Executive Director Randy Blankenhorn is now IDOT chief. Two years ago, when Blankenhorn headed CMAP, the agency issued a report highly critical of the Illiana Expressway.
The IDOT plan released last week does include funding for some major projects, such as $351 million for the Jane Byrne Interchange reconstruction already underway in Chicago.
IDOT Secretary Blankenhorn and his agency continue to conduct a statewide "listening tour" on state highway projects. The agency will present a final report to the governor's office and General Assembly sometime after the tour wraps up on May 22.