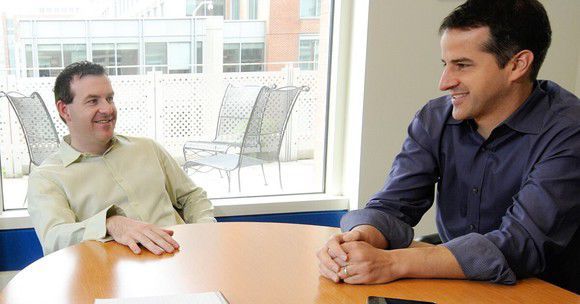 Investors looking for exposure to options have two great 'options' (see what we did there?) in Motley Fool Options and Motley Fool Pro. Both run by advisor Jeff Fischer, these services aim to help investors of all experience levels boost their returns with the income and hedging opportunities that options can provide.
Let's dive in and learn more about these two unique services.
How Motley Fool Options can help boost your portfolio
Jeff and his co-advisor Jim Gillies lead Motley Fool Options with one aim: To generate consistently profitable options trades for members. And to be clear: While they only recommend options trades in their service, they both believe that options are an important complement to a primarily stock or fund-based portfolio. That makes Options an add-on to one of the Motley Fool's other investing services.
The Options team makes regular options trade recommendations each month – picks that are accompanied by a detailed research report on the underlying company so members can decide whether that trade makes sense for their portfolio. Each trade recommendation also includes step-by-step instructions on how to execute the trade so options investors of all levels can follow along.
Those step-by-step instructions point to a bigger motivation for the Options team: The education and enrichment of every member. That's why they've created an "Options U" course to walk members through how to think about all kinds of different options trades so they can best understand what they're doing. That's also why the Options team recommends that every member get on the community message boards, where Options members talk about investing, options, personal finance, and all kinds of other topics every day. It's a great place to enhance and sharpen your investing skills.
Why an elite group of investors chose to "Go Pro"
Jeff's other service, Motley Fool Pro, is an investing service that uses a diversity of tactics (ETFs, stocks, and options) to achieve one goal: Consistent annual returns. Pro's aim isn't to beat the market – instead, its "North Star" is to churn out 7% annual returns after inflation, regardless of whether the market is up or down that particular year.
Like Options, Pro provides a detailed research write-up and step-by-step instructions with every trade. Pro also has a deeply loyal investor base that's highly active on the message boards. And the Pro team has the same dedication to education and learning – and also plenty of very happy members.
Unlike Options, Pro is a real-money portfolio, so every trade recommendation made by Jeff and his team is backed by a pot of money from The Motley Fool. That means Jeff and team have to consider portfolio allocation and the inevitable trade-offs inherent in making one trade instead of another – just like regular investors have to. And Pro is designed to be an all-in-one solution for investors who want to generate consistent returns with lower volatility. Oh, and Pro includes a subscription to Options in its membership fee. (Of course, as you might guess, Pro is a wee bit more expensive than Options.)
Is Pro or Options right for you?
That's not a question we can answer for you. But what we can do is provide you with more information on both services – particularly given that we have both for sale right now at a discount to their normal annual subscriptions. So take a look at Options, or take a look at Pro, and see whether either makes sense for you! But don't delay – these discounts won't last forever.