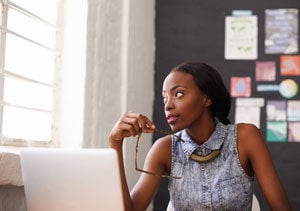 Job hopping isn't as much of a career taboo as it used to be, especially among younger employees.
Eighty-three percent of millennials know that the practice might look bad to potential employers according to a recently released study of more than 1,000 U.S. full-time millennial workers ("Millennial Outlook Survey") by Recruitifi. Still, 86 percent of those surveyed said they wouldn't think twice about leaving their job for greener pastures.
"The millennial generation continues to be at the forefront of every recruiting and hiring discussion," Brin McCagg, CEO and Co-founder of Recruitifi, a crowd-sourced talent acquisition platform, said in a statement. "By taking a deep dive into the key drivers behind some millennials' career decisions, the survey findings illustrate that now, more than ever, organizations must evolve to adopt more strategic approaches to HR and talent management."
So how is this affecting businesses? A majority of survey respondents (55 percent) don't think it's had any negative impact on their companies. Still, 34 percent said they've noticed an overall lower employee morale and 22 percent believe their clients/customers have taken note.
The survey also looked into how employers are building better programs for millennials. Although a majority felt there was room for improvement (57 percent), employers have improved in these key areas:
 Employer-employee communications about job expectations – 33 percent
 Healthcare/wellness and financial planning options – 30 percent
 Flexibility and work/life balance - 28 percent
 Emphasis on compensation/bonuses – 23 percent
 Building mentorship programs – 17 percent