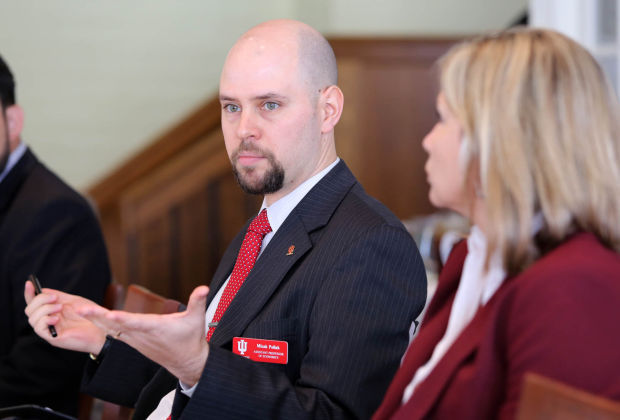 GARY |  In a positive sign for the region's economy, the Northwest Indiana Coincident Index posted its biggest one-month jump since 2008 in May.
The NWI Index, a measure of the local economy, had declined slightly at the beginning of the year as steel production waned and the region lost 9,000 jobs in January, Indiana University Northwest Assistant Professor of Economics Micah Pollak said.
In May, the Index rose by 0.6 points to 140.5 because of a significant increase in employment in the region. Joblessness was down 1 percent year-over-year in the Gary metropolitan area, and 1.5 percent over that period in the LaPorte metro, according to the Indiana Department of Workforce Development.
Pollak and IUN Professor of Finance Bala Arshanapalli compile the coincident index, which is modeled after the Federal Reserve Bank of Philadelphia's state and coincident indexes. It tracks local and pertinent national economic data to keep a finger on the pulse of Northwest Indiana's economy. 
"Unemployment has gone down significantly," Arshanapalli said.
"The Dow-Jones Transportation Index also was positive, which means positive growth in the region, too. Steel has been a troublesome part of the economy. Production has been going down. Otherwise it's healthy. I think we're back to where we were before the recession."
The NWI Index declined slightly in January, February and March, but significantly recovered in May, Pollak said. It's almost back to its peak of 141 last year.
Employment and transportation have been the biggest bright spots, and retail stales have held steady, Pollak said. Average work hours have dropped slightly. 
Arshanapalli and Pollak forecast 1 percent growth going forward.
"The forecast is fairly optimistic," Pollak said.
"The decline was temporary, and we bounced back from that. We're very optimistic with the Dow-Jones and after the U.S. didn't come out and raise rates. It's encouraging for the near future."
"The forecast is fairly optimistic. The decline was temporary, and we bounced back from that. We're very optimistic with the Dow-Jones and after the U.S. didn't come out and raise rates. It's encouraging for the near future." -- Indiana University Northwest Assistant Professor of Economics Micah Pollak