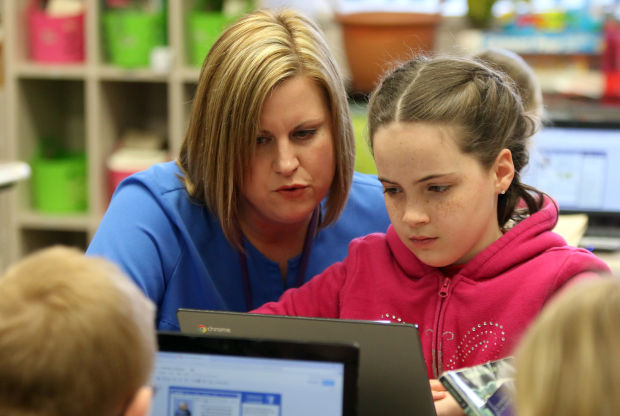 MUNSTER | It doesn't take long for Eads Elementary School teacher Jennifer Herold to get her students' attention and direct their focus.
"Oh, class," she says, as students bent over Chromebook laptops are engaged in conversation about a technology-driven Language Arts lesson.
"Oh, yes," they reply in unison.
"Oh, class, class, class," she says.
"Oh, yes, yes, yes," they reply.
And then there's quiet, as Herold continues working with the fourth-graders on a mock Facebook page they will create based on characters in a book they've read about the Holocaust and World War II.
The Chromebooks, issued to all fourth-graders in the School Town of Munster thanks to a grant, are just one of the tools the 13-year veteran teacher uses in her classroom.
There's "Alaska," the little chill-out space she created behind her desk complete with floor pillows and a curtain where students can go to get a little "me" time.
"I just love spending my day with these kids," she says about her job. "You never know what you're going to get every day. I get excited when kids make the connections (in their lessons). I love the people I work with."
For Herold, teaching is in the blood. Her mother was a teacher and she always baby-sat as a teen. She thought about nursing but it took only one class at Indiana University in Bloomington to convince her teaching was it.
Herold starts her days around 7:30 a.m. with organizing her materials and ends them by planning out the next day's lessons. Sometimes she will tutor after 3:30 p.m. when school ends in her classroom and has an average of two hours of work to do at home.
After morning announcements, the students in her class recite a classroom promise, pledging good behavior to all. They say good morning to each other and then get filled in on the day's agenda before hitting the books.
She incorporates life skills and behavior guidelines in her teaching, like lessons about friendship in the book "Number the Stars" by Lois Lowry, about a Jewish girl in Denmark during World War II and her non-Jewish best friend.
The job, despite all its perks, can be tough at times.
"Physically and emotionally it can be draining," she said. "I'm always on my feet. There's a lot to do."
It is a big responsibility, she says, because her actions impact the students.
But it's a job she wouldn't trade for the world.
"It's probably one of the most rewarding jobs there is. ... People who are born to teach should."
How I got the job: I completed student teaching in December 2001. In early January, I was called by St. Thomas More to fill a long-term substitute teaching position for seventh/eighth grade social studies. (After that,) I decided to take a first-grade position at St. Thomas More. After seven years there, an opportunity at Eads Elementary became available and I decided it was time to try to enter the public school system. I interviewed and was fortunate to be hired as a fourth-grade teacher.
What the job pays: The salary range for a School Town of Munster teacher is $35,912 in the first year and $61,037 for a 20-year veteran.
Job growth: Employment of kindergarten and elementary school teachers is projected to grow 12 percent from 2012 to 2022, about as fast as the average for all occupations, according to the U.S. Bureau of Labor Statistics.