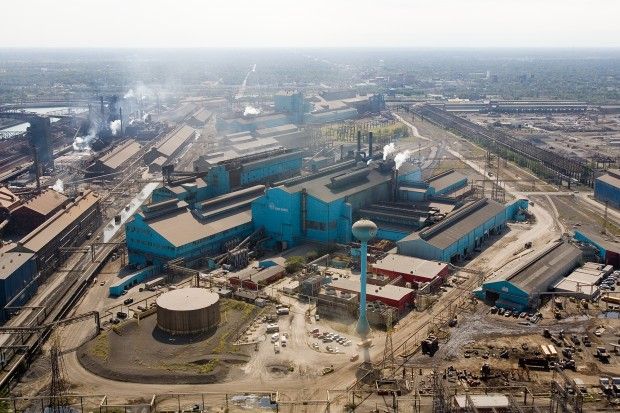 GARY | U.S. Steel will ax 83 more workers at Gary Works in the steelmaker's latest round of layoffs in Northwest Indiana.
"As part of the ongoing operational adjustment at Gary Works, 83 probationary employees were notified today of their release upon the completion of this week's schedule," U.S. Steel spokeswoman Sarah Cassella said Thursday.
All of the employees worked at the sprawling steel mill, U.S. Steel's largest, for under six months. The company is laying off almost all the recent hires at Gary Works, who will receive their last paycheck Saturday, and have no call back rights under the union agreement because of the economic slowdown.
The layoffs are permanent, Cassella said.
With these, U.S. Steel has eliminated more than 780 jobs in Northwest Indiana this year. 
The Pittsburgh-based company also announced Thursday it would idle its Minnesota Ore Operations, an iron ore mine in Keewatin, Minn., as it slows steelmaking operations throughout North America to adjust to weaker customer demand. As many as 412 U.S. Steel employees could be laid off in Minnesota's Iron Range, where they mine the ore that's burned in the blast furnaces of Northwest Indiana's steel mills.
"The company routinely adjusts production at its operating facilities to reflect market fluctuations," the company said in a statement. "These ongoing operational adjustments are a result of challenging market conditions that reflect the cyclical nature of the industry. Global influences in the market, including a high level of imports, unfairly traded products and reduced steel prices, continue to have an impact."
U.S. Steel has been buoyed during the Great Recession by pipe and tube sales for the oil and natural gas industries, said Charles Bradford, a New York City-based steel industry analyst with Bradford Research Inc. But the company has been suffering mightily since crude oil prices dropped in half, effectively ending a Gold Rush-like frenzy for more drilling. 
"They were pretty much carried over the last couple years by fracking and drilling," Bradford said. "There's nothing to replace it. They're going to have a real problem if automotive slows down, but automotive doesn't even need to slow down to be a problem. They're making the cars lighter, and that means less steel."
So far in 2015, U.S. Steel has announced nearly 4,000 potential job cuts, including in Ohio, Texas, Minnesota, Illinois, Alabama, and Northwest Indiana. Locally, the steelmaker announced it would temporarily idle East Chicago tin, which employed 397 workers. U.S. Steel also plans to permanently close the coke-making plant at Gary Works — where 838 coke ovens once heated coal into a more purified fuel for steelmaking — displacing 300 workers when it shuts down in May.
The Calumet Region's other large steelmaker, ArcelorMittal, will shed an additional 300 jobs when it idles Indiana Harbor Long Carbon in East Chicago. ArcelorMittal also warned the United Steelworkers union it wants to idle the No. 1 aluminizing line at Indiana Harbor in December.
"Business conditions have been worse at U.S. Steel because of pipe and tin," United Steelworkers District 7 Director Mike Millsap said. "They're not drilling. It's in the tank. There's a lot of tin imports. The business conditions continue to worsen."
U.S. Steel employees at Gary Works fear more layoffs are coming, and the rumblings are that workers with only a few years' experience could be next on the chopping block. The agreement allows U.S. Steel to lay off employees with fewer than three years of seniority because of business conditions, but the company has given the union no indication that it intends to do so, Millsap said. U.S. Steel would have to negotiate with the union if it wants to let go any employees who have been there for longer than three years.
Most steelmakers should see business pick up in the spring when the construction season drives up demand, Bradford said. But U.S. Steel had been so heavily dependent on the oil and tube business that it will probably take at least a year before business picks back up, he said.
"U.S. Steel is in a worse position than anybody," Bradford said. "They mine their own iron ore, so they aren't benefiting from low ore prices. The minimill competition is enjoying low scrap prices. For comparison, Steel Dynamics just raised its dividend by 20 cents because its business is so good they don't need the cash flow. U.S. Steel on the other hand is constantly laying workers off — this is the fifth or sixth wave of layoffs."