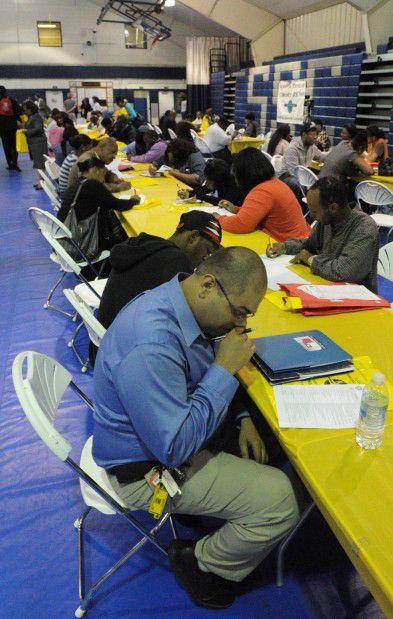 Unemployment dropped across Northwest Indiana in August, falling by as much as 0.7% in East Chicago, Gary and Merrillville.
The jobless rate fell to 4.1% in August, down from 4.6% the previous month, across the Gary metropolitan area, which encompasses Lake, Porter, Newton and Jasper counties. The unemployment rate in the Gary metro area also stood at 4.6% a year prior, according to the Indiana Department of Workforce Development.
In August, Lake County had the state's third-highest jobless rate at 4.4%, down from 5% in July and down from 5% in August 2018. Lake County's jobless rate remained stubbornly higher than the unemployment rates in the state, the Chicago area as a whole, neighboring Illinois and the country.
LaPorte County ranked eighth highest out of Indiana's 92 counties at 3.9% unemployment in August, which was down from 4.4% in July and from 4.2% at the same time a year ago, according to the Department of Workforce Development.
Joblessness in the Michigan City-LaPorte metro area, which consists of just LaPorte County, also fell by 0.5% month over month in July.
Porter County's unemployment decreased to 3.6% in August, down from 3.9% in July and at the same point a year earlier. It was the 19th highest jobless rate statewide.
Overall, Indiana's unemployment rate fell to 3.3% in August, which was the lowest rate in the Hoosier state since February 2018, according to the U.S. Bureau of Labor Statistics. Neighboring Illinois' jobless rate dropped to 4%, down from 4.2% the previous month and the lowest on record, according to the Illinois Department of Employment Security.
Unemployment climbed as high as 12% in Northwest Indiana during the depths of the Great Recession a decade ago.
Joblessness dropped in August in nearly every Northwest Indiana city and town where it's tracked, falling by 0.7% in East Chicago, Gary and Merrillville, by 0.6% in Hammond and Michigan City, and by 0.4% in Hobart, Portage and Valparaiso.