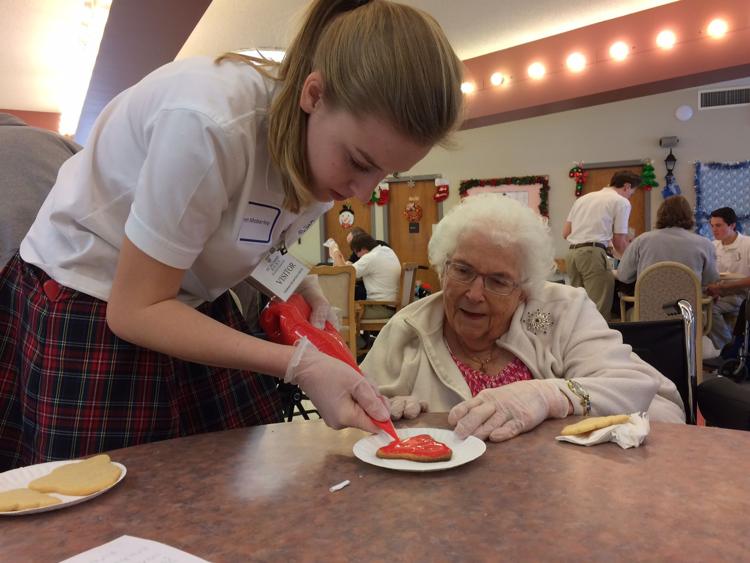 MERRILLVILLE — As important as it is to be in the classroom learning math, English and computer programming, Andrean High School leaders believe it's also important to learn the importance of giving back to the community.
To that end, the Catholic school in Merrillville has created monthly Formation Days. The entire school participates in these events, which usually involve faith and service.
For example in September, Andrean students partnered with St. Thomas Episcopal School in Houston, Texas, to offer assistance to flood victims of Hurricane Harvey. The Andrean community raised more than $2,000 in monetary donations, gift cards and school supplies.
In December, the theme is "Giving Thanks, Giving Back," as it combines the message of Thanksgiving and Advent.
Andrean freshmen participated in sessions focusing on their goals as Andrean students. 
Sophomores were at the Salvatorian Fathers in Merrillville. Juniors were at Our Lady of Consolation Parish in Merrillville with facilitation by the Theology Department and student leaders.
Seniors took part in service projects in the community with the option of working with Catholic Charities in Gary, decorating cookies with residents at senior living community St. Anthony Village in Crown Point or doing arts and crafts projects with students at St. Mary School in Crown Point.
St. Anthony Village enrichment director Edith Jackson, Executive Director Peter Bolt and Barb Mageral, skilled nursing home administrator, welcomed the students warmly, providing background about the agency and its services.
"During the holiday, some of our residents don't have a lot of family and when the community can come in and spread joy to the residents, I think that's great," Jackson said.
"We're focusing on joyful living here. When people come in and engage with the residents, it brings joy to the residents and a smile on my face."
Keep reading for FREE!
Enjoy more articles by signing up or logging in. No credit card required.
Andrean math teacher Joe O'Neill said working with seniors will help the teens understand a little more about being thankful for the gifts they have and being thankful for getting up in the morning, going to school and having a meal, then pay it forward.
Andrean health teacher Susan Marovich said Formation Days are important because it gives teens an opportunity to get out of the classroom and practice what they learn.
"Today is about gratitude. Be thankful for what you have and share that with other people," she said Thursday.
St. Anthony Village residents were thrilled students spent the day with them decorating cookies, then later having lunch together.
Bunty McDonald, 100, said, "I think this is great. I think it's lovely that the kids came over here." McDonald spent the day with Andrean senior Tessa Boby, who said she really appreciates the opportunity the school gave her to participate in this program.
Andrean senior Thomas Schutz bonded with St. Anthony Village resident Rita Zahora, 82, when the two exchanged family information. Zahora told Schutz she grew up in Chicago and remembered the days when Chicago streetcars ran through the city. The teen's grandmother also grew up in the city.
Schutz said one benefit of Formation Days is participating in activities outside of the classroom.
"Formation Days gives us a chance to get out in the community," he said. "Otherwise, I'd be in calculus."
Ane Crespo, an Andrean exchange student who is a senior at San Jose Jesuitak School in Durango, Bitkaua, Spain, said she and her classmates in Spain have worked with younger students, but this is the first time she has assisted at a nursing home.
St. Anthony Village resident Lorraine Henshaw, 75, told Andrean senior Adam Kielbasa that her forte is entertaining her fellow residents at Christmas.
"I sing at the Christmas party," she said. "I'll be playing Santa. I think it's awesome that the kids are taking the time to come and see us. Christmas is a special time of the year. Christmas is about love, and these kids are showing that they love us."