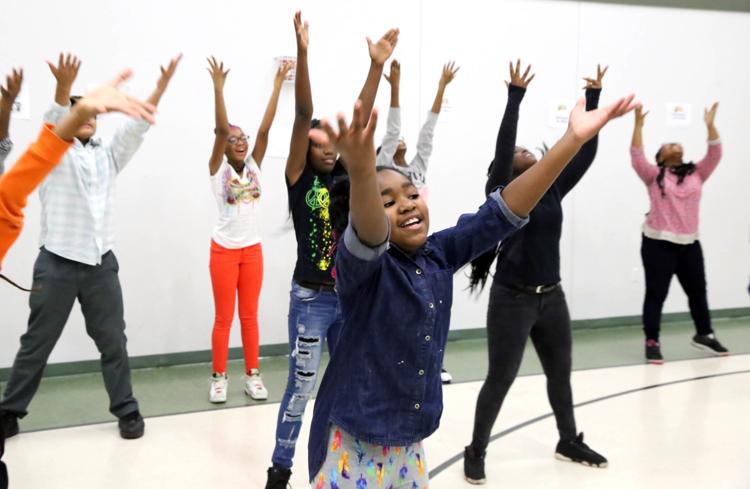 GARY — Aspire Charter Academy has created a Saturdays-only performing and visual arts program that has attracted 45 children.
Program director Donald Thompson, who teaches music education at Aspire, said the successful performing and visual arts program is going into its seventh year at the school.
Students are required to have a 2.5 grade point average to participate. Thompson estimated the cost of the program at $1,500, and students receive scholarships to attend. It is offered for nine weeks, and students do not receive grades.
Aspire Charter Academy was established in 2009 by late board President Richard James Comer, who died in May. Comer was succeeded by his daughter, Denise Comer Dillard, who has been a member of the board since its inception.
Thompson said Comer strongly supported the program, which includes dance, music education, percussion, piano, theater technician skills, art and drama. He said as many as 150 students have been involved in the various artistic performances.
Seventh-grader Ariana Robinson said she enjoys singing, and has participated in several performances at the school.
Although he wants to be a veterinarian, seventh-grader Daniel Atempa said he joined the classes because he wanted to try something new and enjoys dance.
Eighth-grader Lizzy Castillo likes to draw but her goal is to become a zoologist. "I think you can really express yourself through art, and that's what I like about it," she said. "I love to draw animals."
Aspire Principal ReNae Robinson said, "The visual performing arts program has been an integral part of Aspire Charter Academy for over six years. The interdisciplinary nature of VPA exposes our scholars to many forms of artistic expression while allowing them to discover their true passion."
Noted Gary singer-songwriter is first Artist-N-Residence
Thompson, who is a visiting music professor at the Academy of Fine Arts in London, has arranged for Kym Mazelle, who is originally from Gary but has lived in London for the past 25 years, to serve as Aspire Charter Academy's first Artist-N-Residence. Mazelle will serve in that capacity from November to January 2018.
Mazelle, who travels and performs throughout Europe, said she returned home to visit her family for the holidays and arranged with Thompson a plan to work with schoolchildren.
In addition, Mazelle is serving as a guest lecturer at her alma mater, Columbia College in Chicago, along with Purdue University Northwest in Hammond and Indiana University Northwest in Gary.
"When Don came to London last summer, I talked to him about what was in my heart," she said. "I teach at schools in London and I wanted to do something for my people here. I've got all of this experience and I've traveled the world. Don mentioned the school's program and I've landed here."
Keep reading for FREE!
Enjoy more articles by signing up or logging in. No credit card required.
Mazelle is known worldwide as "The First Lady of House Music," a music genre that took off in the United Kingdom in the 1980s when hip hop took off in the U.S. Her music combines R&B, soul, funk, house music and disco.
Mazelle and Thompson said one of their goals is to get the students ready to participate in the LEAP program. LEAP, or London Education Abroad Program, was created by Thompson. He wants students to participate in a two-week study program at the Academy of Fine Arts in London in the summer of 2019.
"We hope to take 10 students from Aspire and 10 from Northwest Indiana for an educational excursion in London," he said.
Performing arts program solid, academics up next
As the school promotes its performing and visual arts program, it also is working to improve its academics.
The Indiana Department of Education graded Aspire Charter School an F.
New Aspire school board President Dillard said the charter school has put in place new leadership with Principal Robinson who started in July. She said the school hired Stacey Bennett as director of student quality. Dillard said both Robinson and Bennett are experienced educators who came to the charter school from the School City of Hammond.
"We are looking for teachers who are credentialed in their areas, and that's one of the things the principal has been very aggressive with," Dillard said.
Dillard said the charter school is working with local universities to develop a residency program for educators and working with its management company, Michigan-based National Heritage Academy, to find effective teachers.
Dillard said the school also has been hit with a high volume of students in special education, something that requires training and experience. 
Bob Marra, executive director of the Office of Charter Schools at Ball State University in Muncie, said Ball State is aware of the work the charter school is doing to improve its grade and hire effective teachers.
"The board also is working with Brian Carpenter, who is an experienced board consultant, regarding governance and oversight by the board," Marra said.
Marra said the Office of Charter Schools is currently reviewing Aspire's application for renewal and will make a decision Jan. 15.
"We look at their overall performance, test scores and what they are doing to improve the academics," he said. "Our academic representative has expressed our concerns to them and has been working with them."