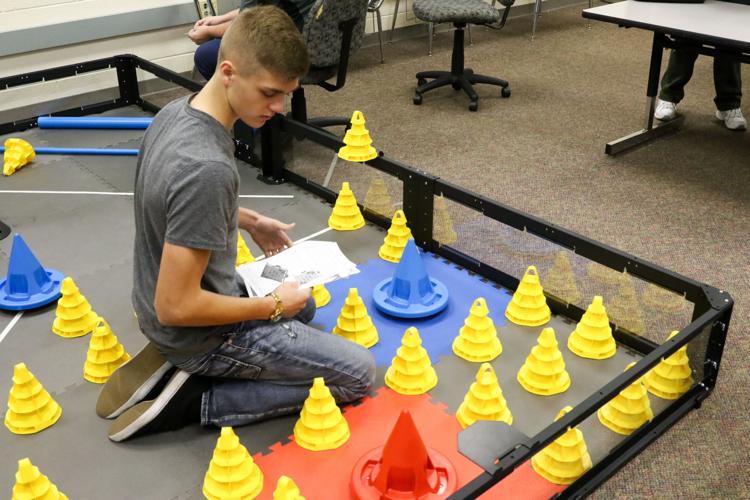 VALPARAISO — Students in Todd Hutson's class at Washington Township Middle/High School are learning the fundamentals of engineering.
Washington Township is one of three middle/high schools in the East Porter County School Corp. in Porter County. The other two secondary schools are Morgan Township Middle/High School and Kouts Middle/High School, all under the direction of school Superintendent Rod Gardin. There also are three elementary schools within the corporation.
Brandie Muha, director of curriculum and instruction for East Porter County schools, said Hutson's is the first introduction to engineering course offered through the school corporation.
"We do offer a couple of courses under the career and technical education engineering/technology umbrella at Kouts High School," she said. "We offer introduction to manufacturing and introduction to design (which will shift to introduction to engineering next year). We have offered these courses for several years at Kouts.
"Our overall goal in offering these courses is to look at the career and college pathways from the Indiana Department of Education and to see how we can align our course offerings with opportunities provided to our students," Muha said. "Ultimately, we want to ensure that our students who have an interest in a college (or) career path of engineering and/or technology are being provided courses that lead them to success after high school."
The school system has to carefully look at what it offers in the schools as well as what can be offered in its vocational programs, she said.
"It is a continual process of reflection on how to best meet their needs. Within the class we want them to gain hands-on experiences with higher level thinking and learning about the engineering design process, while also learning to work in teams to solve a variety of problems," Muha said.
Away from 'pen and paper' focus
In Hutson's class, the 10 students enrolled have divided into two teams and are building VEX robots to compete against each other and other teams in the area, who also use VEX products. The teams will participate in their first competition with students at Portage High School in December.
According to its website, VEX Competitions bring STEM (science, technology, engineering and math) skills to life by tasking teams of students with designing and building a robot to play against other teams in a game-based engineering challenge.
Classroom STEM concepts are put to the test as students learn lifelong skills like teamwork, leadership and communication. Tournaments are held year-round at the regional, state and national levels, culminating at the VEX Robotics World Championship each April.
Keep reading for FREE!
Enjoy more articles by signing up or logging in. No credit card required.
Hutson said these activities get students away from the "pen and paper" focus.
"I enjoy teaching the hands-on activities," Hutson said. "Even in my physics classes, we do lots of hands-on activities. I want them to understand how to work together as a team, and how to program and design robots."
There's been plenty of healthy competition between the two teams as one has beat the other repeatedly, he said.
Freshman Luke Seifert said his team's robot had a huge advantage over the other team because of the claw they designed to pick up cones.
"The other team is revising its robot to have a scissor lift, and that will allow it to pick up the cone better," he said. "It's a hard modification to do. My dad is an electrical engineer. I think that's what I'm going to do, but I'm also interested in being a stock broker."
Sophomore Valerie Churchill is the only girl in the class and is on the team with a loss record. She said the redesign will help the robot's arm work better.
"This class is fun. I don't know what I want to major in after high school, but I'm good at math," she said.
Seniors Ryan McCormack and Will Corneil both plan to major in engineering. Corneil also works with a robotics team in Michigan City, and has some experience.
Corneil, who has been accepted into Michigan Tech, Indiana Tech and Purdue University Northwest, is awaiting word from a few other universities before he makes a decision.
"One of the things that I've learned in my pursuit of scholarship funds is that there are numerous scholarships out there for girls who are interested in majoring in STEM areas," he said.