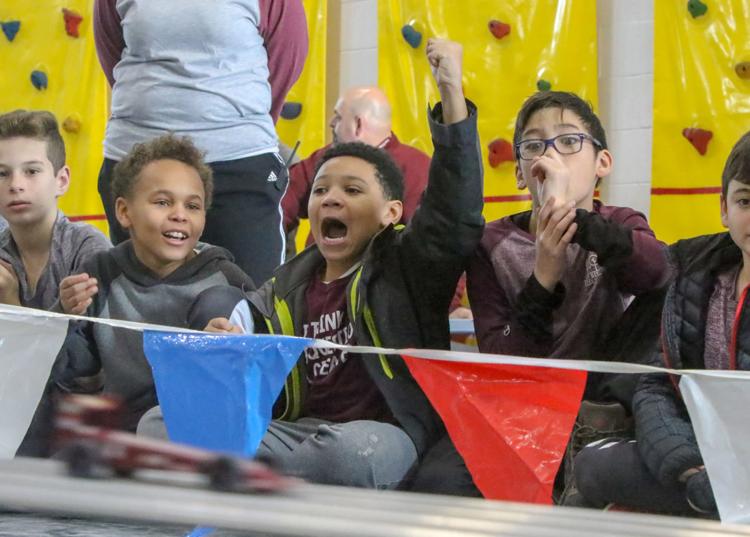 SCHERERVILLE — If you were at Forest Ridge Academy recently, you might have thought you were at a Pinewood Derby race, a traditional Cub Scout event where young people make small cars and race them.
The gymnasium was filled with the laughter and screams of children on either side of an elaborate racetrack rooting for their favorite small wooden car to win.
Forest Ridge hosted its inaugural race, called the "Soaring Eagle Rally," featuring the minicars decorated in all colors and styles created by sixth-, seventh- and eighth-graders, along with a handful of teachers.
Forest Ridge Principal Cindy Arnold said the school's creative arts team of wood shop teacher Glenn Smith, art teacher Carrie Coslov and music teacher Anne Ciastko brainstormed and put together the activity for the middle-schoolers.
Arnold said the rally is the culmination of the students' study of a unit on STEAM (science, technology, engineering, art and mathematics).
She said students designed and built the small wooden race cars applying physics and mathematics principles such as aerodynamics, and kinetic and potential energy, and using woodworking tools such as files, hammers and coping saws to build them.
They also used the school's new laser engraving machine and applied aesthetic art design principles to make each car stand out.
The school modeled its race after the Pinewood Derby. According to the Boy Scouts of America website, the small-car race went from one father's idea at a California Cub Scout pack to sweeping the nation in the early 1950s.
Cubmaster Don Murphy of Pack 280C, Manhattan Beach, California, had a son who was unable to compete in a local gravity-powered car competition. Murphy came up with a way for his son and his son's pack to make and race miniature gravity-powered cars on a small indoor track — and the Pinewood Derby was born on May 15, 1953.
Keep reading for FREE!
Enjoy more articles by signing up or logging in. No credit card required.
Eighth-grader Mason Cooper said all the students started with a wedge of wood, wheels and four nails and had to come up with a design to create a car.
"I sanded the wood, painted and decorated my car. The theme is based on my favorite NBA player, Lonzo Ball, who plays for the Los Angeles Lakers," he said.
"The maximum weight for the cars was 5 ounces. This was the first time I used graphite. This was a really good experience."
Seventh-grader Allison Melvin said her car was based on a "Star Wars" theme.
"My dad is a Cub Scouts leader, and my younger brother and I have made these kinds of wooden cars many times before," she said with a grin.
Sixth-grader Diamandis "Daco" Proimos said making the racing car was a "fun project to do and even more fun to watch" as the cars raced down the track to the finish line.
Teachers said students learn to organize with math, while they research as scientists and historians by using technology, so they can understand and communicate abstract concepts and ideas in a learning environment.
Assessments are based on real-world applications of knowledge, not artificial classroom tests, teachers said.
The project allowed several different content areas to come together to teach concepts in science and math, Coslov said.
Ciastko said students were allowed to work on their model cars in school or take them home and work on them with a little help from their families. The project started in December before Christmas break, culminating in the race Jan. 19.
"The kids really latched on to this idea and were really excited about the project," Ciastko said. "They created everything from their individual design concept to the music which was played as the cars raced along the track."