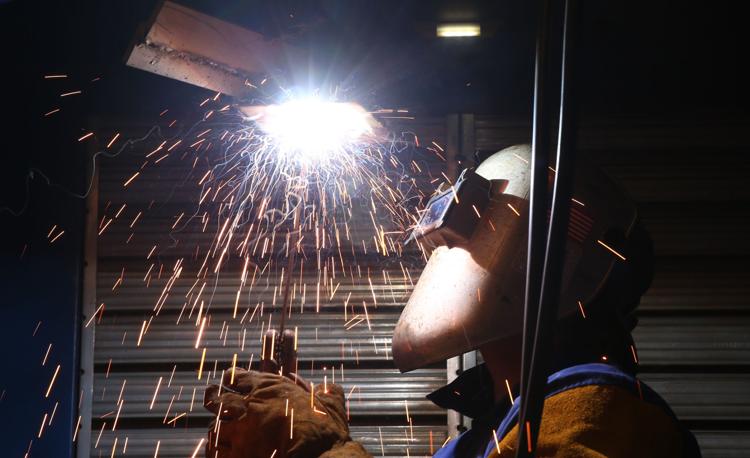 HAMMOND — With a hard hat on and safety glasses, Lake Central High School junior Taylor Walla is learning the basics of welding.
Lake Central senior Niyelle Lee and Hammond Gavit High School senior Karissa Korba are learning the culinary arts and were busy watching culinary arts instructor and pastry chef Derek Bodley make a Kentucky hot brown.
Highland High School senior Lexie Reyes checked "patients" for life-threatening conditions in an emergency medical services class with instructor Samantha Thomas.
These students are all enrolled at the Hammond Area Career Center, which teachers and administrators call a "gold mine" within the district.
Students from a dozen school corporations are able to attend the Hammand Area Career Center and major in 16 areas to prepare for college and a career.
A 'university' within the career center
Five years ago, the school district established the Area Career Center University, designed for students in the Hammond school district to give them an edge on college and career choices. 
ACCU Principal JoEllen Raby said May was when the first graduation was held for students enrolled in the ACCU program. She said 19 students in the first graduating class of 41 seniors were commended for their academic achievements.
The university program works with Vincennes University, and nine of the students graduated with an associate degree through the Early College Program supervised by Vincennes.
"Most of our seniors went on to a four-year university," Raby said. "We had a few students who went into the military and one who chose to go directly into the work force."
Raby said she and ACCU counselor Kate Lemon start early, visiting Hammond middle schools and talking to students and parents about the accelerated programs offered through the ACCU program.
"These students are taking college classes as early as their freshmen year," Raby said.
"They have to apply to come here, and we look at their test scores and other information to estimate their success. We provide transportation for students from Gavit, Morton and Clark. Students from Hammond High walk over because it's so close."
Keep reading for FREE!
Enjoy more articles by signing up or logging in. No credit card required.
They said the dual credits students earn in the university program can be transferred to other universities.
The ACCU has a total of 280 students, from freshmen to seniors.
"We work really closely with students on college and career access," Lemon said.
"The point of this program is to offer early college access to students from low-income areas. It's a really good opportunity for students who may not otherwise have that conversation about post-secondary options."
Elsewhere in the Hammond Area Career Center, some 550 students are enrolled in career and technical classes. CTE counselor Cindy Lewis said she and Principal Scott Miller work closely with students to get them in the classes of their choice and make sure they are successful in getting internships.
Hammond schools Assistant Superintendent Theresa Mayerik said the Hammond Area Career Center and the ACCU are helping to prepare students for postsecondary education and careers immediately after graduation from high school.
Bodley, the chef, said he closely follows the Indiana State Standards, which are highlighted on the board as students walk into the room.
On Thursday, students were learning about different types of sandwiches and how to make them. At the conclusion of the 2½-hour class, students made a Kentucky hot brown, an American hot sandwich originally created at the Brown Hotel in Louisville, Kentucky, by Fred K. Schmidt in 1926. The hot brown is an open-faced sandwich of turkey and bacon, covered in Mornay sauce and baked or broiled until the bread is crisp and the sauce begins to brown.
Lake Central's Lee will join her her classmate Korba on Oct. 20 working at Mrs. Dornberg's Culinary Experience in Highland. The two teens provide assistance to the owner.
Similarly, George Trinidad, who teaches industrial maintenance/welding, said he has students who are working in the community, and others who have joined local unions.
Thomas, the EMS instructor, also has students working at local hospitals and ambulance services. Highland High School graduate David Hoffman was at the career center last week acting as a patient for some students.
Hoffman, 20, who works at a local hospital and as an EMT, said he saved a lot of money in his education by taking the classes at the career center. "I really enjoy my job. I wanted to come back here and help out," he said as he laid on the floor and pretended to be a patient.