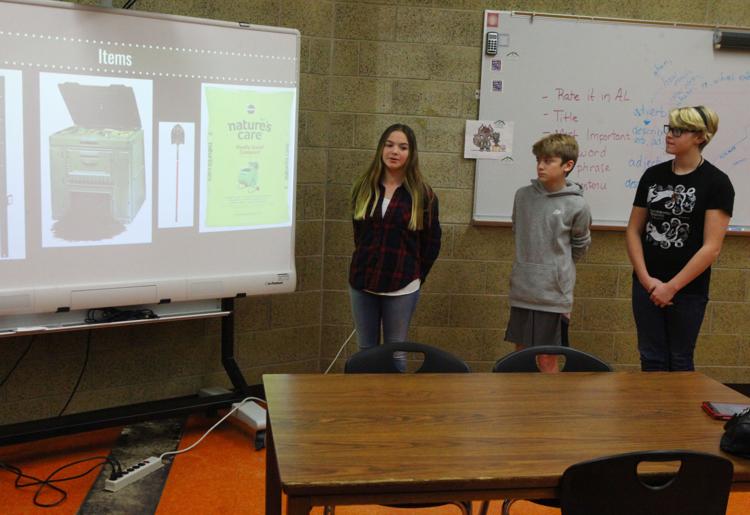 HEBRON — If you see composting bins popping up around town, or your youngster comes home with a bag of food for the weekend, don't be surprised. It's part of a project called, "You Are What You Eat," put together by Hebron Middle School eighth-graders. 
Hebron Middle School teachers Michael DeFries (history) and Kristy Stephens (language arts) co-teach a class called Historical Investigations.
DeFries said as part of the class, students study the early American colonies and learned that many residents initially suffered from starvation.
"We then discussed food-related problems in our area, and we had a speaker come in from the Hebron Food Pantry," he said.
The eighth-graders were required to research, identify and analyze food-related problems in the community, DeFries said. They then created an infographic showing statistics culled from their research. Finally, 18 groups of students created a proposal, including their infographics, and presented that to their teachers and fellow students.
The next day, the top eight groups presented their proposal to a panel of area experts in food and health-related careers.
The final two winning teams received $250 grants to complete their project, which focused on food and nutrition in the town of Hebron.
"The winning proposal was the C.O.R.E. program, which stands for Carry Out Return Empty," DeFries said. "It is a program in which some students in the elementary school will get a bag of food to take home for the weekend. They then return the empty bag.
"The other winning proposal is one where they will place compost bins around town that are kept up and people can go to get fertilizer for their gardens."
Stephens said the panel of experts had a difficult time choosing which proposals should be awarded grant money, because many presented quality ideas.
"My favorite part of this project was seeing students contact various service organizations in the community and often finding opportunities to serve others beyond this project," she said.
Keep reading for FREE!
Enjoy more articles by signing up or logging in. No credit card required.
"This is the third year we have done this project, and each year I am impressed with how students come up with creative new ideas to serve the community."
Two team's contributions practical, helpful
The three-member team of Sheana Crawley, Meadow Fornutto and Chris Campbell said they talked to community members and school personnel about children who receive free lunches during the school week, but may not have enough food for the weekend.
The eighth-graders saw they could make a difference by purchasing enough food to make breakfast, lunch, dinner and a snack for children to have over the weekend. They will be able to continue the program through the end of the school year.
"We put together the food and slipped it into a bag," Fornutto said. "On Dec. 8, we passed out five bags to kids at the elementary and five bags to kids at the middle school. We have a spreadsheet and information about kids who need the food, and we keep it confidential."
Campbell said it's pretty scary to think about youngsters who don't have enough to eat and can't get the proper nutrition they need. "It's not right that they don't have enough to eat," he said.
The five-member team of Max Pastrick, Logan Joseph, Gwen Weaver, Ryder Toczek and Maya Oswald created the proposal for fertilizer compost bins to be placed around town.
Residents will be able to add things like coffee grounds, fruit and vegetable scraps, leaves and grass clippings. The organic materials are broken down naturally by earthworms, bacteria and other organisms that live in soil. Composting offers a natural alternative to chemical fertilizers, and residents can take the material as needed.
Joseph said the project kept him and his group busy. He said they found that organic food is more expensive.
According to a website on organic foods, the term organic refers to the way agricultural products are grown and processed. While the regulations vary from country to country, in the U.S., organic crops must be grown without synthetic pesticides, bioengineered genes (GMOs), petroleum-based fertilizers and sewage sludge-based fertilizers.
"It's crazy how the (healthful) food is more expensive than the organic food," Oswald said. "That makes it harder for more needy residents to feed their families with with the (more healthful) organic foods."