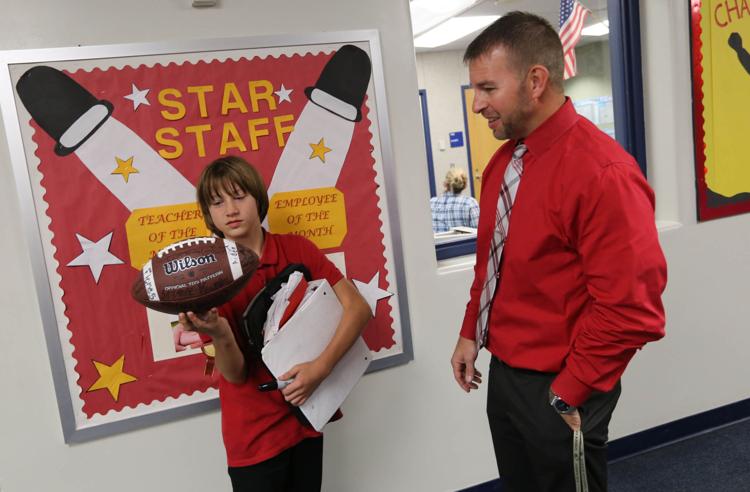 CALUMET TWP. — Educators and parents know the middle school years can be difficult, a time when children enter adolescence, and their interest and involvement in school can wane.
Lake Ridge New Tech Middle School Principal Greg Mikulich, in his second year as principal, worked with administrators over the summer to combat the adolescent blues. The team of administrators developed "The Champion Program."
The Lake Ridge mascot is a Warrior, and Mikulich said they've linked the idea of being a Lake Ridge Warrior with the Champion theme, something school staff is promoting across the school building. Administrators developed a five-minute video about striving to be a champion that's been shown to every teacher, student and staff member.
Mikulich, flanked by instructional coach Jenae McKnight and instructional data coach Eric Dillon, said new standards have been developed for teachers, students and even administrators.
"It's been an awesome transformation," Mikulich said. "It's been eye-opening as we've talked to our parents. We started a Friday and Saturday school, and parents can come with their kids. We work on discipline issues and other issues that crop up. We're teaching parents about the Champion concept."
The Indiana Department of Education ranked Lake Ridge New Tech Middle School a D in 2016 and 2017, but Mikulich and his staff hope to see that grade improve in 2018. However, they also say they battle a transient population and a free and reduced-cost lunch rate of 87 percent. The school has 453 students in sixth through eighth grade.
Five eighth-grade student ambassadors — Christopher Blankenship, George Winfield, Riley Bajda, Ariel Farrar and A.G. Farrar — said not every student initially liked the champion theme.
"Some don't like the creed, but it is helping behaviors," Ariel Farrar said.
"If you don't get your homework assignment in or you do something else you shouldn't in class, you get sent to the Champion's Creed (a room next to the office where students spend a few minutes memorizing the Champion Creed, then recite it to administrators).
"Believe it or not, that seems to work," Farrar said.
Keep reading for FREE!
Enjoy more articles by signing up or logging in. No credit card required.
Winfield said there used to be fighting and students in the hallway, rather than their classrooms. "There's less fighting. Kids get tired of writing the creed," he said.
McKnight, in her fourth year at the middle school, said there were two new administrators last year, including the principal, and some of the students "tried" them. 
"In these first nine weeks, we've seen a lot of improvement," she said as she walked from classroom to classroom observing teachers and students.
Dolores Estrada and Jessica Flores were co-teaching a project-based class in English/language arts and social studies. Estrada said the students are looking at different kinds of government, and will create a poster board about a country's constitution, flag, culture and food.
Teachers Jodi Hogan and Hank Curry were co-teaching an eighth-grade, project-based science and math class where students were looking at natural disasters like Hurricane Katrina and what kinds of things could have been done differently to prevent the loss of human life.
Champion theme showing early success
Eighth-grader Shane Stanley said he used to get into trouble last school year.
"I got off to a bad start last year with suspensions and fighting," he said. "They started talking about this champion stuff and I thought I wanted to change the type of person I was. I wanted a new start. It kind of motivated me to do better. Now, I'm part of the football team, and I know to do that, I had to do better."
Mikulich said he's spent countless hours talking to Stanley and motivating him to be his best. Mikulich said teachers and administrators go out of their way to establish relationships with students.
Parent Jacklin Piaskowy, who has two children at the middle school, said she loves the champion theme and wishes it were at the elementary school where her youngest son is in first grade.
"It instills in students to be their very best," she said. "I love everything the principal and staff are doing at the middle school. I also love the New Tech concept and the assignments students get. I can go online and look at their assignments and when they're due. I like the idea that my kids are learning how to work with other students because when they get older, they'll be expected to work with other people on their jobs."