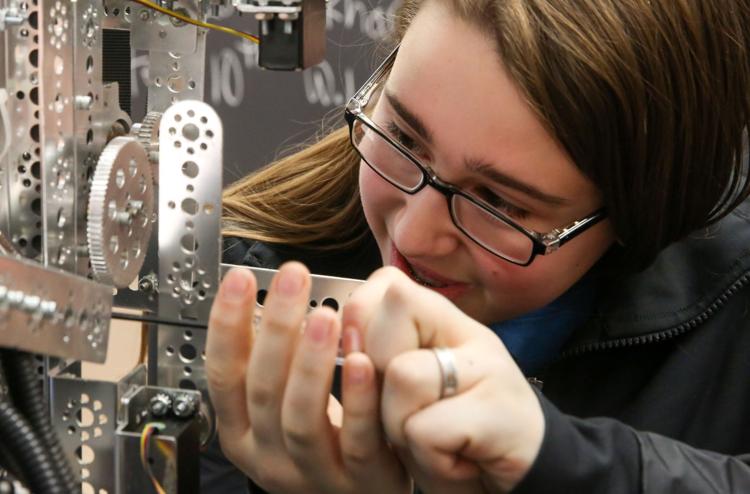 GRIFFITH — Gracia Dudlicek, Keith and Lori Hall, Al Walus, Jason Babin and Dean Price are not teachers, but when you see them in the classroom, you'd never know.
These engineers, business leaders and parent volunteers are among the industry leaders in Northwest Indiana who are stepping into the classroom to work with students.
Retired mechanical engineer Keith Hall is a senior mentor for Indiana FIRST, a robotics competition. He has helped start, and continues to mentor, numerous robotics teams in the Region, including those at 21st Century Charter School in Gary, Griffith High School's after-school robotics club, East Chicago Central High School, Merrillville High School, Heritage Christian High School, Hobart Scout Explorer Post, School City of Hobart, Munster schools and some schools in the Gary Community School Corp.
Lori Hall is retired from the legal profession and is the volunteer Affiliate Partner for the Indiana First Technical Challenge robotics competition. Her job includes finding the venues for robotics events and obtaining insurance, signing contracts, collecting registration fees and updating the state website. 
"We both do a lot of each other's jobs, but mostly I focus on the technical aspect, and she handles the organizational details of the programs," Keith Hall said of he and his wife, Lori Hall.
Both also are listed as staff and operating partners on the Indiana FIRST website. The pair said there are 74 teams at the FTC level in Indiana, along with close to 300 Lego teams.
Lori Hall said the couple get so much joy out of working with students, they treat them like grandchildren.
"I love the light-bulb moments," she said.
"It's such a wonderful process to help a child discover the answer. Sometimes they come up to me for help but I'm not really a scientific person, so I talk them through the process and they discover the answer on their own."
Dudlicek and Babin both became involved in the Griffith High School robotics club because of their children. Dudlicek is a civil engineer at Dyer Vault Co. with two sons in the robotics club. Babin is an electrical repairman at Ford Motor Co. with an eighth-grade daughter interested in robotics and engineering.
Dudlicek said her oldest son, Gabe, a senior at Griffith High School, has wanted to build robots since he began playing with Legos as a youngster. She said once he got to sixth grade, he talked her into helping out with an after-school club, and she's been involved ever since.
The robotics club, now three years old, is preparing for an upcoming FTC competition.
Robotics mentors crucial at other schools, too
The School City of Hammond has numerous robotics teams, and Team Hammond 71 is celebrating 20 years of winning. Year after year, the team has gone to competition and done well with the help of their mentors.
Sherri Silcox, the Michigan City Area Schools Safe Harbor coordinator, said Safe Harbor's Michigan City Robotics Teams have worked with numerous volunteer mentors and businesses since it began seven years ago. Safe Harbor operates the school system's after-school programs.
"I can't stress enough that their leadership is not only important, it (also) is vital to make robotics programs possible and help students succeed," she said. "When businesses connect their engineers and professionals to robotics teams it helps them as well.
"It's an excellent way for companies to grow their young workforce, recruit talented youth and train them to make choices that encourage good employees that stay local.
"Michigan City Robotics had served approximately 300 students on the teams, but outreach in what the teams have done to encourage other students to be their best ... has touched hundreds. We have had 50 or more adult mentors and volunteers since the beginning of the program."
Silcox said Al Walus, of Christopher B. Burke Engineering, helped start the team and has been a lead mentor, grant writer and strategic planning leader ever since.
Dean Price, with Haas and Associates, has been a mentor since Michigan City schools started the team, too, and he is the go-to guy for anything from event setup and outreach events to program implementation. Other mentors include Herb Higgin, retired director of Safe Harbor, and engineering teacher Ralph Gee.
"ArcelorMittal is a valuable sponsor of our team, and mentors have come from there that have helped move the team forward and been very important in assisting students during the build season," Silcox said.
At Griffith, Dudlicek said three of the Griffith High School seniors have gone on to universities around the country to major in engineering or robotics.
Griffith eighth-grader Jacoba Babin said she wants to be a structural engineer.
"I've always liked engineering and I want to help the world, especially on the West Coast making buildings earthquake-resistant," she said. "I've known I wanted to be an engineer since I was 9 and built things with Legos."
Griffith senior Daniel Welch said when he first got on the team last year, he was just learning. "I think I'm going to major in computer programming. I think it's great that we've got so many volunteers. They come in (and) help kids who might otherwise not have had a chance to do this," he said.