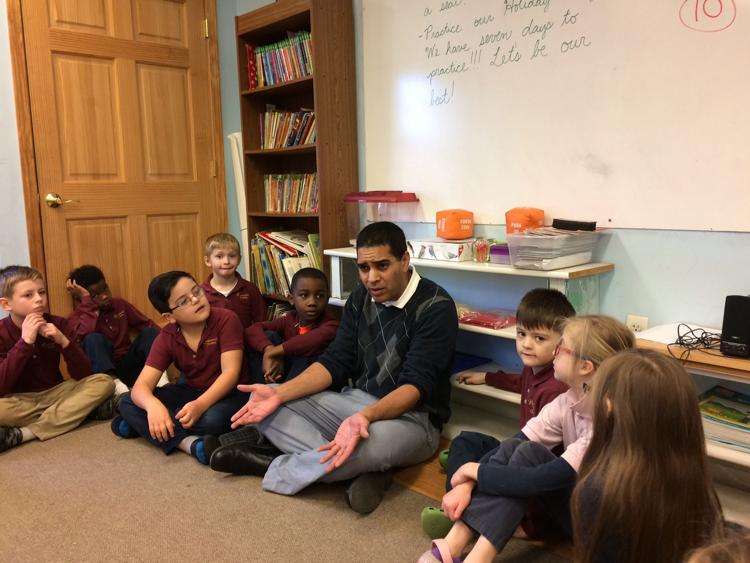 LAPORTE — Some of the younger children were running on the playground, middle-school students were paying close attention to algebra teacher Stephanie Ruszkowski as she explained multiplying and dividing negative numbers, and a small group of students in fourth- through sixth-grade made muffins to sell, to raise money for upcoming field trips.
It was a busy day, as it is every day at Renaissance Academy Charter School in LaPorte. The 10-acre property sits in a wooded area near U.S. 20 where students can look out the window on bucolic scenery, a pond and large playground featuring a treehouse.
The school, headed by Kieran McHugh, opened in fall 2007 as the only charter school in LaPorte County. It grew out of Renaissance Academy, a small kindergarten-through-eighth-grade private, nonprofit Montessori school established in 1999.
McHugh is assisted by her sister, Victoria McHugh, who helped her start the school and assists in the operations.
It continues to have a Montessori focus and is a member of the American Montessori Association as well as following the dictates of the Indiana Department of Education with students taking all state-mandated tests.
McHugh said the mission is to help every child reach his or her greatest potential with confidence and joy.
The IDOE graded the school as a B in 2016 and 2017 and before that as an A. Renaissance offers a preschool/kindergarten class and a kindergarten class. There also are multiage classes for youngsters in first- through third-grade, fourth- through sixth-grade and seventh- and eighth-grade classes.
It has an enrollment of 258 students in preschool to eighth grade for the 2017-18 school year, with 26 full-time teachers and 18 part-time teachers.
"They are a high-quality school in governance and finances," said Robert Marra, executive director of the Office of Charter Schools at Ball State University. "The uniqueness of this school lies in its Montessori approach and methodology. It seems to work well, and the students perform very well."
McHugh said the school emphasizes providing hands-on opportunities for students, meeting them at their developmental level.
"It allows the most capable students to excel at their highest ability," she said. "It also gives students confidence to work at their own level as we move them to where they need to be."
McHugh said 14 percent of students are in special education, similar to other school districts in Lake, Porter and LaPorte counties. She said most of those students are learning-disabled or on the autism spectrum.
"What's special about Renaissance is that we try to keep the joy of learning central in everything that we do," she said.
Field trips comprise another major component of the school. McHugh said a few years ago she and the teachers sat down to plan out field trips for all students for the next eight years, thinking about all of the places they'd like their own children to visit.
In the spring, Renaissance eighth-graders will go to California's Catalina Island for a marine biology camp.
McHugh said they also offer a variety of sports for students including basketball, cross country, tennis, bowling, track and golf, along with extracurricular activities.
A few weeks ago, the charter school hosted a chess tournament where about 240 students participated.
Strong commitment, good fit
Teacher Eileen Steinhiser, who teaches children in fourth- through sixth-grade, said she is in her 15th year at the school and feels like the staff "professionally" raised her. 
Steinhiser said she was homeschooled as a youngster.
"It's familiar but it's better," she said of the school. "I earned a master's degree in Montessori strategies. This is my life. I am a Montessorian. The children are doing what they enjoy, and what I enjoy is pushing their limits. That's why I teach. I teach fearlessness and adventure."
Fifth-grader William Wood said he's been a student at Renaissance five years.
"I remember my first day," he said.
"I remember walking out on the deck. The building we're in now wasn't here then. I saw everything. They have a treehouse on the playground. I couldn't believe it. ... I remember walking though the school, and it was amazing. I couldn't believe everything I saw."
Fifth-grader Markell Rollins came to Renaissace as a second-grader. He said he also likes his school, and all of his teachers are the best.
Third-grader Taye Falls may have expressed best the sentiments of most students when, while sitting in a group working with his teacher, Mario Castillo, he said, "Everybody at school is like a big family."