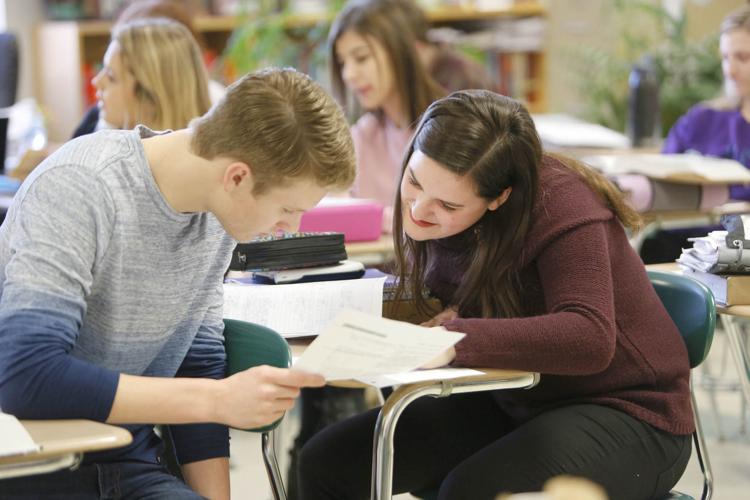 VALPARAISO — Despite being a small school district in rural Valparaiso with 1,442 students in the 2017-18 school year, the Union Township School Corp. offers a large number of dual credit, Advanced Placement and honors classes to its high school students.
Principal Don Gandy said Wheeler High School, with some 550 students in grades nine through 12, offers 20 to 25 such advanced classes to its students.
Dual credit classes give high school students the opportunity to earn both high school and college credits. Advanced Placement classes prepare students to pass an exam to prove their mastery of college-level curriculum, which lets them opt out of taking that class in college.
The Indiana Department of Education released a statement last February that said for the 2016 graduating class, 24,140 Indiana public school students took an AP exam, compared to 23,707 in the class of 2015.
Gandy said for a small school, 34 percent of the students at Wheeler High School took dual credit, Advanced Placement or honors classes.
"When I look at our student population, our kids are going to college and doing quite well for themselves. They perform well and get into college with almost one year of college credit. Our senior class, of 127 students, is very strong," he said.
Union Township Superintendent John Hunter said that for 2016-17, it is the only district in Northwest Indiana where all four of its schools earned an A from the Indiana Department of Education.
School leaders said the district is proud of every student, particularly senior Lillian Burton, who has a grade point average of 4.383 and has been accepted to Yale.
Burton said she will major in political science with plans to work in politics or for a nonprofit.
"The number of higher-level classes they offer here is a real advantage," she said. "Even if the class doesn't transfer to the university, I will still go to my college-level classes with a better understanding of that particular subject because I've had it in high school."
Keep reading for FREE!
Enjoy more articles by signing up or logging in. No credit card required.
Wheeler senior Kimberly Nieman, who was taking a dual credit psychology class with teacher Jessica Bell, said she has four dual credit classes this year and took five last year through Ivy Tech Community College. She expects to enter college with about 27 credits.
"For such a small school, the teachers are very hands-on," she said. "If you have questions, the teachers really try to help you out and will stay after school. It's been really good, and I don't feel overwhelmed in my classes."
Wheeler senior Brooke Perry plans to attend Purdue University Northwest for nursing. "The dual credit calculus class has been a challenge and lots of hard work, but it's a really good environment in here. Calculus can be rough but Mrs. (Terri) Anderson is awesome. I come in after school and study to keep my grades up," she said.
How dual credit classes help students achieve goals
Ivy Tech Community College officials said Thursday the college served approximately 58,000 students in 2016-17. The record number of students are on pace to earn an estimated 365,250 college credits, which could save families nearly $50 million collectively in college tuition costs.
Caleb Westberg, director of K-12 initiatives for Ivy Tech's Lake County, Valparaiso and Michigan City campuses, said the dual credit agreements with Wheeler are growing.
"We will be adding more courses with them for 2018-19, including another English class and a public speaking class," he said.
"Through the Porter County Career Center, Wheeler High School students also have the opportunity to participate in our welding program at the Ivy Tech Valparaiso campus. We are exploring the possibility of implementing early college programming with Wheeler to sequence courses such that students can earn a degree or credential from the college by the time they graduate high school."
In Brian Kunze's dual credit U.S. government class, students are studying the birth of the nation through the Civil War.
"I want them to learn the history of the U.S. and develop problem-solving skills," he said, adding his course gets students ready for college-level classes.
Kunze said next year, students in his U.S. history class will get dual credit approval through Indiana University in Bloomington because of a program he's involved in there where the university offers tuition-free graduate courses to dual credit teachers.