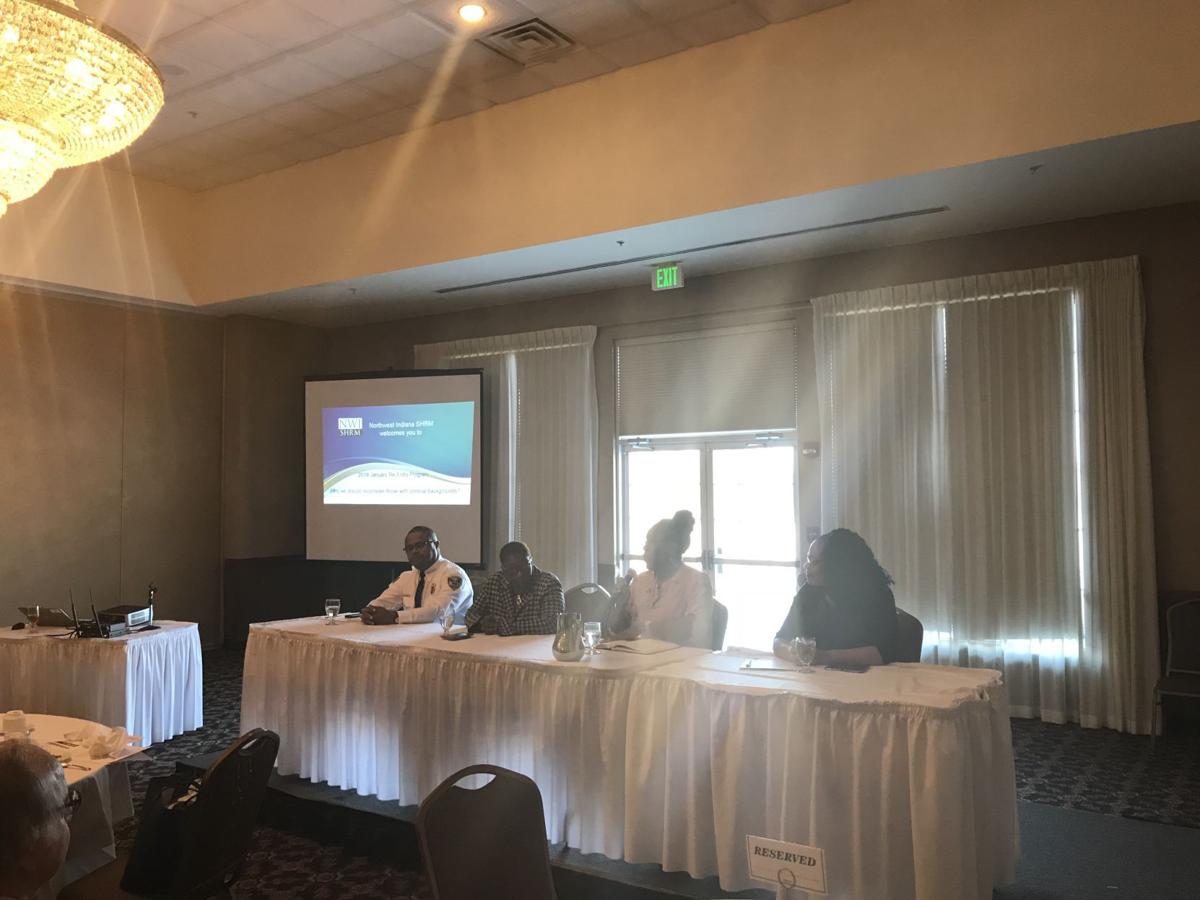 A hospital rejected a job candidate who had a 20-year-old felony on her record after bouncing a check and another man who got as far as the workplace orientation before a criminal background check turned up his record, Northwest Indiana Society of Human Resource Management President Cyndi Harbin said.
"He was a grown man who was tearing up," she said. "He had interviewed well, and unfortunately then the felony came back. It touched me. He said 'I still feel in prison. I've done my time but I still feel in prison. I don't think I'll ever be able to get out.'"
But at a time of low unemployment and growing questions about the cost and effectiveness of harsh prison sentences, human resources professionals are reconsidering whether criminal offenses should be automatic disqualifications from unemployment. The Northwest Indiana Society of Human Resource Management held a forum Wednesday at Avalon Manor in Hobart on "Why we should reconsider those with criminal backgrounds?"
"The underlying reason we are here is a concern for humanity," said event facilitator Bernard Henry, vice president of human resources for Alverno Clinical Labs. 
There's been growing talk for reform in hiring, to give those who have done their time a second chance in life. Gov. Eric Holcomb for instance signed legislation "banning the box" inquiring about job applicant's criminal records, to give reformed criminals a fair shot at landing state jobs.
"This is a policy issue. This is a morality issue," said attorney James Jorgensen with Hoeppner Wagner & Evans LLP. "On one hand we have the ability to do the right thing. And on the other hand we have the ability to do something that makes sense from a business perspective. I think this is an intersection."
Gary Mayor Karen Freeman-Wilson said most people didn't think that theft, drug dealing or robbery should be a life sentence. The former Indiana Attorney General, judge and lawyer said she practiced criminal law for years and only felt uncomfortable and threatened by two clients out of more than 1,000.
"Sometimes they made one mistake," she said. "Sometimes they made multiple mistakes. But the question you have to ask yourselves if should they be sentenced for life? They're all returning to somewhere."
Freeman-Wilson said felons can't fully reenter society if they can't find work, and that taxpayers are forced to support them and their families if they're unemployed and turn to crime again. 
"At the end of the day, do we want to pay for them?" she asked. "If they can't get a job, all of us who do have jobs will take care of them and their children in some form or fashion."
She said there were advantages to hiring released felons, such as that those on probation must take frequent drug tests and are verifiably clean. While a bank would not want to hire someone with a history of theft, they could be put in a position where they wouldn't handle money and don't pose a risk of stealing, such as in maintenance, Freeman-Wilson said.
"If a person has done their time, however long that is, why are we so comfortable with extending their sentence?" she asked.
She encouraged more employers to "ban the box" about previous criminal history because anyone who admits to having a felony on their record will be treated "like an ax murderer" even if they committed a relatively minor offense, like bouncing a check or failing to pay child support after a loved one got sick. She encouraged employers to have an open mind, judge each case individually and try to find jobs suitable for those with a criminal record to give offenders a level playing field.
She cited the case of Carmeuse Lime and Stone, which recently relaxed a strict no-felon policy to hire an exemplary temp worker at its Buffington Operation who happened to have a criminal record.
"Do you want an employee with high energy, with hustle, with marketing skills, who connects with clients? Then hire a drug dealer," she joked, getting a big laugh from the room. "Drugs have been a scourge on society. My point is these people have knowledge, skills and abilities. But like it says in the comics, they just haven't used their power for good."
The business news you need
With a weekly newsletter looking back at local history.