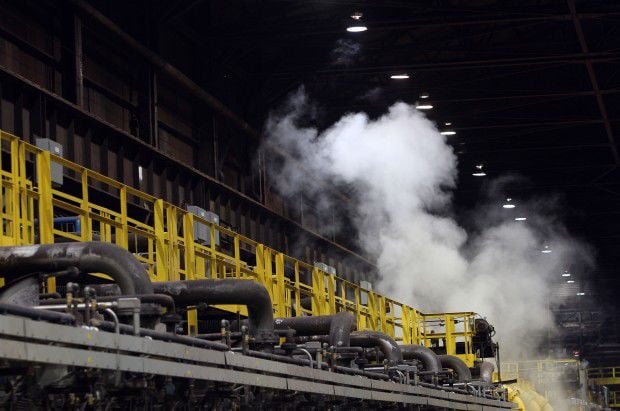 ArcelorMittal USA was profitable in 2018 and the company is optimistic about continued growth this year.
The Luxembourg-based steelmaker forecasts in its recently released annual report that demand for steel will grow by 0.5 percent to 1.5 percent in the United States this year. 
It would be a moderation of growth after 1.7 percent growth in steel consumption in the United States last year. Automotive demand is expected to remain broadly stable, and growth should continue with machinery and construction.
ArcelorMittal grew sales by 10.7 percent to $76 billion worldwide last year, partly because of a 13.5 percent increase in average steel selling prices.
In 2018, ArcelorMittal sold $16.2 billion in coil and other steel products in the United States, up from $14.3 billion in 2017 and $12.2 billion in 2016. ArcelorMittal said it benefited greatly from the higher prices that came with the Section 232 tariffs of 25 percent on all foreign-made steel.
"In the United States, as a consequence of the then-ongoing Section 232 national security investigation which started in April 2017 and the expectation of the imminent implementation of import tariffs on steel, spot hot-rolled coil prices increased sharply during the first quarter of 2018," ArcelorMittal said in its annual report. "Before the release of the investigation report by the Department of Commerce on Feb. 16, 2018, hot-rolled coil prices reached $830 a ton from $723 a ton at the beginning of January 2018."
In the second quarter, prices exceeded $1,000 a ton, peaking at $1,014 a ton in July, the highest in 10 years. The average hot-rolled coil prices reached an average of $907 a ton in the first half of the year, up from $688 a ton during the same period in 2017.
But more steelmaking capacity came online, international prices weakened and the market went through a normal seasonal dip. As the domestic steel supply rose, hot-rolled coil prices fell to $799 a ton by the end of the year.
Steel prices averaged to $932 a ton during the second half of the year, as compared to $686 during the same period in 2017.
Imports in the United States fell after peaking at 30 million tons during the height of the import crisis in 2014.
"Steel import penetration in 2018 fell back to 23 percent, close to the average between 2007 and 2013 and much lower than the 28 percent average import penetration between 2014 and 2016," ArcelorMittal said in its annual report. "The decrease in finished steel imports was due to increasing U.S. trade protection measures, despite attractive prices in the U.S. relative to international markets."