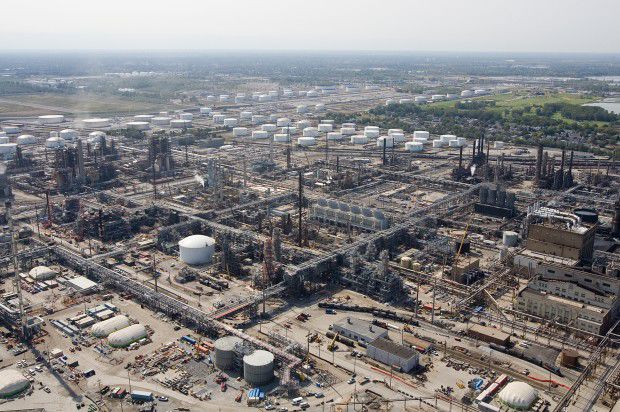 BP is shutting down the largest crude distillation unit at the BP Whiting Refinery for months, but it's not expected to cause any significant spike in gas prices locally.
The London-based energy giant intends to shut down the 240,000-barrel-per-day Pipestill 12 Crude Distillation Unit at the 430,000-barrel-per-day refinery along the Lake Michigan shoreline in Whiting, Hammond and East Chicago.
A source familiar with the situation said the maintenance was planned, and is not because of an accident or breakdown, and that the work would likely take seven to eight weeks.
Pipestill 12 was installed as part of the $4.2 billion modernization project that allows the BP Whiting Refinery to process more crude oil from Canada, and this is the first overhaul since it went online in 2013.
BP operates two other crude distillation units — the main processing equipment that turns oil into products like gasoline, diesel and jet fuel — at the former Standand Oil Refinery in Whiting.
Shutdowns at the BP Whiting Refinery have caused major spikes in gas prices in the past, notably during an unexpected outage in 2015. But analyst Patrick DeHaan, head of petroleum analysis for Gasbuddy.com, said this time the impact will be minor.
Gas prices might be rising locally, but people should blame an Illinois refinery down near St. Louis instead of Whiting, DeHaan said.
"It will have minimal impact on prices — planned maintenance generally means the refiner in question has well prepared for the outage," he said. "In addition, during the fall, maintenance may have less impact as demand is weaker than the summer driving season."
But, DeHaan said, "the Phillips 66 refinery in Wood River, Illinois, had an unexpected process upset that is currently pushing wholesale prices up."
Add in the planned maintenance at several regional refiners, and "there's a bit of a temporary supply crimp," he said.
"We're seeing retail gas prices move up across Indiana today as a result of all of these factors," DeHaan said Wednesday.
Gasbuddy.com reported the average price in the Gary metro area Wednesday was $2.88 a gallon, with a low of $2.68 a gallon.
"BP Whiting will have very limited impact," DeHaan said. "It's more that the other unexpected outages are the impact, and BP Whiting won't be able to pick up the slack, is the way I look at it. Planned maintenance, like BP is doing, is entirely different than an unexpected outage like the one at Phillips 66 Wood River."