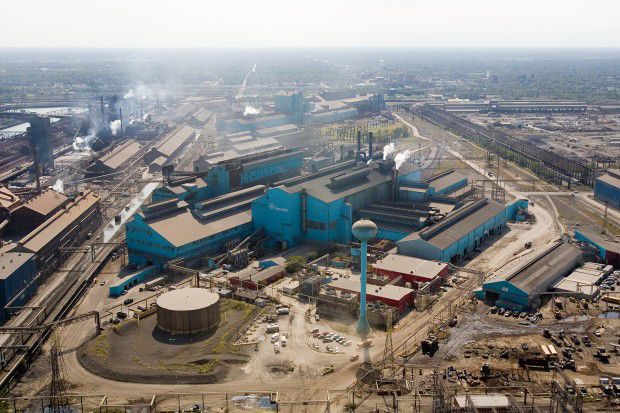 Investors claim in a class action lawsuit that U.S. Steel's Carnegie Way efficiency campaign was "a sham" that "fabricated cost savings" partly by putting off maintenance that eventually needed to happen anyway.
The lawsuit was filed last fall in U.S. District Court in the Western District of Pennsylvania in response to a 27 percent plunge in stock prices after the steelmaker's unexpected loss of $180 million in the first quarter of 2017. The suit filed by Christakis Vrakas and other shareholders named the steelmaker, executives like former CEO Mario Longhi and U.S. Steel's underwriters as defendants, alleging they violated federal securities law.
The class action suit further alleges U.S. Steel made false and misleading claims in investor conference calls, presentations, prospectuses and press releases in 2016 and 2017.
Judge Cathy Bissoon has been weighing U.S. Steel's motion to dismiss the case, giving the plaintiffs until Oct. 30 the opportunity to address deficiencies she found in their claim.
Attorney Vincent Coppola argued in the lawsuit that U.S. Steel's cost-cutting initiative wasn't actually what was presented to shareholders, citing 11 confidential company insiders and the steelmaker's former chief operating officer.
"Although the Carnegie Way purportedly consisted of three elements, it was widely known throughout the company that the only element actually implemented was Operational Excellence which, according to plaintiffs' confidential sources, was 'all about cost-cutting at the expense of operations,'" Coppola argued in the lawsuit. "Indeed, the U.S. Steel defendants severely curtailed the maintenance initiative because that would cost money."
U.S. Steel's deferred maintenance and layoffs during the downturn in 2016 led to "thousands of tons of missed steel production" when the market turned around, depriving investors of profits they would have otherwise pocketed, the suit alleges.
U.S. Steel is asking the judge to dismiss the case, saying there's no evidence of fraud or misrepresentation, just a difference of philosophy.
"Despite complaining that U.S. Steel made inadequate capital investments and obscured that fact, the complaint makes no challenge to any of U.S. Steel's regularly disclosed financial figures, including capital expenditures," U.S. Steel attorney Geoffrey Ritts argued in a motion to dismiss. "The complaint ultimately is little more than a lengthy disagreement with managerial decisions and business strategies, and it is well established that such disagreements do not a disclosure claim make."