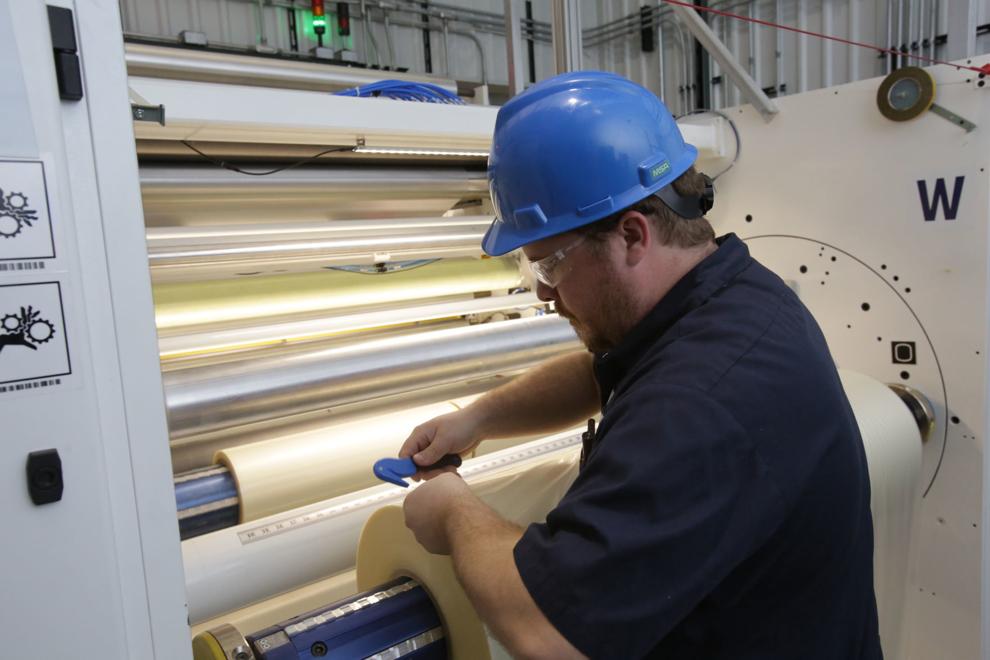 Monosol has been around since 1953, but this last year the business has experienced breakneck growth most companies would envy.
The Merrillville-based company has been hiring and building more manufacturing capacity since Proctor & Gamble introduced the Tide Pod in 2012. The single-use laundry detergent packets that use Monosol's patented water-soluble film became an immediate success, and demand has continued to grow.
Industry observers estimate Proctor & Gamble rakes in $1.5 billion a year from TidePods and Ariel Pods, which have a lock on 80 percent of the market.
As sales skyrocket, Monosol expects to double the size of its business over the next four or five years, CEO P. Scott Bening said.
Monosol, a division of Japan-based Kuraray after it was acquired in 2012, mainly served the agriculture market, creating packaging for pesticides and fertilizers, as well as other industrial and consumer products, until it scored a big hit with dishwasher detergent pods in the 2000s. Then it helped crack a code for a consumer goods Holy Grail many others failed to over the years, devising a way to make a single-use laundry detergent pod one can conveniently toss into a washer without the hassle of measuring out a dose and possibly spilling it.
"We've really helped create the markets we serve," Bening said. "We create the technology for the markets that we're in. We've worked to expand and grow the unit dose, and find new applications. We've continued to grow through technological development and are in the factories teaching our customers how to use our films. Our productivity rates stay as high as possible because we collaborate in partnership with our customers. We build these products and markets from the ground up with our customers."
Monosol is The Times Business & Industry Hall of Fame's Enterprise of the Year for 2018. It also routinely picks up honors from its business partners, and has been repeatedly selected by the Cincinnati-based Fortune 50 consumer goods giant Proctor & Gamble as an External Business Partner of the Year, out of more than 75,000 global suppliers.
"What we do speaks for itself," Bening said. "We try not to have transactional relationships with customers. We seek true partnerships."
Customer and employee relations key
Christian Herrmanns, senior vice president of marketing and sales, said he's been impressed by the degree to which Monosol works with its clients.
"There's a culture of collaborating with external partners and co-suppliers in the industry I have not seen anywhere else in my career," he said. "One of the ingredients to be successful has been working hand-in-hand with customers."
Monosol also has repeatedly been named one of the top workplaces in the country.
"We run a tight ship," Bening said. "We go out of our way to give employees freedom but also have high standards. We also reward our people very fairly and provide quality health benefits and wellness programs. We don't accept mediocrity."
Monosol's scientists have secured more than 50 patents and have been working on more than 300 more, such as on film that dissolves faster and in colder water. With the technology it's developed, it's locked down most of the market share worldwide for single-dose units.
"Most of the markets we're in, we're the No. 1 supplier," Bening said. "It's the result of continuously innovating with the product and being incredibly cost-effective to the customer."
Single-dose units have been steadily gaining ground with consumers, who appreciate the convenience and ease. Detergent pods have secured 18 percent of the U.S. detergent market, 26 percent in the United Kingdom, 25 percent in France, 26 percent in Poland and 11 percent in Japan, where it's a new category, Herrmanns said.
"We have an extreme sense of accountability and ownership for the markets we serve," he said. "We serve markets by design. We don't serve them opportunistically and go in and out. We have a commitment to our technology and capacity. In particular we have stewardship for building capabilities so we're always comfortable when we enter a market."
Single-use pods: Looking to other applications
Detergent pods have consistently outperformed analysts' conservative expectations.
"They have many years of long growth in some countries," Herrmanns said.
Monosol believes a 30 percent market share is attainable, but "our long term goal is of course to find ways to grow the market above and beyond 30 percent penetration," Herrmanns said.
People often are willing to pay more for single-use pods when they try them, Bening said.
"It's the convenience," he said. "It's just such easy dosing. It's very easy and convenient to use."
Every large brand and major private label has started offering detergent pods, showing it's an idea whose time has come, Bening said.
"I think it goes across all generations," Bening said. "Senior citizens appreciate the convenience. College students and moms and dads have taken to them. Once people try it, they never want to go back. It has an 80 percent or so success rate once people have tried it."
Detergent pods are a premium product that costs more, so Monosol initially targeted more developed markets such as the United States, Europe and Japan.
"There's a correlation with who is willing and has the means to afford to pay for something that is more convenient," Herrmanns said. "But as these products reach the value tiers of the market, it's no longer just a play for developed markets. We're looking at markets whether the economies are developed or not."
Monosol is looking at Japan and China as its next big growth markets. Then it's eyeing Eastern European countries and Latin America.
The company hopes the consumer's growing familiarity with single-use products will make them more likely to use it for other applications, such as household cleaning, deploying pool chemicals and shaving.
"We need to teach and educate consumers on how it brings value to them," Bening said.
Knowing detergent pod sales will eventually plateau, however fast-growing they now are, Monosol is looking for other applications for its water-soluble film, such as cosmetics, food ingredients and protein powders.
As it seeks patents, it has to constantly fight with so-called patent trolls, who hold desk patents for hypothetic products they hope to cash in on but could never produce and commercialize themselves.
"It's never-ending," Bening said. "We're fighting around the world. It's a huge expense, but it's the price of success."
Despite the success of detergent pods, it only makes up about 60 percent of Monosol's revenue since the company is diversified in a number of areas, including agriculture and packaging materials for synthetic marble and other stone products used in home construction.
"We're going to continue to grow regionally and internationally," Bening said. "Most likely our markets will mature in eight to 10 years. In the meantime we will incubate and help bring new ideas to the marketplace."
Monosol already has nearly doubled employment since 2012 in Northwest Indiana, where it employs 500 at its Merrillville headquarters, its LaPorte plant and its two manufacturing facilities in Portage.
"This company was built in the Region and succeeded in the Region," Bening said. "We owe a lot to the Region, and have been loyal to Northwest Indiana over the last 60 years. Northwest Indiana is where we want to grow."