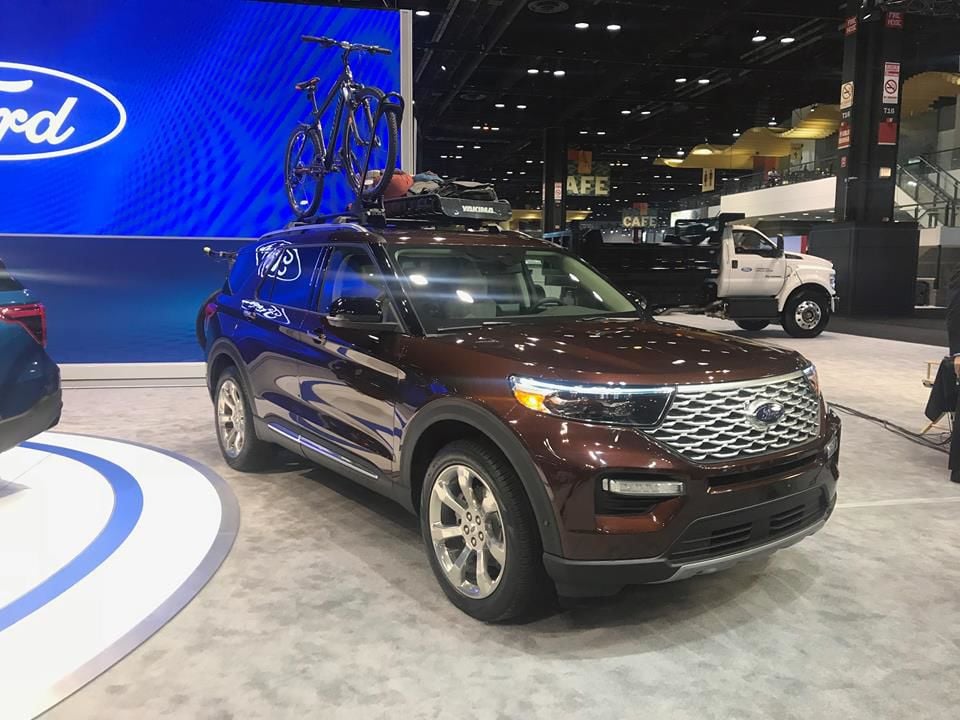 CHICAGO – At the Chicago Auto Show, Ford is displaying the first major redesign of the top-selling Explorer since production was first moved to the Chicago Assembly Plant in Hegewisch in 2011.
"We did a couple of mid-cycle refreshes to the 2011 model over the last eight or nine years,"  Explorer Marketing Manager Lee Newcombe said. "It's been a very popular seller for us. It's the best-selling sport utility vehicle of all-time. We outsold every other competitor in this segment last year, but it was time to bring an all-new platform and all-new capability."
The new 2020 Explorer, which will hit dealership lots this summer, is being showcased in the Ford area of the South Hall at McCormick Place for the Chicago Auto Show, which runs through Feb. 18.
The tricked-out new SUV can park itself with only the push of a button. One of the biggest changes is that it went from front-wheel-drive to rear-wheel-drive.
"It's all-new from the ground up, starting with a rear-wheel-drive platform that stretches the wheelbase by about six inches," Newcombe said. "That does a tremendous amount for us in terms of capability, but also in exterior styling and design, which is one of the main reasons people come to Explorer to begin with. It allows us to push the wheels to the corner and minimize the front overhang. It really gives it an athletic, lean, muscular design that a lot of our customers crave and respond to."
The interior, which seats up to seven people, is now more spacious with more hip room, leg room, and more shoulder room. There's and about 120 additional cubic liters of storage behind the first row.
"You can lay down a 4-by-8-foot sheet of plywood in the back seat," Newcombe said.
The new Explorer has a lot of new tech, including a 10.1-inch touchscreen that's set up like an iPhone and wifi that can connect up to 10 devices, up to 50 feet away from the vehicle.
Workers at the Chicago Assembly Plant will make six different versions of the all-new 2020 Explorer, including a hybrid version. Ford also will start offering the SUV with optional pre-installed bike racks and other accessories.
Car buyers will be able to roll the cost of the racks and accessories into the financing, and get them installed at the dealership before they are driven off the lot.
"It's really the entire suite of Yakima equipment, whether racks, rocket boxes, trail hitch carriers, baskets, really the whole suite," Newcombe said. "We expect it to be very popular."
Starting in April, the new Explorer will be made by about 5,800 auto workers at the Chicago Assembly Plant in Hegewish and the Chicago Stamping Plant in Chicago Heights. It's now available for presale.
Chicago Auto Show: Top 20 selling vehicles in 2018