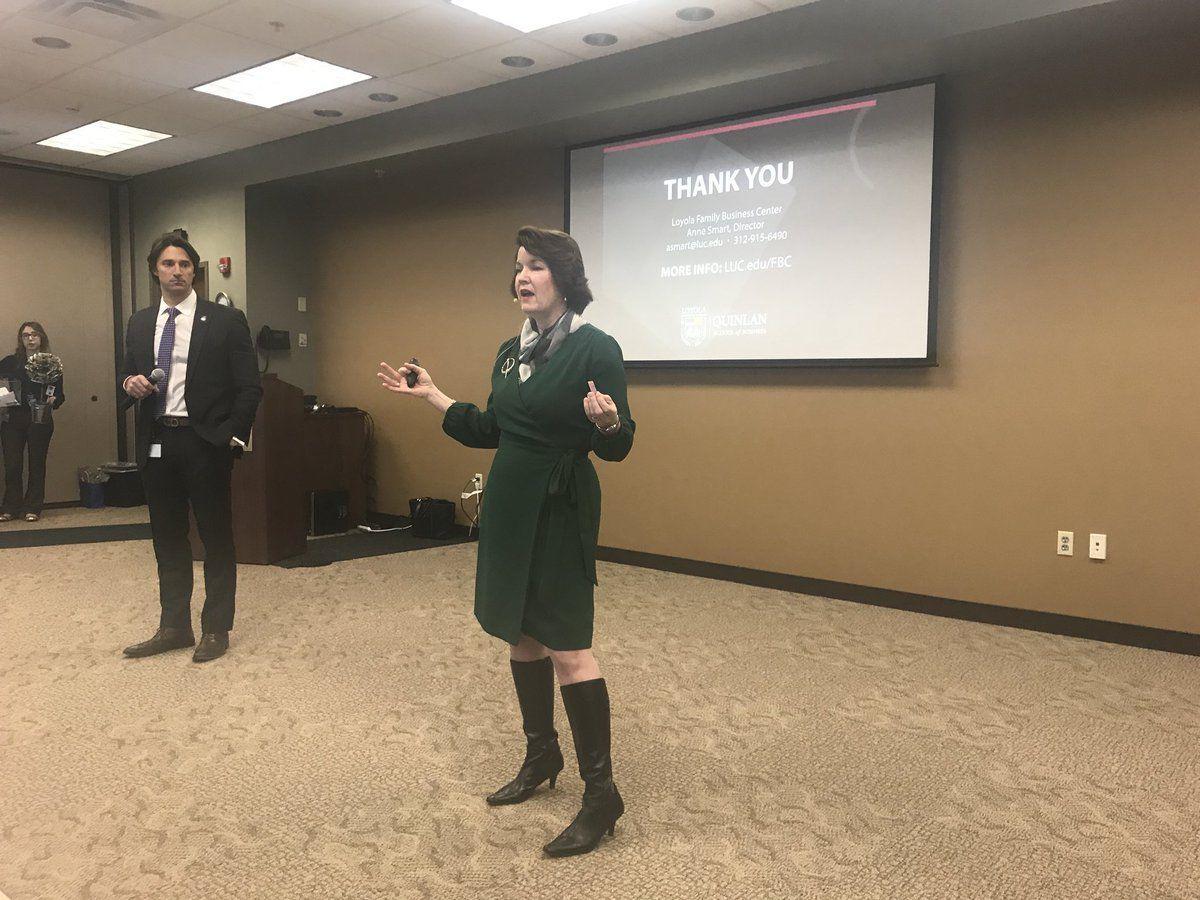 Experts estimated that there are 5.5 million family businesses in the United States that contribute $8.3 trillion to the economy, employ 63 percent of the workforce and account for 57 percent of U.S. gross domestic product and 78 percent of new job creation.
But Anne Smart, director of The Family Business Center of the Quinlan School of Business at Loyola University Chicago, warns that only 30 percent of privately owned businesses make it to the second generation, and 47.7 percent collapse once the founder dies.
Business owners should plan ahead if they hope to pass a business on to the next generation, make it employee-owned or sell it, Smart told a crowd at the Centier Corporate Center in Merrillville on Wednesday. She discussed family business succession at one of the free Break Through business seminars presented by Centier and The Times Media Co.
She's been working with Centier Bank, which has been family-owned since it was founded in Whiting in 1895.
"We came up with the not-for-sale pledge," Centier President and Chief Executive Officer Mike Schrage said. "I made a decision then, at mid-life pretty much, that this is something I want to preserve, this is a legacy I want to work on.
"Certainly it comes into our minds as we go through stages of life, 'Am I going to plan for succession? Am I going to work on an ESOP plan, let the employees run it?'" Schrage continued. "Here, the employees are family. Some people are like, 'I don't believe this not-for-sale pledge. What if someone offered you a billion dollars?' Well, it's still no. What price do you put on family? What would you sell your kids for? Your wife?"
Family businesses are the economic engine of the country and have natural advantages such as committed shareholders, lower costs of capital and increased shareholder value, Smart said.
But most don't make it past the first generation, let alone to the third or beyond, she said. 
"As they say, 'if you fail to plan, you plan to fail'," Smart said. "Thirty percent of those surveyed said they had no plans to retire, so they're going to beat the odds and be immortal. People don't plan for succession. It's not because they don't want their businesses to go on, don't want their families to thrive, or don't want their employees to continue on. It's because they don't know how. The biggest thing that happens in family business is we can't talk about what happens in the business and what happens in the family. We don't have those conversations."
While there is a lot of private equity interested in buying small businesses, Smart said it often makes sense to pass a business on to children, who are often emotionally invested.
"They might have come into the warehouse at 7 years old and put boxes away," she said. "They might have worked there as an employee during summers. It's a natural progression."
But steps must be taken to professionalize business processes, such as by setting up a board of directors and plotting a succession so that the next generation gets mentored when they start out on the job, Smart said. The next generation must be ready to adapt to market conditions and take the company where it needs to go.
"The longest family businesses are no longer in the business they started," Smart said. "Hermes began as saddlemakers to the king. Now they're a luxury brand. They had to reinvent themselves over and over."
The business news you need
With a weekly newsletter looking back at local history.