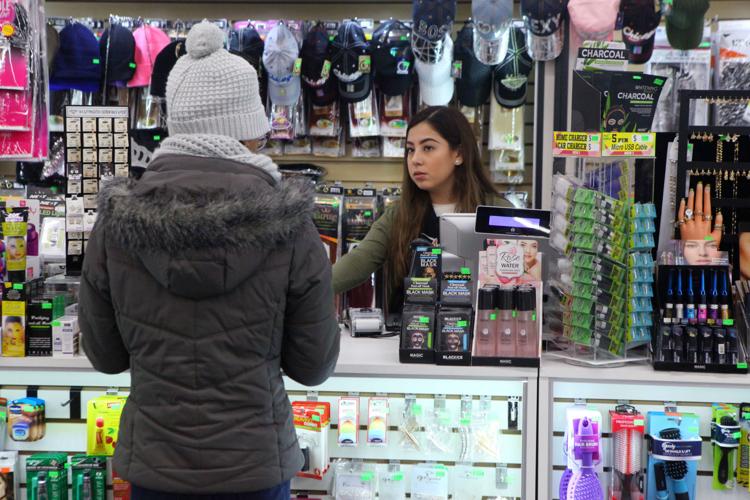 Drive south from Chicago into North Hammond and you'll see 24-hour drive-thru smoke shops, liquor stores, fireworks stands, a casino, flashing lights and factories that emit noxious odors.
But a suburban-style shopping center has transformed the gritty area just across the state line, not far from the Chicago Skyway.
Developer Marina Development District, helmed by Luke Oil Vice President Tom Collins Jr., has pumped more than $20 million in new investment around a Walmart Supercenter that's been a popular attraction for residents of the South Side of Chicago. The developer recently has added more than 88,000 square feet of restaurant and retail space in the growing Marina District, Hammond Director of Economic Development Anne Anderson said.
Anchored by Walmart, the growing shopping center includes Ross Dress for Less, Dollar Tree, Rainbow Apparel, Beauty Supply and an IHOP diner. Marina Development District recently completed construction of a 14,250-square-foot strip mall that includes an AT&T store and has room for additional tenants to lease.
The developer also is building a 3,775-square-foot Wing Stop restaurant and a 3,200-square-foot Popeyes. There's space for eight other tenants in the new buildings, and enough land for another 10,000-square-foot strip mall.
Changing landscape
The project has come a long way since it started in 2013, coming on the heels of the 184,000-square-foot Walmart that was built in Hammond's Robertsdale neighborhood in 2011.
"We are proud of the product we were able to put into a market that was designated as a 'brown zone,'" Collins Jr. said. "We hope that the city and Region is equally as pleased with our redevelopment of North Hammond. The project has been difficult financially due to the length of time involved and us having to purchase the TIF bonds."
Marina Development District also plans to redevelop two fuel stations there this year, and continue the build-out next year. Then it will continue development farther southeast along Indianapolis Boulevard to its "5-points" intersection with Calumet Avenue and 114th Street.
"We hope to complete the Marina District portion by the end of 2018," Collins said. "Once we complete the 'Marina District' footprint, we will begin focusing on the parcels from Vogel's to the 5-points corner."
Attracting Illinois consumers
The retail area has flourished by the state line largely because of lower taxes that draw in Illinois shoppers. After state, county and city taxes are factored in, the sales tax is 10.25 percent in the city of Chicago, but only 7 percent in Northwest Indiana. Indiana also charges 99 cents in tax for cigarettes, while Chicago taxes a total of $7.42 per pack, making Indiana a destination for smokers.
Many cross the state line to buy cartons of cigarettes, fill up their gas tanks because of cheaper gas taxes, buy fireworks that are illegal in Illinois or try their luck at Hammond's Horseshoe Casino. 
"They are doing a lot of business there," said Africa Tarver, Hammond's executive director of Planning & Development. "They've been building a substantial amount."
While new stores have been crowding around the Walmart that's been a magnet for South Siders, the shopping center also is drawing shoppers from Hammond, including the surrounding Robertsdale neighborhood, Tarver said. The parking lots are often packed. 
"The Ross clothing store was a nice complement and it's somewhere for families to go," she said. "We've been in talks with a lot of different restaurants. It's an appealing site because of the (Horseshoe) casino, the proximity to Chicago and the expressway. There also are a lot of families that live nearby."
Tarver expects to see more restaurants open in the Marina District and has been in talks with more national chains.
"Walmart brought a lot of the other businesses in and brought a lot of construction," she said. "There's going to be more retail coming in, and we're actively looking at more restaurants. A lot of our largest employers are there: there's Cargill and Unilever. With those plants, there's quite a bit of activity that would support restaurants. There are a lot of workers going to lunch."
Development welcome
Hammond cleared the way for the redevelopment several years ago by spending about $2 million to remediate slag at the site, which had been one of the many dumping grounds for local steel mills, Hammond Mayor Thomas McDermott Jr. said.
"It was like Lost Marsh where the slag just piled up to a huge hill," McDermott said. "The steel mills had no plans, they just dumped it there and left it there. We cleaned it up and now it's an asset."
Some residents have complained that higher-end stores haven't come in, but any investment is a good thing, McDermott said.
"Those stores cater more to the South Side of Chicago, where there are higher taxes," he said. "They were built for the South Side; it's just a bonus we have them here. The Walmart's doing very well, the IHOP's doing very well, the whole area is doing very well."
Just across the state border, the property on Indianapolis Boulevard always has drawn Chicagoans. From 1920 to 1936, it was home to the Roby Speeway, a 1-mile dirt track where Chicagoans would gamble on auto races.
It was long vacant until the Marina Development District came in and revived it. 
"We made a deal with them to fix up their existing buildings in the area, including a liquor store that was not looking good," McDermott said. "It's bringing in investment. While some people complain it's hourly retail jobs, I'd like to remind people 50-60 retail jobs are better than no jobs whatsoever."
Hammond just needs to figure out how to spur more new development like the Marina District across the city, he said.
"Here in Hammond, the borders are doing very well," McDermott said. "There's a lot of new development by Chicago and down along Interstate 80-94, where we're making solid gains. But we need to get investment in the city proper, not just on the borders."