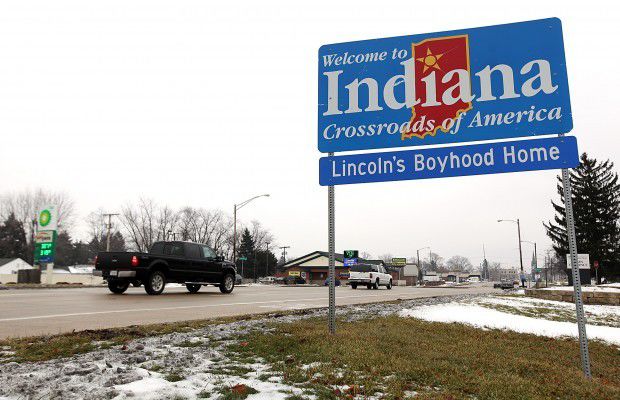 GROWING LOCAL TALENT & ATTRACTING NEW TALENT THRU DOMESTIC MIGRATION
U.S. POPULATION, MIGRATION & GROWTH TRENDS
INDIANA POPULATION & MIGRATION
Benefiting from a decline in net domestic out-migration, Indiana's 2017 population gain was the best
since 2008. Driven by a declining birth rate and an aging population Indiana's population growth was,
however, below the prior decade according to the latest population estimates by the Census Bureau.
Given the state's industrial and rural composition, it is not surprising to see the majority of growth
currently driven by select metro communities - particularly Indianapolis - and wide growth disparity at
With 6.7 million Hoosiers, Indiana was the nation's 17 th most populous state in 2017.
The 32,800 resident increase ranked Indiana as the 19 th fastest growing state in 2017 on a numeric
basis and 25 th based on the 0.5% growth rate.
The 176,800 resident increase ranked Indiana as the 20 st fastest growing state over the 2010-2017
period on a numeric basis and 31 st based on the 2.7% growth rate.
Indiana's state level net domestic out-migration was -916 in 2017, an improvement from -10,480 in 2016
and -14,675 in 2015. The net domestic out-migration in 2017 generated a state ranking of 26 th while
the -54,800 net domestic out-migration over the 2011-2017 period produced a ranking of 36 th
While generally not a primary driver of economic health, international immigration is still important.
Netting out the positive 70,900 international in-migration, Indiana's total net in-migration was a positive
16,100 over the 2011-2017 period, ranking the state 32 nd . Without the academically fueled
international in-migration, the state's net migration would not have been positive.
As a barometer of economic growth, community health and desirability, the population change
applicable to net domestic migration is a very important dynamic. While they may have turned the
migration corner, state and local officials may wish to consider more outcomes based strategies that
develop local jobs, local talent and attract skilled talent via domestic migration rather than limiting
their focus to new corporate location business.
The same applies to talent retention, community visibility, imagery and helping communities distinguish
themselves. While the state has done a stellar job positioning for new location business, community Based on what the state has to offer, Indiana has an opportunity to reverse their net domestic out-
migration, but it hasn't happened yet. The positive net migration experienced by some of Indiana's
metro areas is the result of in-state migration, not in-migration from outside the state. Other Midwest
cities with growing populations and good economies are experiencing the same.
Full employment is no walk in the park for growing businesses. For more on how to leverage human
capital, including prioritizing home grown jobs, developing local talent, the efficient use of tax resources
and strategies for improving net domestic migration, see the appropriate sections in this release.
While not yet recognized, the nation's migratory patterns are in the process of changing. As a result, the
potential to attract individual talent, capture new business and grow population via net domestic in-
migration should not be under estimated.
As you can see, Indiana's net domestic out-migration loss of -54,800 over the 2011-2017 period was in
sharp contrast to the 1, 015,000, 916,000, 307,000, 275,00 and 270,000 net domestic in-migration
gains experienced by Florida, Texas, N. Carolina, Arizona and Colorado over the same period.
Emphasizing the importance of net domestic migration, ALEC's 11 th edition of Rich States, Poor States
awarded Indiana a high #3 listing on their forward looking Economic Outlook Rankings and a low #39
listing on their backward looking Economic Performance Rankings.
While some question the methodology, the poor ranking for Economic Performance was primarily due
to the state's net domestic out-migration. The right to work and tax advantages were primarily
responsible for the high Economic Outlook ranking.
INDIANA METRO COMMUNITIES: Indianapolis on a Roll
Benefiting from improved net domestic migration, more than half the state's metros, i.e., 21 of 36,
gained population in 2017 while 17 gained over the 2010 - 2017 period. The 21 metro gain in
population during 2017 was up from 18 in 2016 and 15 in 2017.
Indiana has ten metro areas with population over 100,000 and six over 200,000. With a population of
2,029,000, the Indianapolis metro was the largest in the state and the nation's 34 th largest metro in
2017. The state's other large metro areas include Ft. Wayne (435,000), South Bend (322,000), Evansville
(316,000), Lafayette (219,000) and Elkhart (205,000).
The 23,000 numeric increase by Indianapolis dominated all other Indiana metros in 2017. On a numeric
basis, Indianapolis was the nation's 27 th fastest growing metro in 2017. The 136,000 increase ranked
Indianapolis as the nation's 29 th fastest growing metro over the 2010 - 2017 period.
On a percent growth basis, Lafayette (8.5%), Indianapolis (7.2%), Columbus (6.8%) and Bloomington
(4.8%) were the fastest growing large metros over the 2010 - 2017 period. Of the ten fastest growing
metros, only five were among the largest.
The forward looking Area Development report on the 2018 Leading Metro Locations highlighted the
growth in California, the lifestyle driven Pacific Northwest and the Mountain States. While not yet
confirmed by the backward looking Census Bureau data, they also noted growth outliers in the non-
monolithic Midwest, like Elkhart-Goshen and Columbus.
Known for architecture, art, beautification, regional low unemployment and a high average wage rate,
Columbus is another metro with potential. Area Development also mentioned their revitalization, tax
incentives, law enforcement and perhaps most important, the ability to attract an educated workforce.
Based on the 7.2% percent growth, Indianapolis was 22 nd among the nation's fastest growing metros
over 2,000,000 during the 2010-2017 period and 29 th among those over 1,000,000. Leading the pack
and adding 388,000 residents, the comparatively sized Austin grew at a 22.5% rate over the 2010-2017
While half the state's metro communities grew population in 2017 and over the 2010-2017 period, only
seven benefited from net domestic in-migration in 2017 while three benefited over the 2011-2017
period. Unlike the state level data, the metro and county data from the Census Bureau does not
breakout interstate and intrastate migration.
Gaining 7,800 in 2017 and 30,400 over the 2011-2017 period, the Indianapolis metro was by far the
primary beneficiary of net domestic in-migration. Indianapolis was also the state's only "large" metro
benefiting from net domestic migration over the 2011-2017 period.
While the eleven county Indianapolis-Carmel-Anderson metro accounted for only 30% of the state's
population, the Indianapolis metro was responsible for 70% of the state's population growth in 2017
and 77% over the 2010-2017 period.
INDIANA COUNTIES: Hamilton County Strutting Like a Showgirl
More than half, i.e., 55 of 92, of the state's counties gained population in 2017 while only 33 gained over
the 2010 - 2017 period. The 55 county gain in population during 2017 was up from 45 in 2016 and 36 in
While 38 of Indiana's 92 counties benefited from net domestic in-migration during 2017, only 10
benefited from meaningful net domestic in-migration during the 2011-2017 period. The 38 county gain
in net domestic in-migration in 2017 was up from 22 in 2016 and 19 in 2015.
Indiana has 17 counties with population over 100,000 and 6 over 200,000. With population of 944,034
and 485,640, Marion and Lake are the largest. Other large counties include Allen (372,877), Hamilton
(323,747), St. Joseph (270,434) and Elkhart (204,146).
In both 2017 and the 2010-2017 period, the Indianapolis doughnut counties of Hamilton (17.1%), Boone
(15.8%), Hendricks (12.2%), Johnson (9.7%) and Hancock (6.8%) were among the fastest growing. The
doughnut counties also dominated the net domestic in-migration gains for both periods.
Other fast growing counties outside the Indianapolis metro area over the 2010-2017 period included
Tippecanoe (10.1%), Bartholomew (6.8%) Monroe (6.1%) and Clark (5.8%).
With 324,000 residents, Hamilton County is the state's 4 th largest county. Hamilton is also the fastest
growing county in the Indianapolis metro community and the state. Hamilton's 17.1% growth from
2010 - 2017 was fueled by the swelling populations in the upscale suburban cities of Fishers and Carmel.
If we look at the nation's 225 largest counties with a population over 300,000, Hamilton's 17.1% growth
rate over the 2010 - 2017 period ranked the county 16 th . If we look at the 15 counties besting Hamilton,
six were in Texas and four were in Florida. Virginia, S. Carolina, Tennessee, Colorado and N. Carolina
each had one in the top fifteen. As noted, the migration patterns in Texas and Florida are changing.
Marion is the largest county in the state and the Indianapolis metro area. While Marion County gained
6,048 residents in 2017, it also experienced net domestic out-migration of -3,527 in 2017 and -21,243
over the 2011-2017 period. Followed by Lake County, Marion's net domestic out-migration was larger
than any other Indiana county for both periods.
CITIES: Westfield, Fishers & Carmel Leapfrogging Ahead
Indiana has ten cities with a population over 70,000. Seven of the ten largest cities gained population in
2017 and the 2010-2017 period.
The cities ranged from Indianapolis (863,000) and Ft. Wayne (266,000) at the top to Lafayette (72,390),
the tenth largest. Carmel (92,198) ranked 5 th and Fishers (91,832) was right behind at sixth. Compared
to the rest of the nation, Indianapolis was the 16 th largest city while Ft. Wayne ranked 78 th .
Leading the percent growth pack among the largest cities, Fishers population grew 2.1% in 2017 while
Carmel grew 1.5%. Increasing by 18.0% and 15.6% respectively, Fishers and Carmel were by far
Indiana's fastest growing large cities over the 2010 - 2017 period when measured by percent growth.
On a numeric basis, the Indianapolis gain of 41,529 led the pack over the 2010 - 2017 period. Fishers
was 2 nd with an increase of 14,030 and Carmel was 3 rd with an increase of 12,431 over the same
Fishers and Carmel are both contributing to the Hamilton County growth, the state's 4 th largest county.
Increasing by 47,271, Hamilton was the fastest growing Indiana County on a numeric and percent
growth basis over the 2010-2017 period.
Given that people don't live in states, metros or counties, but rather cities, towns and villages, let's take
a more granular view. If we drop down to Indiana cities with a population over 25,000, Westfield (39.5),
Plainfield (32.9), Noblesville (61.9), Zionsville (26.7) and Brownsburg (25.9) all exceeded Fishers 2.1%
growth in 2017 while all but Zionsville exceeded Fishers 18.0% growth over the 2010-2017 period.
With a population of 39,500, Westfield dominated the population growth of cities in excess of 25,000
in 2017 (5.3%) and over the 2010 - 2017 period (30.7%). All five of these fast growing cities were in the
DEMOGRAPHIC OUTLOOK THRU 2050: Growth Driven By a Handful of Metros While 65% of the
Fueled by a small number of metro communities, Indiana's population will continue to grow, but at a
slower pace when compared to prior decades.
Based on recent projections from the Indiana Business Research Center (IBRC), the state's population
will rise from 6.67 million in 2017 to 7.27 by 2050. The 600,000 resident increase reflects a 9% growth
The 11 county Indianapolis metro area will continue as the state's primary source of population
The Indianapolis Metro population is expected to grow to 2.51 million by 2050, a 24% increase from
2017's 2.03 million. As the area adds 500,000 residents, its share of state population will rise to 35%.
Hamilton County will lead the Indianapolis Metro growth - and the state - with a 200,000 + increase,
up 63% from 2017. Hamilton will also no doubt surpass Allen and Lake County to become the state's
second biggest county by 2050. The other doughnut counties, Boone, Hendricks, Johnson and Hancock
are expected to increase by one-third.
The two largest counties, Marion and Allen, are expected to increase by 14% and 18% respectively.
Looking at the state's 12 largest counties, Lake is the only large county projected to decline.
Looking beyond Central Indiana, Tippecanoe, Daviess, Monroe, Clark, Elkhart and Switzerland are other
counties expected to grow by 20% thru 2050.
Increasing over the last two years, 55 counties gained population in 2017 while 33 gained over the 2010
- 2017 period. Negating the three year trend, the IBRC projects that only 33 counties will experience
population growth thru 2050. In other words, 59 counties - representing 65% of the total - are
projected to lose population thru 2050.
As you can see, the state's slow growth will continue, but there will be a wide disparity among the
counties. Indeed, the growth among a small number of metro communities and the decline of a large
number of mid-sized and rural communities is somewhat disheartening.
The 65+ older population will increase from today's 15% of total state population to near 21% by 2035.
Given the flat birth rate and the rising death rate, the state's natural increase will decline. Based on the
IBRC projections, population outside the metro areas for mid-sized counties is expected to decline by 6%
while rural communities will decline by 9%.
Because the majority of projections are based on the natural increase/decrease, net domestic migration
DEMISE OF THE AMERICAN/INDIANA FARMER
The U.S. farmer has been losing export market share for decades. The farm problem goes way beyond
the current trade war, the Chinese incentivizing competitors, declining farm income and the huge drop
in July farm exports and prices.
Currency fluctuations, cheap & available land, a longer growing season, farm friendly government
policies and huge infrastructural investments have all played a role. While the Russians and Brazilians
invested heavily in their export infrastructure, Midwest farmers face a broken down lock and dam
system that strains reliability.
In short, once the world's break basket, the US farmer is now struggling for a seat at the table. Given
that these dynamics are not going to be reversed, it's time for state policymakers to step up and develop
other sources of growth and employment for the farm community. The new NAFTA deal is a positive,
but subsidies, crutches and a Soviet-type economy are not a solution.
Sadly, the declining rural community population projections by the IBRC could be under stated. The
impact of the trade/tariff war - including retaliation - on Indiana's economy and employment is
unknown, but the damage could be meaningful. Beyond the agricultural impact, it could also impact
jobs that use imported steel. Indiana employs more than 20 percent of the nation's steel workers and
has the highest share of jobs using imported steel.
As you can see, Indiana is in need of successful growth strategies beyond the large metro areas.
Fortunately, there is much state officials can do to chart their own course. To explore how Indiana could
alter the county disparity, see Improving Net Domestic Migration.
The full report will discuss them in detail, but one of the strategies includes leveraging the out-migration
from the fiscally impaired Illinois at multiple levels, Indiana's natural and neighboring market. Texas was
very successful in targeting high tax, high regulation and anti-business states. Given the favorable tax,
regulatory, cost and infrastructural environment, there is no reason Indiana can't do the same.
While the "Illinoyed and "Illinoying" campaigns made sense, Indiana has not yet connected at the
individual level re net domestic migration, i.e., the bottom line. Lower taxes, less costly workers
compensation and a lower cost of doing business are great, but real success lies in convincing skilled
labor Indiana is a good place to live.
Individuals, i.e., age, income, education & needs, move for different reasons, but jobs, housing and
family generally drive intrastate relocation. Based on the 2016 ASC data, 801,000 residents moved
internally within the state of Indiana in 2016 while gross in-migration from other states totaled 146,000.
As the state's largest source of domestic in-migration, 29,900 residents from Illinois moved to Indiana on
a gross basis during 2016.
While not related to the farm community, Illinois students have increasingly opted for higher education
in other states. Alarmed over the budget stalemate, the rising costs were too concerning. The state's
reputation for being too expensive precluded many from even applying. Targeting these students,
including ongoing interface to retain them, is another strategy Indiana should be pursuing.
Based on their latest Corruption in Illinois report, the UIC ranked Chicago as the nation's most corrupt
city and Illinois as the third most corrupt state. Given the decades of corruption and poor fiscal
management, Illinois and Chicago are a simmering pot of conflicting dynamics. However, as validated
by the construction cranes and Site Selection Magazine, the downtown Chicago Loop, West Loop and
River North are among the nation's most dynamic metro areas. The economic vibrancy and location also
helps Chicago capture large corporate investments.
The fiscal health of public pension plans vary by state, plan and year. Data on these plans also vary by
Based on the 2017 Unaccountable & Unaffordable report by ALEC, Indiana was ranked as the second
healthiest state in terms of pension liabilities per capita. Connecticut, Illinois and New Jersey were
ranked among the least healthy, three states losing meaningful population to net domestic out-
While more difficult to estimate than unfunded pension liabilities, Other Post-Employment Benefit
liabilities (healthcare) are often viewed as the elephant in the room. Complementing their ranking of the
state's unfunded pension liabilities, the ALEC ranking of Indiana's OPED liabilities was among the most
favorable. The state's disclosure was also singled out as superior.
Looking beyond unfunded liabilities, determining the true health of a state's fiscal condition is a difficult
task. Further complementing the seemingly healthy status of the state's unfunded pension and
healthcare liabilities, the Mercatus Center ranked Indiana 16 th for overall fiscal health.
While not predictable, economic cycles are a reality. Based on stress testing of the states by Moody's
Analytics, Indiana ranks as one of the states most prepared for the next economic downtown.
Indiana's bond ratings by the leading services, including Standard & Poor's, Moody's and Fitch, are
In addition to the growing out-migration fueled by poor fiscal health, capping the SALT tax deduction
will further increase out-migration from fiscally poor high tax states like NY, CA, CT, NJ & IL.
Going forward, taxpayers in low tax states like Indiana will no longer be subsiding wealthier residents in
high tax states like Illinois (32 percent increase in the personal income tax rate last year). Rather than
attempting to game the system with workarounds and continuously raise taxes to fund their 7,000
different government units, union officials and public pension promises that can't be met, IL and other
high tax states would be wise to address their core problems.
State and local governments exist to provide services, not tax their residents into economic slavery and
involuntary servitude. Requiring an ever shrinking tax base to continually pay more for less services,
failed policies and benefits they don't personally receive is not a sustainable path. It is, however, a
The states losing the most to net domestic out-migration between over the 2011 - 2017 period were
NY -1,000,000, IL -630,000, CA -536,000 and NJ -387,000. Going forward, fiscal health, taxes and
environmental concerns are destined to play a much bigger role in location decisions. Given their fiscal
stability and predictability, Indiana could capture an increasing share of out-migration with the right
strategies at the individual level.
Similar to the endless string of articles/lists about the best places to live or retire, the state business
environment rankings are all over the map. Indeed, some strain credibility, including WalletHub's
ranking of California as the 2 nd best business environment.
USA Today, US News, WalletHub, Chief Executive, CNBC and Area Development are some of the sources
that rank business environments by state. As you might guess, their methodologies are quite different,
assuming they provide information explaining them. With each favoring Indiana, Forbes, Site Selection
Magazine, Business Facilities Magazine, Pollina Real Estate and Area Development also provide business
CNBC and Chief Executive seem to be the sources states champion the most and while we like the CNBC
methodology, Chief Executive comes the closest to mirroring net domestic migration. In our minds,
net domestic migration is the best overall barometer of community health and desirability.
Chief Executive uses a survey based approach focusing on three areas, Taxes & Regulations, Workforce
Quality and Living Environment. In contrast, CNBC methodology uses 64 metrics across 10 categories. In
other words, they claim to measure actual performance.
While WalletHub, CNBC and Chief Executive all ranked Texas #1 that is where the similarity ends.
Indiana's overall ranking was 33 rd , 16 th and 5 th respectively. Florida was ranked 6 th , 10 th and 2 nd while
N. Carolina was ranked 12 th , 3 rd and 9 th . Texas, Florida and N. Carolina are the states benefiting the most
from net domestic migration.
Taking a deeper dive into the CNBC analytics, Indiana was ranked highly in the infrastructure, cost of
doing business, business friendly and cost of living categories. Indiana's quality of life was, however,
ranked near the bottom while their education rank was below average. Chief Executive's view of Indiana livability was more positive. They also highlighted Indiana's business
friendly environment, tax rates, regulations, growing workforce and affordability in their Five States to
In summary, some of the business ranking services can be useful and provide good background
information. We would, however, not take any as gospel because rankings may not translate into new
The economy is characterized by mobile capital and labor. Taxes are important, but still only one
variable in the decision making process. Nevertheless, states with the most attractive tax systems are best
positioned to generate new business, stimulate economic growth and employment. Unlike other structural
initiatives, changes to the tax code can have an immediate impact.
In spite of globalization, the toughest competition often emanates from other states rather than other
countries. As a result, state officials are and should be concerned how their states compare to the
competition, including neighboring business climates and other states. Tax competition is an unpleasant
reality for budget officials, but it is an effective restraint on state and local taxes. When a state imposes
higher taxes than a neighboring state, it also encourages businesses to relocate.
While state officials are mindful of their business tax climates, they are sometimes tempted to lure
business with lucrative tax incentives and subsidies rather than broad-based tax reform. Based on
numerous examples, this can be a dangerous proposition. In other words, long term job creation and
economic development is best served by the business tax climate rather than incentives.
To compare the states and determine their overall ranking, the Tax Foundation Index uses more than one
hundred variables in five major areas of taxation, including corporate taxes, individual income taxes, sales
taxes, unemployment insurance taxes and property taxes. The methodology results in an overall score
than can be compared to other states.
Based on the 2018 State Business Tax Climate Index as produced by the Tax Foundation, the most
competitive states are Wyoming, S. Dakota, Alaska, Florida, Nevada, Montana, New Hampshire, Utah,
Indiana and Oregon. The least competitive are New Jersey, New York, California, Vermont, Minnesota,
Ohio, Connecticut, Maryland, Louisiana and Rhode Island.
The table below compares Indiana's overall ranking of 9 with neighboring states only. A rank of 1 is
the best while 50 is the worst.
Individual Income Unemployment
Overall Corporate Tax Tax Sales Tax Insurance Property Tax
Michigan 12 8 14 11 48 21
Illinois 29 36 16 35 42 45
Kentucky 33 27 29 14 47 36
Georgia 36 10 42 28 38 23
Wisconsin 38 29 43 7 40 26
Iowa 40 48 33 19 34 39 When looking at the overall tax rankings from the Tax Foundation, note that the states with the highest
taxes, NJ, NY and CA, are also the states losing the most population to net domestic out-migration.
Based on data from ALEC and Mercatus, two of the states with the highest taxes, NJ and CT, are also
saddled with the worst fiscal health and unfunded pension liabilities. To their credit, IL currently has a
flat tax rate and while the state does not have the highest taxes, the land of Lincoln has the nation's
worst fiscal health. IL is also bleeding net domestic out-migration.
Beyond the being the third biggest loser to net domestic out-migration from 2010-2017, IL was the only
highly populated state to lose population in 2017. At the city level, Chicago was the only city with a
population over 700,000 to lose population in 2017. The population declined at the county and metro
For those looking for evidence that high taxes and poor fiscal health have a meaningful impact on
residents voting with their feet, this data validates the observation.
Highest Taxes Worst Fiscal Health Domestic Out-Migration
New Jersey (1) Illinois (1) New York (1)
New York (2) New Jersey (2) Illinois (2)
California (3) Connecticut (3) California (3)
Connecticut (7) New Jersey (4)
MIDWEST/INDIANA GROWTH OUTLOOK
HOUSING AVAILABILITY & AFFORDABILITY
USING TAX RESOURCES EFFECTIVELY
PRIORITIZING HOME GROWN JOBS
DEVELOPING & RETAINING LOCAL TALENT
IMPROVING NET DOMESTIC MIGRATION
ALTERING THE DECLINE OF SMALL & RURUAL COMMUNITIES
INCREASING VISIBILITY, IMAGE ENHANCEMENT & COMMUNITY MARKETING
U.S. & INDIANA DEMOGRAPHIC/MIGRATION TABLES
In addition to population and growth, the tables cover domestic migration at the state, metro, county
__________________________
ABOUT DATA ANALYTICS ILLINOIS
Accessing dependable, relevant and useable data has become increasingly important to the decision making of individuals and
businesses, particularly when the economy and/or demographics are changing. Data can, however, be overwhelming.
In conjunction with ProximityOne, Data Analytics of Illinois is developing an interactive Data Analytics Center website that
reorganizes, integrates and provides access to public domain and other valuable private data on a granular basis.
ProximityOne has extensive experience providing solutions for accessing and analyzing multi-sourced federal geographic,
demographic, economic and business data. Beyond geodemographic expertise, they have developed digital map databases,
GIS software, web-based interactive tables/data and demographic-economic projections. The Data Analytics staff has three
decades of experience providing competitive intelligence to the financial services industry, including the largest banks,
insurance companies, mutual fund companies, trust companies, brokerage firms and retirement plan recordkeepers.
By successfully linking organized and pertinent geographic, demographic and economic data - including the Census Bureau,
Bureau of Labor Statistics & Bureau of Economic Analysis - our Geostatistical data is more accessible and usable than the data
released by the Census Bureau and other Federal agencies.
To facilitate informed decision making and empower users, the new, unique and distinguishing resource will include projections
and private data. The projections include Census Tract Demographic/Economic Estimates & Projections. County up estimates
and projections are also available.
Home affordability and the cost of living are key variables for all Americans, including those considering relocation. While we
use the public domain's broad FHFA Home Price Index (HPI) and the BLS CPI, we can also pull from the census tracts and the
Similar to home affordability, regional and small area employment is important to households, businesses and policy makers.
The Bureau of Labor Statistics (BLS) releases data on Job Openings & Labor Turnover monthly at the national and regional level,
but does not produce state or sub-state estimates. To further empower users, ProximityOne, Is already developing
experimental projections by state, metro and county. The BEA is expected to release its first ever county estimates of GDP later
in the year, another variable we plan to integrate.
Others have certainly repackaged data, but Data Analytics IL will be the only website resource linking demographic,
geographic, economic and private data - including client data - that is pertinent, reliable, updated, convenient, organized,
Going forward, new variables will play a significant role in domestic migration. The impact on the housing market and local
economies will be significant, including the rise of new business leading metros and the demise of others. With emphasis on
the future, high quality data and projections second to none, our forward looking commentary will be out in front of these
The integrated data will provide insight into where people are moving, who (age, income & education) is moving, why they are
moving, projected changes and the impact of those changes. The granular component is particularly important because the
intrastate and interstate conditions, variables and outlook vary dramatically by location. The gold is in the granularity because
residents don't really live in states or even metro areas, but rather counties, cities, towns and neighborhoods.
This information has been taken from sources believed to be reliable, but accuracy and completeness cannot be guaranteed. All
rights reserved. No part of this publication may be reproduced or distributed without the prior permission of the publisher.
© 2018 Data Analytics Illinois, Inc.
Data Analytics Illinois, Inc.
Western Springs, IL 60558