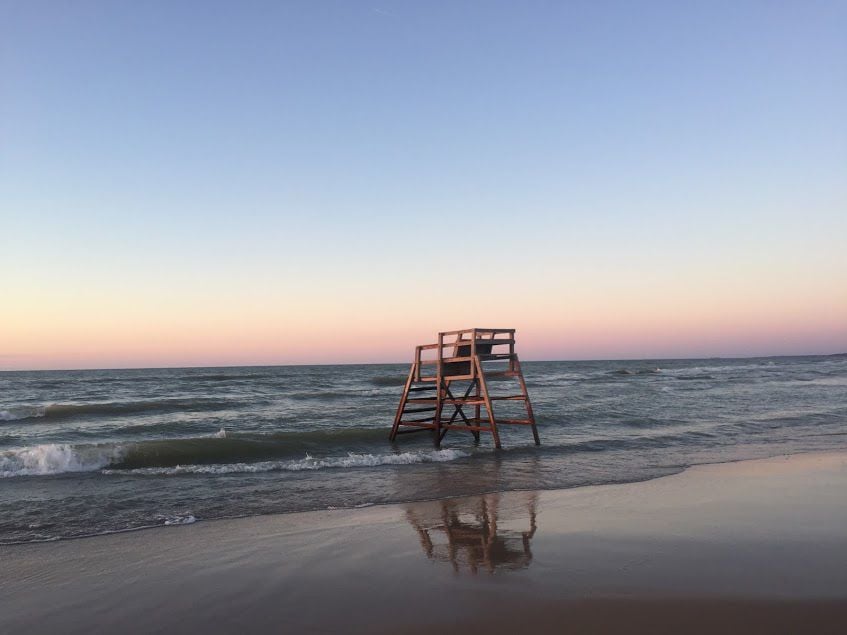 A volunteer coalition has formed to promote tourism in Gary's lakefront Miller neighborhood, and is planning wacky events like a 164-foot race "for the rest of us" and a festival honoring a sea monster that may or may not hang out in the Marquette Park Lagoon.
The new Miller Beach Tourism Bureau promotes attractions like Miller Beach, Marquette Park, the Miller Woods, the Gary Bathing Beach Aquatorium, the Paul H. Douglas Center for Environmental Education, the Marshall J. Gardner Center for the Arts, the Nelson Algren Museum, the 18th Street Brewery Taproom, and all the restaurants, boutiques and art galleries in the artsy beach enclave. The group aims to bring in visitors and encourage economic development while preserving natural resources.
Miller Beach Historical Society President Cullen Ben Daniel and Katie Bohn founded the tourism bureau as an informal volunteer project "to promote this place that we love," and it incorporated in December.
"Now we're expanding and promoting the Visit Miller Beach initiative that the Miller Business Association had already started, and we hope to be a bridge between the different community organizations here who all seem to want the same thing: thoughtful, sustainable tourism that provides economic opportunity without harming our unique natural treasures," Bohn said. "One of our tenets is to 'keep Miller Beach weird,' so ideas for future events include a Selfie Scavenger Hunt, a .05K race, and a festival honoring Millie the Miller Beach Monster, a shy Loch Ness-type creature who may or may not use a secret underground tunnel to get from Lake Michigan to the Marquette Park Lagoon.
"The .05K distance measures out to be about 164 feet," Bohn said. "It's the race for the rest of us."
The Miller Beach Tourism Bureau's first major campaign is a photo contest in July that will give away $1,200 in cash prizes to the public. The Legacy Foundation's Knight Advised Fund and MillerBeachVacationRentals.com are funding the competition for "the best photographs of the artsy beach community's people and places."
"Capturing Miller Beach in a photo, whether you live here or visit, is a wonderful way to share the incredible beauty and diversity of this place and what makes it so special," said Peggy Blackwell, president of the Miller Beach Tourism Bureau. "Our photo contest encourages all photographers to showcase their creative skills, share their passion for Miller Beach, and possibly win a lot of money."
Photographers can submit up to three original pictures, which will be judged by a panel from the Calumet Artist Residency and online voters. The theme is "my Miller Beach."
Submissions will be accepted from July 1 to July 15. For more information or to submit photos, visit VisitMillerBeach.com.