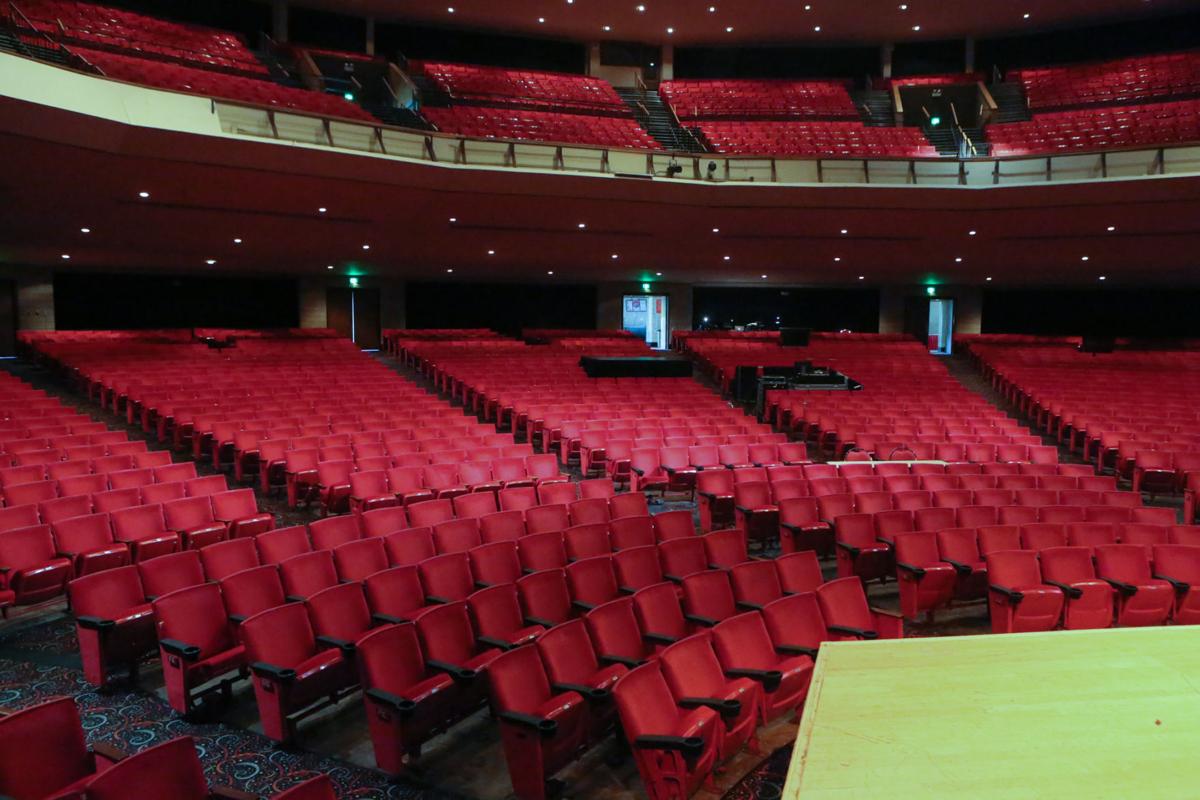 "Amazing Grace, How sweet the sound/That saved a wretch like me/I once was lost, but now am found/T'was blind but now I see," the Oak Ridge Boys sang during their 111th and final show at Merrillville's iconic Star Plaza Theatre, which was closed for good after that last Christmas show.
The 3,400-seat-concert hall that billionaire hotel and billboard magnate Dean White built as the Holiday Star Theatre in 1979, is coming down this year after hosting countless greats like Tony Bennett, Bob Dylan, Miles Davis, Jennifer Hudson, Phil Collins, the Beach Boys and Ministry. 
It's being demolished along with the gleaming gold Twin Towers at Interstate 65 and U.S. 30 so that White Lodging can redevelop the site. The new development will include a multistory hotel and conference space to replaced the aged Radisson at Star Plaza and at least one standalone restaurant, though the developer has been mum on other details of the project.
"The Star Plaza Theatre will be taken down at the same time as the Twin Towers, and those tenants are completing their leases," spokeswoman Kathleen Quilligan Sebastian said. "We anticipate the demolition for the buildings will begin in the late summer or early fall of this year."
The last remaining leases at the Twin Towers office complex, which was home to many law firms, insurance agents and mortgage lenders, expire this summer.
White Lodging plans a tribute to the landmark concert hall, which was one of the largest in Indiana and the greater Chicago area, helping put Northwest Indiana on the map as a destination for entertainment. The Star Plaza long drew A-list acts of their day like Jerry Seinfeld, Chris Rock and Liberace, until the transition from CDs to streaming forced top musicians to seek out more lucrative concerts at larger venues like the United Center, Wrigley Field and Northerly Island to make up for the loss of revenue from record sales.
Many items from the theater have been salvaged so they can be displayed at the new hotel.
"All of the memorabilia, including the disco ball, has been inventoried and catalogued, and we anticipate putting many of the inventoried items on display in some form within the appropriate portion of the new development," Sebastian said. "While we have donated items to charitable organizations and sold some to specific vendors, we have not opened a sale up to the public. We don't have plans for a public sale at this time."
White Lodging did donate a lot from the theater to local arts groups. The Indiana Ballet Theatre and the L'Arc in Ciel Theatre both took seats, while the 4th Street Theater in Chesterton "took a large part of the remaining wardrobe." Habitat for Humanity took out much of the furniture and fixtures, and the backstage refrigerator was given to the Merillville fire department.