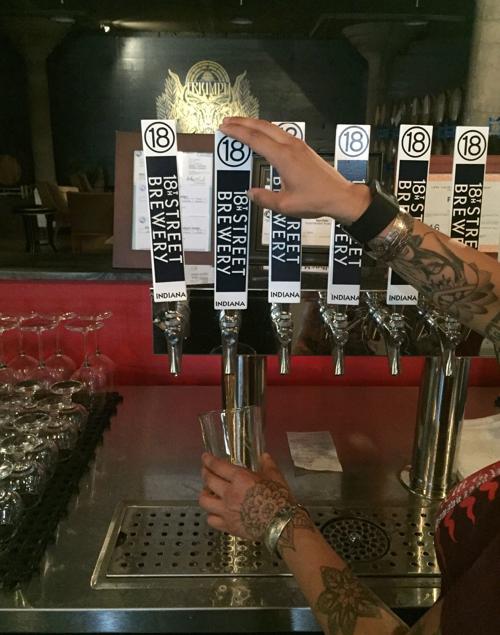 The best brewpub in the United States of America is located right in the heart of Northwest Indiana, according to no less an authority than USA Today.
USA Today named 18th Street Brewery in Hammond the best brewpub in the country in its annual 10 Best Awards, which also conferred honors like Best Beer Scene, Best Beer Label, and Best Brewery Tour. It's a major distinction that could help bring more craft beer tourism to the Region.
"Indiana's 18th Street Brewery brews up several varieties of beer in their Hammond brewpub, including Imperial Blud Imperial Russian stout, Temporal Purgatory pale ale, Here Comes the Wolf old ale and Sex and Candy American IPA," USA Today said in the citation. "The brewpub also serves pub grub and dinner menus with house-baked bread and pastries."
Overlord Drew Fox's craft brewery won a popular vote online after it was selected as one of the top 20 brewpubs in the country by an expert panel that included award-winning critic Gary Monterosso, The Hop Review co-founder Jack Muldowney, Bon Beer Voyage CEO Ruth Berman, and world-renowned beer authority and award-winning journalist Dennis Malcolm Byron, who's also known as Ale Sharpton.
"With over 7,300 breweries in the country, we are completely shocked, humbled and honored to be recognized as America's Best Brewpub of 2019 by USA Today's Top 10," Fox said. "We would like to thank our amazing staff who, on a daily basis, takes pride in providing an amazing experience for our guests. We would also like to thank our fans from all over the country and the world who took the time to vote for us every day. This is a big deal for tourism for the cities of Hammond and Gary, Indiana. Both locations are flanked by major interstate and toll roads which allows easy access for drivers to reach our brewpubs to enjoy our awesome beers and food."
18th Street Brewery beat out Old Irving Brewing Co. in Chicago; Hopstix in Georgia; Ocean Beach Brewery in San Diego; Root Down Brewing Company in Pennsylvania; Orono Brewing Company in Maine; Urban Village Brewing Co. in Philadelphia; Torched Hop in Atlanta; Dogfish Head Brewings & Eats in coastal Delaware; and HighSide Brewing in Colorado, who rounded out the top 10.
"We aren't going to rest our laurels on this great honor," Fox said. "Instead, we are going to look for ways to improve upon everything we do to execute at the highest level possible. We don't have time at the moment to celebrate but I know we will at some point so our guests can share this moment with us."
USA Today specifically conferred the award on the brewpub at 5417 Oakley Ave. in downtown Hammond, which serves up gourmet food, barbecue, a monthly Burgers, Bourbon and Beers special, and acclaimed brews like the Fox and the Hunted, Disciple's Revenge, Here Comes the Reaper, Candi Crushable and Rise of the Angels.
18th Street Brewery also operates its original brewpub in Gary's lakefront Miller neighborhood, the spin-off Sour Note Brewing, and the award-winning 18th Street Distillery and Cocktail Lounge.
The craft brewery has earned a number of other honors, including being named the best new brewery in Indiana by RateBeer in 2013 and having its 18th Street's Hunter Vanilla Double Milk Stout recognized as one of the 50 best beers in America by Men's Journal.