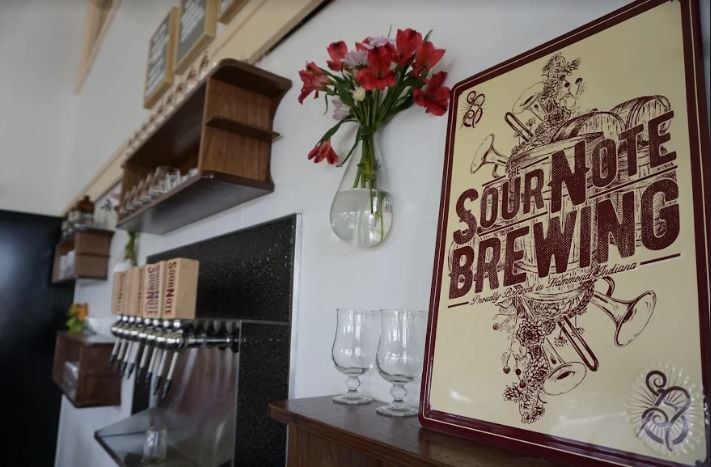 18th Street Brewery decided to start brewing sour beers — intentionally tart beers that have long been brewed in Europe and have recently caught on with American craft brewers — as a side project about three and a half years ago.
Now Sour Note Brewing has evolved into a full-fledged craft brewery of its own, one that brews many fruity varieties of gose, a salty, wheaty German beer, as well as bottle-conditioned farmhouse ales.
18th Street, the second largest brewery in Northwest Indiana after 3 Floyds, opened a new Sour Note brewing facility and a small taproom at 489 Fayette Street a block away from its brewery in downtown Hammond.
Drew Fox's craft brewery, which was named best new brewery in the state by RateBeer in 2014 and which maintains a taproom in Gary's Miller neighborhood, has created a wide footprint in downtown Hammond with three separate operations: its brewery and restaurant, with a chef who's worked at Michelin-starred eateries; a new distillery with a tasting lounge serving craft cocktails with seasonal, house-made syrups; and now, Sour Note.
It's a short walk from both the brewery and distillery taprooms, which are both located in the same former warehouse building.
"It's a beautiful tasting room with about 12 seats and eight different beers on draft," Fox said. "It's floor-to-ceiling windows like the Gary taproom. It's clean and elegant. We've been referring to it as a campus. There's something for everyone in these buildings."
Sour Note will operate a 10-barrel brewing operation that's expected to produce under 1,000 barrels a year. The beer is sold on-site in a taproom that will offer light snacks, and it's canned and self-distributed across Northwest Indiana.
"There weren't any sour brewing facilities around at the time we started it," Fox said. "Upland Brewing does some sour beers, but it was a completely different thing in the Region. We found a building and after much tender love and care, we built the taproom out and are packaging Sour Note beer."
Sour Note, which is being run as a separate company, is creating at least four jobs. Fox hired a brewer from the acclaimed Cigar City Brewery in Tampa to run Sour Note, which sources fruit such as cherries and blackberries from farms in southwest Michigan whenever possible.
New Belgium, Dogfish Head and other craft breweries have started making sours as their adventurous customers seek out new and more obscure brewing styles.
"Sours are seeing a resurgence throughout the country," Fox said. "We take our time doing them, and have fun with it."
In the future, Fox hopes to expand distribution and make a wider variety of sour beers, including oak-aged sours. In the short term, he hopes to educate the public about a style some consider an acquired taste.
"People might shy away from it, but there are different levels of sourness and tartness," he said. "Sour beers can be right in the middle and be palatable so anyone can drink them. Fruit helps make them palatable."
Sour Note Brewing is currently open from 4 to 10 p.m. Thursday, 4 p.m. to 11 p.m. Friday, from noon until 11 p.m. Saturday, and from noon until 5 p.m. Sunday.