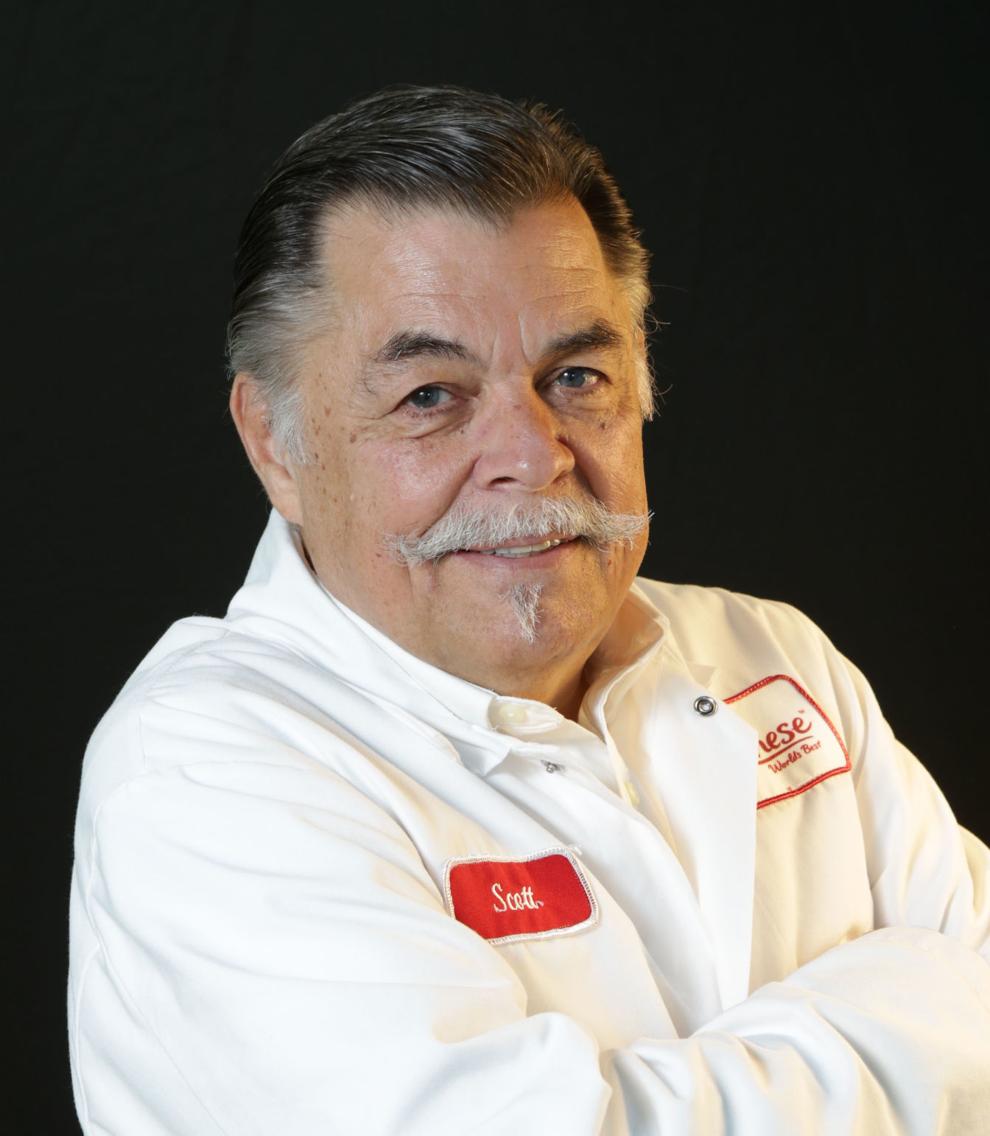 In retrospect, the early 1980s might not have been the best of times to start a new business, Scott Albanese said.
Albanese, CEO and owner of the Albanese Confectionery Group, opened his first candy store in Merrillville in 1983, a poor year economically and one marked by a national unemployment rate of 10 percent and a regional unemployment rate of 16 percent.
"That's when we opened up a business, and the interesting thing is that we thrived and we should have failed," Albanese said.
Albanese and his family still operate the original small candy outlet store in Merrillville, across from the Lake County Public Library, and in 2000 opened the Albanese candy factory and outlet store in Hobart.
The 64-year-old Dolton, Illinois, native gives credit to his construction/bricklayer/restaurant/blue-collar upbringing as the basis of his strong work ethic.
"The interesting part of the story for business people is the unlikeness of our success," Albanese said.
Albanese said looking back, the reason he and his family have succeeded is because they stayed with the same formula for success.
"To this day we never changed a thing. We kept the same basic principles, and for us the formula that was successful was that we kept our food quality high and prices as low as we could. The formula still works well," Albanese said.
Albanese, who lives in Lakes of the Four Seasons with his wife, Debbie, is one of the inductees into this year's edition of the The Times Business & Industry Hall of Fame.
His interest in selling candy and nuts was sparked when his wife told him of her attempt to purchase pistachios for him and how much was being charged per pound.
"I did the math," Albanese said.
After the original candy store in Merrillville was opened, it was soon discovered that they needed to manufacture their own candy, Albanese said.
"I tried to outsource it and sometimes we would be cheated in our product, so we realized we would have to be in control. In 1988, we started manufacturing our own product," Albanese said.
Prior to building the Hobart store and making the move there, Albanese said he and other employees spent two years in the late 1990s researching how to make the best gummi bears.
"The process to make gummi bears is the most difficult process in our industry," Albanese said.
The formula to make gummis has proven a winning one, since Albanese Gummi Bears have been shipped around the world including 41 countries, flown into space and won the award of "best in class world wide," Albanese said.
Hobart Mayor Brian Snedecor calls Scott Albanese and his family's business a "tremendous asset to the city of Hobart and Northwest Indiana."
"Their operations are international, and along with a first-class operation, they also provide employment opportunities for Northwest Indiana. We are extremely honored that they call Hobart their home," Snedecor said.
And plans are to continue growing the Albanese Confectionery Group.
The Hobart City Council earlier this year granted final approval to a 10-year personal property tax abatement request associated with a $33 million operations expansion plan to occur over the next three years.
James Dragon, director of engineering at Albanese, recalled the business had about 10 employees when he started there in 1995. The company currently has about 400 on its staff, he said.
As part of the project, Albanese plans to hire 100 to 150 new employees by 2019, Dragon said.
The project, expected to begin this year, will include adding another production line, a packaging line, bulk sugar system and other production-related work inside the factory at 5441 E. Lincoln Highway.
Dragon was only 16 years old when he started working for Albanese in 1995.
"I started with them at a very young age. They gave me an opportunity to grow and succeed and become great in my field. Scott is an amazing person. He always looks to be optimistic and into the future and how to succeed. He never gave up when things got bad. The first couple years (at the second location) were difficult," Dragon said.
"We've continued to grow by leaps and bounds," he said.
Dragon said he was in high school when he used to go to the Merrillville candy store with his mom and grandmother.
That's where Dragon found his first job and his niche.
"I was eager to start working so applied at every place in the area. One day I went to the candy store on a Saturday and Dorothy Albanese, Scott's mother, knew me and asked me if I wanted to start working for them on Monday. I started working in February of 1995 as a candy store attendant," Dragon said.
Dragon said after graduation he continued to work at the Merrillville store during his summers, then when the Albanese family built the plant he was allowed to work alongside Scott.
"He has taught me life lessons on how to become a good manager. I look up to him as a father figure," Dragon said.
The candy manufacturing plant and retail sales building sit inside a picturesque, pastel-colored Victorian-style building looming impressively on the south side of U.S. 30 just west of Indiana 51.
Albanese started out with 7.5 acres and now owns 20-plus acres on site and a 400,000-square-foot business.
"NIPSCO owned that land, and I couldn't afford it in the beginning. They subdivided that land to get us a start. They really are good partners for us," Albanese said.
Albanese said he and his family traveled to Las Vegas, and when he was there learned that architecture is what attracts people to a location. He came up with the painted Lady, a Victorian style facade for the Hobart business.
"I wanted something tastefully done," Albanese said.
The chocolate waterfall inside the retail area, the largest of its kind in the country, was custom built with the assistance of a Hobart heating and cooling person.
A spillage of chocolate was reported on a customer's clothing so changes had to be made.
"You'll notice the little apron around the bottom because of an occasional spray," Albanese said.
Originally the chocolate was circulating at 2,000 pounds a minute, not 200 pounds a minute as it is now.
Another special aspect about the business: there are windows from the retail to the manufacturing part of the business so customers can see what's going on.
In addition to candy, the store also manufactures vitamins and pharmaceuticals, and a technical group is working on creating new products.
"We're constantly creating new products. Eighty percent of what we produce in the lab fails. We'll persevere until we find a solution or find it's impossible," Albanese said.
Albanese said he is proudest of the opportunities his business has given to people.
"No one in our candy factory ever worked for another candy manufacturing manufacturer. They were all trained by us... We tend to promote from within and refine talent from within," Albanese said.
The company's soldier-shaped gummis were sent to deployed soldiers in Iraq in 2003, and in 2014, gummis were part of a large scale stained-glass window mural at the museum Espace Luis Vuitton Toyko in Japan.
"The list goes on and on," Albanese said.
Albanese and his wife, Debbie, are looking ahead to their retirement.
"I tend to be forward thinking. I'm not going to live forever," Albanese said.
He said all three of his daughters had jobs of their own, but said yes when asked if they were interested in becoming part of the candy making business.
"We are in year five of an eight-year succession plan toward their running the business. They are very capable. I'm semi-retired," Albanese said.
Daughter Bethany Albanese said her dad didn't just hand over the business to her and her two sisters. They had to work their way up the ranks.
"Nothing has been handed to the three of us daughters. We learned from the ranks up," Bethany said.
She serves as director of operations and brand controller, while her sister Tess oversees the puchasing team and financing. Sister Dominique is research and development manager and oversees quality control.
"We weren't handed anything," Bethany said.
Bethany credits both her parents, Scott and Debbie, for giving the family a solid work background based on a marriage of mutual respect.
"She (my mom) was his right-hand person in all of this. Again their true success was trusting each other. They truly trusted each other and that's what we have taken on," Bethany said.
And it took a few years before the Hobart store became successful.
"Nobody came for three years. Fortunately that was the worst of it," Albanese said.
Albanese admits to having a fondness for candy, but usually for sweets that are unique in flavor.
"Some of my favorites are the pineapple and grapefruit gummis," Albanese said.