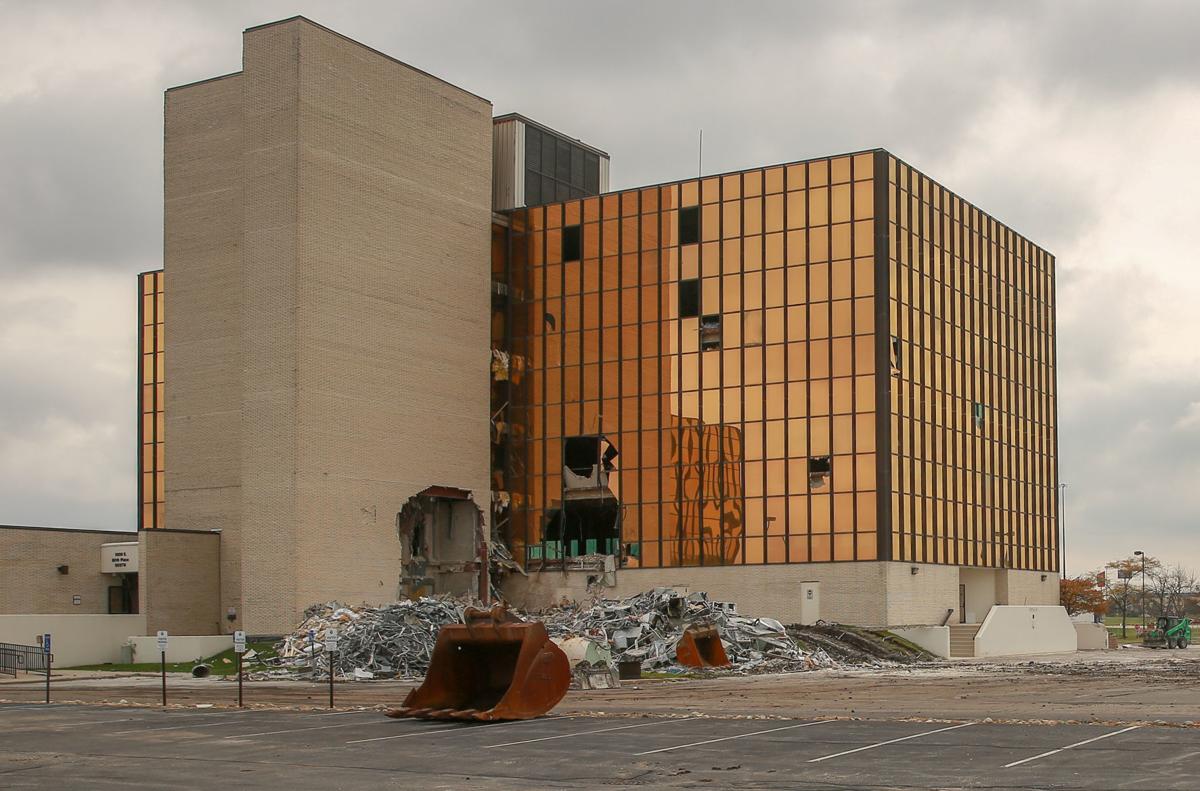 The glimmering gold Twin Towers have loomed over Northwest Indiana's busiest intersection since 1972.
The seven-story, 85-foot-tall buildings late billionaire Dean White built at Interstate 65 and U.S. 30 can be seen for miles, and gave Merrillville a modest skyline that would later be filled out with a cluster of more low-rise office buildings amid all the restaurants and shopping malls. The 220,000-square-foot Twin Towers long served as Northwest Indiana's largest office complex, hosting banks, insurance firms, Brown Mackie College, DeVry University, the House of Bianco Beauty Concepts & Day Spa, and the Atrium Restaurant and Lounge.
But nothing gold can stay.
White Lodging decided to clear the northwest quadrant of the I-65 and U.S. 30 interchange of the Star Plaza Theatre, the Radisson at Star Plaza hotel and conference center and the Twin Towers, storied buildings that turned cornfields into the thriving commercial hub of Northwest Indiana, but that were starting to show their age after more than four decades.
Backhoes chomped into the Radisson in 2017, tearing down the clock tower, the indoor waterfall and years of memories. It was final curtains for the Star Plaza Theatre this summer when workers razed the landmark concert venue that hosted greats like Bob Dylan, Aretha Franklin and Jerry Seinfeld months after the Oak Ridge Boys played a heartfelt final show there.
Saving the tallest for last, White Lodging waited to demolish the Twin Towers until all the tenants' leases had expired and they could move out. 
Demolition began in mid-August, with the removal of "certain interior structures, including ceilings, walls, ductwork, insulation and general contents," White Lodging Director of Communications and Corporate Affairs Mike Banas said. Workers have been removing panes of the gold glass from the facade, and the significant demo work could start as soon as this week, or possibly the following week.
"The superstructure will start to come down next week and is targeted to conclude by the end of year," Banas said. "The final foundation removal and final backfill may continue into January."
The process is gradual. The buildings could not be imploded because they stand too close to the busy interstate. Environmental Cleansing Corp. will deploy high-reach claw machines and impact drivers to take down the superstructure piece by piece.
"It's more of a deconstruction effort than a demolition, to allow for salvage and sorting of materials for reuse and recycling, etc.," Banas said. "Prior to the demolition/deconstruction, we worked with several groups to donate any remaining useful items. Limited remaining office supplies and office furniture were donated to Habitat for Humanity and the Merrillville Police Department. Back-up generators were also donated to the YMCA in Crown Point. In addition to the generator, we donated landscaping, conference room-type chairs and tables, and other materials to the YMCA."
The future of the site is unclear. White Lodging has pitched the $356 million The Farm at Crossroad Commons, a walkable town square-like development with a meeting and event center, four hotels, an office building, an underground parking garage, a townhouse, condos, two restaurants, a craft brewery and distillery, an art gallery, a visitors center, a greenhouse, a 30,000-square-foot horse-riding arena and 24,000 square feet of outdoor space. But White Lodging has asked $138 million in incentives from the town, county and state, including $75 million from a new 1 percent food and beverage tax in Lake County, which the Lake County Council has shown little appetite for.
"Should we secure the community's support, work would begin on our transformational The Farm at Crossroad Commons mixed-use development in 2019, starting with engineering," Banas said. "Actual construction would likely begin in late 2019 or early 2020. If we are unable to secure the community's support for The Farm, we will pursue our original single hotel plan."
The business news you need
With a weekly newsletter looking back at local history.