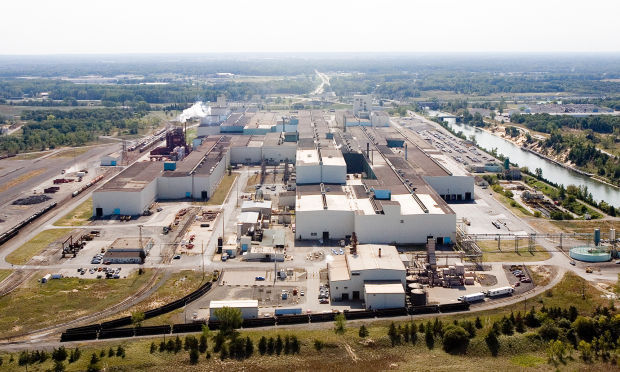 Michael P. Young, the president of United Steelworkers Local 6103, remembers what it was like before the government imposed anti-dumping tariffs of 24 percent on imports of tin and chrome plated steel from Japan back in 2000.
Prices sank, and steel companies started to decline. Fifty-eight steelmakers went bankrupt, many vanishing from the landscape after a century in a culling that forever changed the face of the industry, leaving behind only a few bigger players. Work crews got reduced at local steel mills, and employment shrank.
"It was horrendous," Young said.
The anti-dumping tariffs helped stabilize the market and the mills in Northwest Indiana, but they come up for review every five years. Young and other Northwest Indiana officials are headed to Washington, D.C., to testify at an International Trade Commission hearing in favor of keeping the tin and chrome plated duties in place.
The impact on Northwest Indiana could be huge.
"Tin and chrome is about half the Midwest Plant in Portage," he said. "It's made at Gary Works, East Chicago Tin and both the ArcelorMittal mills. We also make galvanized for cars, but what we always say in the mills is that tin and chrome pay the bills and galvanized makes the profits."
After being called upon by United Steelworkers International leadership last week, Young will join company representatives from U.S. Steel and ArcelorMittal in making the case in Washington that more steel dumping from Japan would harm the American steel industry and threaten current employment levels.
"I can't think of anyone better to represent us and all steelworkers in this one of many important issues," his father Michael S. Young Sr. said.
The tin and chrome business already has been struggling since many coffee companies have switched from steel containers to plastic ones, and even soup cans have been in some cases replaced with microwavable packaging like pouches. And cheap tin and chrome plated steel imports continue to flood in from Brazil, India, Korea and the Philippines.
The American steel industry needs to fight hard to protect the remaining business, Michael P. Young said.
"We've been hitting this one so hard because it would really hurt," he said. "We can compete with a level playing field. Our workforce is the most efficient in the world and looking for ways to be more efficient. But they're looking to dump it here cheap to put us out of business and then they'll raise the prices. That's the master plan."
The trade case could impact every major steel mill in Northwest Indiana, and good-paying steelworker jobs are at stake.
"This just affects so many people in Portage and across Northwest Indiana," he said. "If tariffs don't remain in place, it makes it very difficult to employ the number of people we employ. Whenever you're dealing with tariffs or products, someone is depending on it. Someone somewhere — a craneman or a millwright — is working a midnight shift to make that product."
Michael P. Young said he would do his best to present a compelling case for renewing the tariffs, and to field any questions the ITC commissioners throw at him.
"It got to the point where a guy from Portage, Indiana, is getting to talk to the U.S. International Trade Commission," he said. "I'm going to tell them about all the blood, sweat and tears people here are putting into this every day."