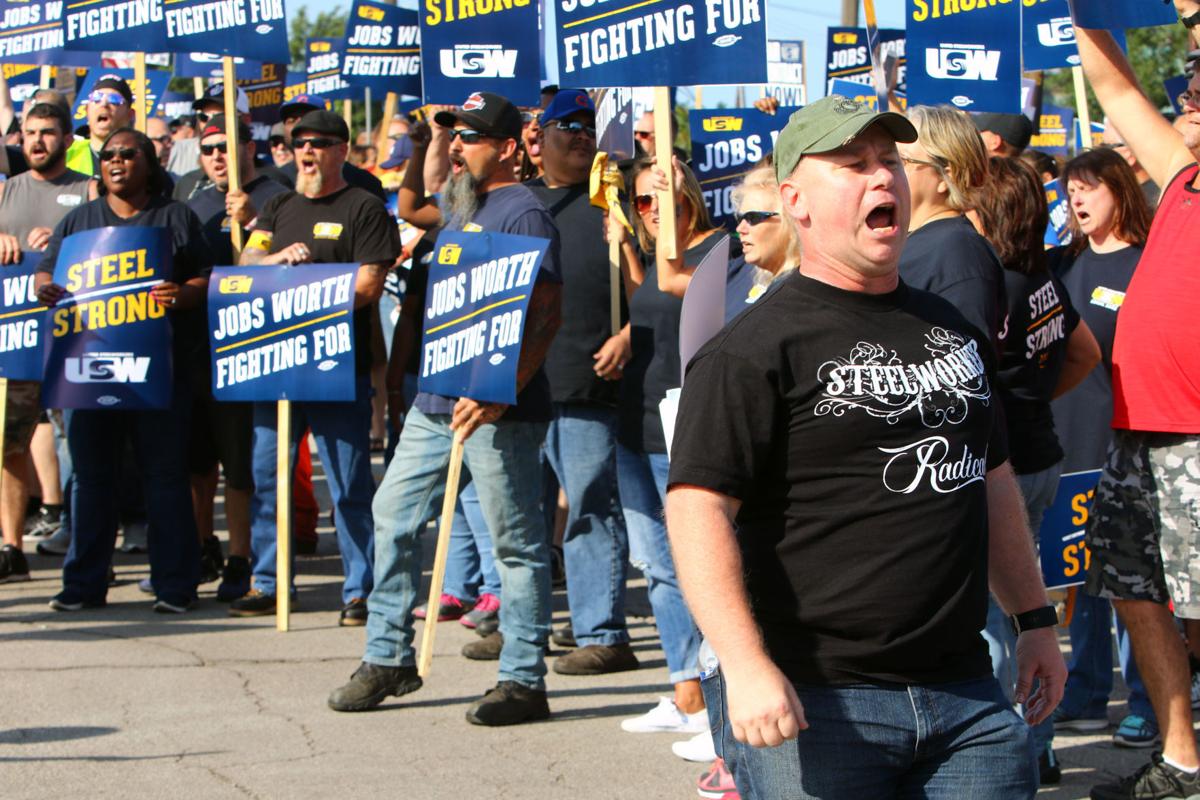 After months of negotiations and the threat of the largest strike in decades, steelworkers have voted to ratify a new four-year contract with ArcelorMittal USA, one of Northwest Indiana's largest employers.
The United Steelworkers union said the new deal raises wages by about 14 percent over four years, improves benefits, bolsters retirement and strengthens contract language.
"From start to finish, we were committed to negotiating more security for our earnings, benefits and retirements while management demanded less," said USW District 7 Director Mike Millsap, who was secretary of the USW's bargaining committee. "We are proud to have achieved that goal and proud of our brothers and sisters who proved that they are willing to fight for fairness."
The collective bargaining agreement covers about 15,000 steelworkers in 13 union locals at 14 mills in Northwest Indiana, Illinois, Ohio, Pennsylvania and West Virginia.
"After years of hard work and tremendous sacrifice to keep these facilities running and the company viable while the domestic steel industry languished through wave after wave of unfairly traded imports, it is right and just for ArcelorMittal steelworkers to share in the company's success now that the market has rebounded," USW International President Leo Gerard said. "The men and women we are privileged to represent earned these contracts by being the most efficient and productive steel making workforce in the world."
After going three years without raises, USW-represented steelworkers will see a 4 percent boost in pay in the first year, 3.5 percent raises in each of the next two years, and a 3 percent pay increase in the fourth year. It includes a $4,000 signing bonus.
"Thanks to the unwavering support of our membership, we successfully defended all of the rights and protections that management sought to reduce, restrict and eliminate," USW District 1 Director David McCall said. "On top of that, we were able to make improvements, fill gaps and fix the parts of our contracts that members identified as top priorities when we met before negotiations began."
The contract goes into effect retroactively to Sept. 1 and runs through Sept. 1 of 2022.
"ArcelorMittal is pleased the new agreement has been ratified by union membership. We believe this is a fair contract for our represented employees, and we look forward to getting back to work after the negotiations effort. We thank our employees, customers and the community for their patience and commitment during the negotiation process," ArcelorMittal President and CEO John Brett said. "We're pleased these important talks were completed without any disruption of service or product to our customers."
ArcelorMittal had sought concessions like more out-of-pocket health care costs for union workers during the contentious round of negotiations, but the USW resisted and the membership voted to authorize a strike in September, at a time when steel prices were relatively high and the company was hugely profitable. The company ended up striking a similar deal to the one U.S. Steel reached earlier with the USW.