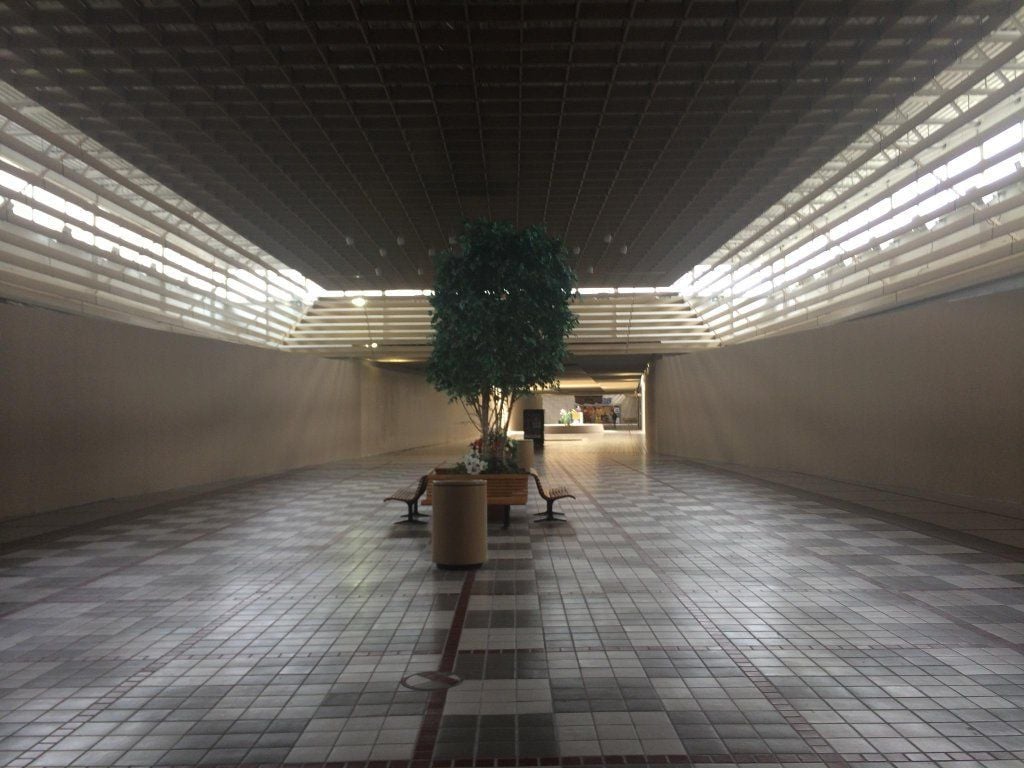 It's been a tale of two malls in Michigan City.
Lighthouse Place Premium Outlets in downtown Michigan City has thrived, drawing new tenants like Kate Spade, Express Factory Outlet, Popcorn World, Beef Jerky Outlet and Starbucks in recent years.
Built in 1965, the 481,446-square-foot Marquette Mall once thrived with tenants people often fondly remember, including Robin Hood, Hush Puppies, Man Alive, Readers World, K-B Toys, Jo-Ann Fabrics, Hot Sam, Orange Julius, Just Jeans, Bruno's Pizza, Foot Locker, Fashion Bug, Record Town, Honey Bear Farms, The Checkered Flag, Chess King, Danner's, Falvey's, Things Remembered, Payless Shoes, Piercing Pagoda, a Walgreens restaurant and an arcade. The two-story shopping center at 450 St. John Road was home to up to 53 stores and drew large crowds when it first opened, especially on weekends.
But after years of decline, shop after shop closed, and photos of the mall's eerily desolate hallways were often posted on sites like deadanddyingretail.com and deadmalls.com.
The anchor J.C. Penney closed in 2015, and Marquette Mall's interior became so much of a no man's land it was closed off a year later.
The bankrupt Carson's closed all its Region department stores in August, leaving just one anchor tenant outside Marquette Mall at the otherwise bustling corner of Franklin Street and U.S. 20. And that's Sears, which filed for bankruptcy last week.
Most of Marquette Mall's few remaining tenants — Planet Fitness, GNC and the Michigan City LaPorte Convention and Visitors Bureau — are oriented toward Franklin Street traffic, treating the massive enclosed mall like a strip mall.
"Obviously the mall has really deteriorated for many years," Michigan City Mayor Ron Meer said. "It's a privately owned campus. We're willing to work with a developer and the owner to revamp that facility. That sort of indoor mall is obsolete."
Owner Cannon Commercial listed the property — and the neighboring seven-story Marquette Office Tower that's half empty, but still home to many law firms and insurance agencies — for sale for $9 million last year. In 2014, then-owners Marquette Mall Properties and Sterling Capital listed the property for $11.5 million.
Cannon, which is closing its Midwestern operations, said the Marquette property is about 60 percent leased between the office tower and the available retail space, which does not include the shuttered interior of the mall. There are plans to replace the J.C. Penney with storage units.
Michigan City has put the Marquette Mall into a tax-increment financing district and would be willing to help to demolish the mall or install new infrastructure. 
"We assisted with demolition at the old Kmart across Highway 20," Meer said. "That new shopping center with the Kohl's was a cavity at one time. Now there are several businesses including a Petsmart and an OfficeMax. We would hope the owner would work with the city, but we're at the mercy of whoever owns the property."
Marquette Mall has long been underutilized and there appears to be little chance to turn it around. More modern outdoor retail, high-end apartments or some other redevelopment could go there, Meer said.
"That type of mall seems to be obsolete," he said. "The outlet mall is doing well, but big indoor malls seem to be a way of the past."