Merrillville native Anthony Patellis wanted to be an actor for as long as he could remember.
After getting his start on the stage at Merrillville High School and Ross Music Theater, Patellis went on to New York City, where he's had a long career as an actor and director. Patellis has appeared in plays all over the world, on television shows like "Law & Order" and "The Sopranos," and in many television commercials, including in Denny's first-ever Super Bowl ad in 2009.
Patellis, a Merrillville High School Class of 1968 graduate, recently realized a longtime dream by landing his first starring role in a movie. He plays the Italian grandfather "Nonno" in "Team Marco," a comedy-of-age dramedy distributed by Samuel Goldwyn Films.
"It's a really cool film about the generation gap between kids and older people," Patellis said. "My character is the grandfather from Italy who's an old school kind of guy. Marco is a techno freak living with his single mother in Staten Island who's always on his iPad and devices. The movie starts with a scene where his grandmother and my wife dies so I move in with my daughter and him."
Generational conflict ensues.
"My grandson never leaves the house, but I'm a pretty active older guy who never uses computers and is stuck on the ancient game of bocce," he said. "They clash intensely but throughout the summer bridge the gap between young and old."
Patellis described the film directed by Julio Vincent Gambuto as a family film for all ages.
"It's not a kids' film parents have to sit and suffer through," he said. "He approached it from the point of view of each generation, so there's entertainment for all ages. He wrote it without judgment and from everyone's point of view so everyone can take something away from it."
Gambuto and B.R. Uzun are credited with penning the screenplay for the movie, which will be released for rental on television platforms on Nov. 20 and then on streaming services 90 days later. Patellis believes the movie – which has been screened at film festivals all over the world including the Mill Valley Film Festival in Marin County, California and the Berlin International Film Festival in Germany – would have gotten a theatrical release in movie theaters if not for the coronavirus pandemic.
"At this point, they're only releasing blockbuster-type films and then only with a limited run," he said. "But the entire country can rent it right from their living room."
After decades of working in theater and television, Patellis was thrilled to star in a movie.
"It's really exciting for me to have my first starring role in a feature film," he said. "I've done a lot of television like 'The Sopranos' and 'Gotham' but never got to star in a feature film."
Patellis, who is Greek, often has been cast in Italian roles like Nonno over the years, including in the off-Broadway production of "Tony n' Tina's Wedding" and as a Junior Soprano-like mob boss in a Denny's Super Bowl commercial. He was a stand-in for Stevie Van Zandt's Silvio Dante when they filmed the pilot of "The Sopranos."
"He had never acted before and kept coming up to me during the shoot saying he felt like he was overacting and was terrible but the director kept telling him to give more and more," he said. "I told him to do what the director said and he had everybody in stitches. He was so funny. Everybody there at the time including James Gandolfini was a nobody back then. It took two or three years for it to get picked up. I was walking in Manhattan when I saw a billboard and said, 'there it is.'"
He later appeared in a memorable episode of the landmark HBO show, as a high school principal whose mother socially shunned Paulie "Walnuts" Gualtieri's mother in a retirement home.
"We grew up in the same neighborhood in Brooklyn but I'm not a gangster," he said. "He comes to my high school to talk to me about my mother excluding his mother at card games and eating with the girls. He tries to bribe me with some luggage. I don't talk to my mom and he comes back to my high school with some guys and they break my arm and rough me up like that."
In the role of Nonno on "Team Marco," he was inspired by grandparents and uncles who came to Northwest Indiana from Greece.
"They barely spoke English but communicated through gestures," he said. "They had a kindness and solidness as people, which is what I think is the biggest source for this character. He reminded me of my grandfathers and that whole generation that came over from Europe, whether Greece, Italy or Yugoslavia. I grew up around that so the opportunity to play a character like this was rich for me. It was in my bones, in my DNA."
Patellis first started acting as a sophomore at Merrillville High School and appeared in "The Music Man" that Ross summer stock theater founder Jerauld J. Reinhart directed.
"I can't remember a time when I didn't want to be an actor," he said. "I continued in theater when I went to Indiana State University and then I moved to New York City. I did theater because when I was growing up in Indiana there was no film or television industry. Theater was what you did if you wanted to act."
He's had a successful career as a stage actor, performing on a worldwide tour of "West Side Story," in a production of "Shear Madness" at the John F. Kennedy Center for the Performing Arts in Washington D.C., and as Malvolio in a staging of William Shakespeare's "Twelfth Night" at the Geffen Playhouse in Los Angeles. He's performed in major theaters around the country and in 17 countries on three continents.
When he first went to New York City, there were few television opportunities other than in soap operas."
"That was all that was filming there in those days," he said. "It was all blonde hair and blue eyes and gorgeous women. I was more of a character actor with an ethnic look, a southern European look. It was good news for me when people like Al Pacino, Dustin Hoffman and Robert DeNiro came along."
Patellis went on to land television roles in police procedural dramas like "Crime Story" and "Law & Order," where he portrayed several roles including a detective who uncovered the graves of immigrants a coyote was murdering after bringing into the country. He got into directing to help pay the bills and landed many roles in commercials such as for Wendy's and in a Claritin ad that aired during the World Series for a few years.
"It was kind of a dream of mine to star in a film," he said. "My heart and soul is in acting."
He's toying with the idea of writing himself into a show he's now producing and writing with producing partner Brittany Portman through their production company Brit-Tony Productions. They filmed a pilot with actor Jon Lovitz and Catherine Curtin from "Orange is the New Black." 
They plan to pitch their show "Hooked" to Netflix and other streaming services.
"It's about an awkward young girl who grows up in a cult in update New York in the foothills of the Catskill Mountains," he said. "She breaks out and goes to Brooklyn on her own for the very first time. With her upbringing, she doesn't quite know how to act. It's a comedy with dramatic overtones."
It's loosely based on Portman's sheltered upbringing on the Upper East Side of Manhattan. They also have a few other projects in the works but none so far along as "Hooked," which is being shopped around by a literary agent in Los Angeles.
While Patellis's career has taken him around the country and world, he still finds time to periodically return to the Region, where he still has family and friends.
"It would make me very happy if people I grew up with who are still part of my heart watched this film," he said. "It would be a thrill to me. I'm very proud of this film. It's heart-warming, intelligent and relevant to the times we live in." 
11 movies you may or may not know were filmed in the Region
11 movies you may or may not know were filmed in the Region
"Natural Born Killers"
One of the most famous scenes from the 1994 movie "Natural Born Killers" was shot in Hammond, specifically at the Hammond City Hall. The interior and exterior of the vintage 1930s building were used to recreate a city courtroom for a scene with Woody Harrelson's character plunging a knife into another man. Alas, much of the scene was cut from the final released film. The water towers in Calumet City can also be spotted in the movie.
The movie, starring Woody Harrelson, Juliette Lewis and Tom Sizemore, was released in 1994.
"Pearl Harbor"
Aerial shots of U.S. Steel in Gary are used in "Pearl Harbor," although the shots are not intended to depict U.S. Steel but instead industrial Japan in 1942.
The movie, starring Ben Affleck, Kate Beckinsale and Josh Hartnett, was released in 2001.
"Prancer"
The 1989 Christmas film classic "Prancer," is a claim-to-fame for LaPorte County. It's about an 8-year-old girl, played by young actress Rebecca Harrell, who rescues an injured deer, believing he is one of Santa's famous antler team. The movie's director John Hancock hails from LaPorte, Ind.
The movie, starring Sam Elliot, Cloris Leachman and Rutanya Alda, was released in 1989.
"Public Enemies"
"Public Enemies" starring Johnny Depp as John Dillinger was released in 2008. The film starred Northwest Indiana and Chicagoland residents for onscreen roles and was filmed in the Region, particularly in Crown Point.
The movie, starring Christian Bale, Johnny Depp and Christian Stolte, was released in 2009.
"Regionrat"
"Regionrat" was written and directed by Javier Reyna and stars Natassia Halabi and Connor Williams, who also starred in independent films like "UnMiracle" and "American Nobody."
The movie, released in 2018, is the indie film adaptation of Rich Laskowski's cult novel set in Northwest Indiana.
"Rudy"
The movie "Rudy" was not only filmed at Notre Dame in South Bend, but there are also scenes that were shot in Whiting.
The movie, starring Sean Astin, Jon Favreau and Ned Beatty, was released in 1993.
"Small Towns are Murder"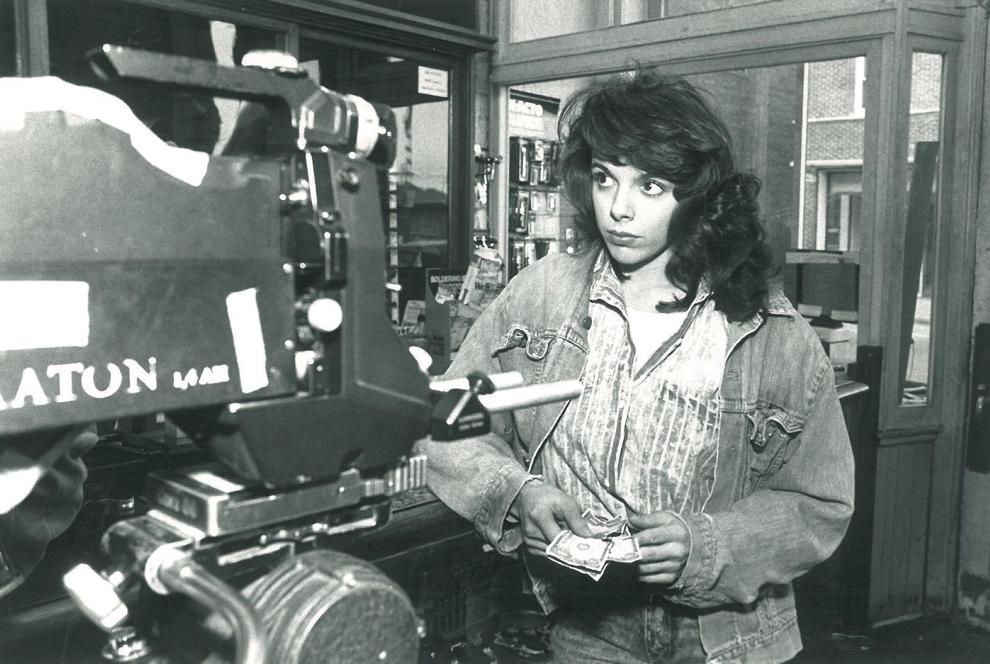 Actress Donna Burns readies for her close-up in "Small Towns Are Murder," filmed in Hammond's Mueller Hardware in November of 1987.
The film also stars Albert Julkes and Gerry Langedon.
"The Fugitive"
The 1993 runaway hit "The Fugitive" included scenes filmed around East Chicago's steel mills and in Whiting.
The movie, starring Harrison Ford, Tommy Lee Jones and Sela Ward, was released in 1993.
"The Package"
Production assistant Chris Albrecht quiets the crowd before filming starts on "The Package" in Dolton, Illinois, in December of 1988.
The movie, starring Gene Hackman, Tommy Lee Jones and Joanna Cassidy, was released in 1989.
"Transformers 3"
Adams Street in downtown Gary teems members of a film crew in 2010 during the shooting of "Transformers 3" at City Methodist Church in Gary. Scenes from the movie were filmed there.
The movie, starring Shia LaBeouf, Rosie Huntington-Whiteley and Tyrese Gibson, was released in 2011.
"When Jeff Tried to Save the World"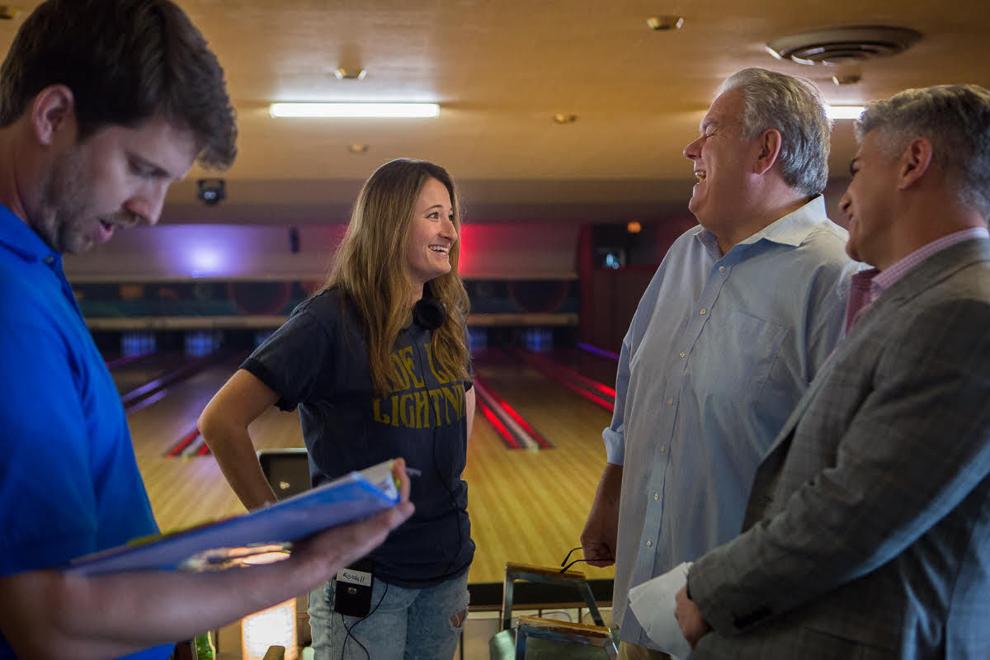 "Napoleon Dynamite" star Jon Heder, "Parks and Recreation"'s Jim O'Heir and other Hollywood types have taken over Lan-Oak Lanes in Lansing to film the indie movie "When Jeff Tried to Save the World."
The film crew scouted more than 40 bowling alleys in Los Angeles, but didn't find any with the right vintage look until former Munster resident and director Kendall Goldberg saw the 16-lane Lan-Oak Lanes, which still looks largely the way it did during the 1960s. The film crew has added an arcade and several neon signs, including a "Winky's World" one, for the filming.