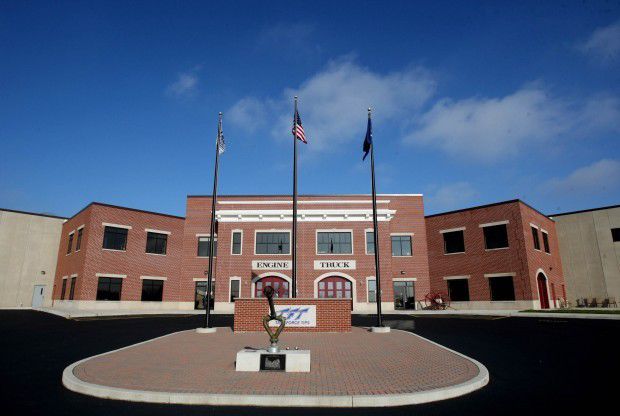 AMKUS Rescue Systems has begun manufacturing its rescue tools in Indiana, after being bought earlier this year by Task Force Tips and moving production from Downers Grove, Illinois, to Valparaiso.
The manufacturer of fire and rescue equipment relocated to a 50,000-square-foot facility at 4201 Montdale Park Drive in the Montdale Business Park in Valparaiso, where Task Force Tips invested $2.6 million in renovations. AMKUS will add 10 jobs at its new home, which is less than one mile from its 168,000-square-foot headquarters.
Task Force Tips is a homegrown Indiana company headquartered in Valparaiso and known worldwide for its top-quality firefighting equipment such as nozzles and valves.
"Indiana is a great place to do business and the state has been a strong partner for Task Force Tips as we have grown," said Martin Sonnenberg, president and chief operating officer of Task Force Tips. "Northwest Indiana specifically has a wealth of talented people that make us successful. We believe that AMKUS will benefit greatly from being located in Indiana going forward."
AMKUS will share Task Force Tip's research and development facilities but will maintain its own identity, marketing, field managers and distribution network. It's one of more than 20 Illinois companies that's moved from Illinois to Indiana since 2013.
In this case it's because of an acquisition by  Task Force Tips, which was founded in 1971 when a fire chief in Gary designed a new automatic fire nozzle. It is now a global leader in firefighting equipment manufacturing. The purchase of AMKUS lets the company, which employs 225 in Indiana, diversify into extrication tools for firefighters.
"Task Force Tips has been part of the Valparaiso community since the early 1970s and a leader in civic engagement and philanthropy," Valparaiso Mayor Jon Costas said. "Their success is a product of good management and a strong commitment to innovation. We are very happy that AMKUS and its employees will be joining Task Force Tips and calling Valparaiso home."
The Indiana Economic Development Corp. gave Task Force Tips $200,000 in tax breaks for the relocation. AMKUS has pledged to hire 10 workers in production, assembly and shipping.
Anyone who's interested in a job can look online at tft.com.