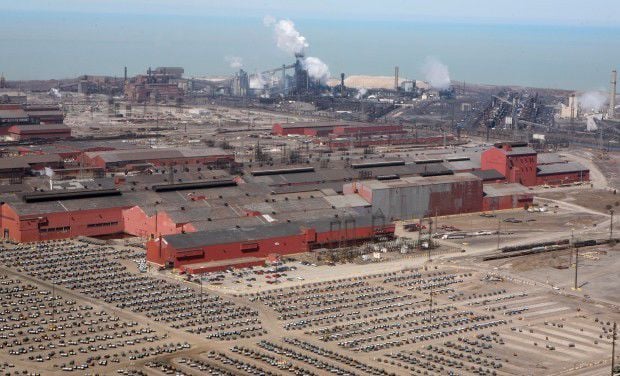 EAST CHICAGO — ArcelorMittal plans to idle a blast furnace at ArcelorMittal Indiana Harbor West in East Chicago, the second major blast furnace idling this year along Northwest Indiana's Lake Michigan shore as the domestic steel industry continues to struggle.
The Luxembourg-based multinational steel giant follows U.S. Steel, which idled Blast Furnace No. 8 at Gary Works as well as East Chicago Tin earlier this year.
Later this month, ArcelorMittal plans to idle Blast Furnace No. 3 at the former LTV steel mill in East Chicago's lakefront Indiana Harbor neighborhood rather than undergo the major expense of relining it — essentially a total rebuild that's required every few decades to keep a blast furnace operational over the long term. The steelmaker said it is a temporary idling.
"Blast Furnace  No. 3 at ArcelorMittal Indiana Harbor has reached the end of its current campaign and requires significant capital investment for continued operation," ArcelorMittal spokesman Bill Steers said. "The furnace will be taken down in a safe and orderly fashion and preserved to maintain our capacity for when customer demand merits the necessary capital investments for a new campaign."
Blast furnaces — which can burn hotter than lava — turn raw materials like limestone, iron ore and coke into pig iron, which in turn is made into steel at integrated mills like those on the south shore of Lake Michigan. Blast Furnace #3 had a capacity of 4,500 tons of pig iron per day, according to the trade publication Steel Market Update.
The idling leaves the sprawling  3,100-acre Indiana Harbor campus with just two remaining blast furnaces: Blast Furnace No. 7 at the former Inland Steel mill that's now known as ArcelorMittal Indiana Harbor East, and Blast Furnace No. 4 at the Indiana Harbor West mill that previously belonged to Youngstown Sheet and Tube, J&L, LTV Steel and ISG before being acquired by ArcelorMittal in the early 2000s.
ArcelorMittal operated four blast furnaces at Indiana Harbor as recently as 2013, but the U.S. steel industry has been roughed up by a number of factors, including cheap imports, stagnant demand and depressed prices.
"This will not impact ArcelorMittal USA's ability to meet current customer demand," Steers said. "The 35 employees currently employed at Blast Furnace No. 3 operations will be reassigned to other operations at Indiana Harbor, and no layoffs are expected as a result of this action."
Blast Furnace No. 3 has suffered issues in recent years, and had to be shut down for weeks last year after a large bell dropped into the furnace during a charge. It was down for months in 2015 for planned maintenance.