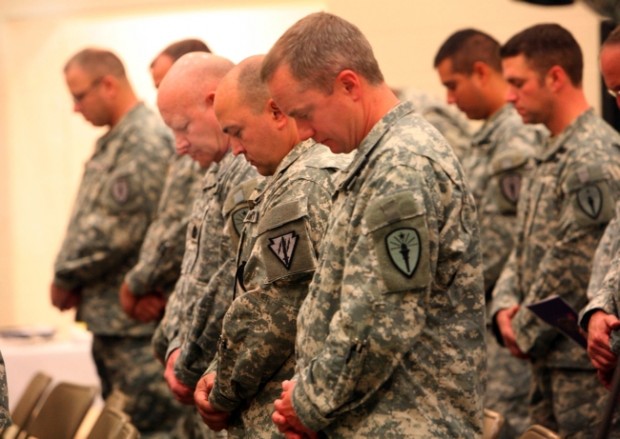 GARY | The Indiana National Guard closed the deal on a $28 million project more than a decade in the making at Gary/Chicago International Airport on Monday.
Major General R. Martin Umbarger, Indiana's Adjutant General, officially opened a new 44,000-square-foot, state-of-the art armory on the airport's south side that will help handle the rapid growth in the guard's Northwest Indiana presence over the past decade.
"We have always had tremendously successful recruiting here, because young men and women in Northwest Indiana have a great desire to serve our country," Umbarger told about 80 soldiers and local officials in the armory's main assembly area.
The $11.5 million armory, along with a $16.5 million Guard flight-readiness center opened last year, give a boost to the Gary airport and the local economy, said U.S. Rep. Pete Visclosky, D-Merrillville.
"We appreciate our ability in our small way, here in the city of Gary, to see that our soldiers are the best-trained possible," Visclosky said from the podium.
The armory and flight center will provide 30 full-time military and civilian jobs and also serve as a drilling and training site for 226 citizen-soldiers. The facility will be one of the few in Indiana to house multiple units with missions as diverse as aviation and infantry.
The Guard has steadily increased the number of soldiers and units based in Northwest Indiana in the past decade, increasing its troop strength here to more than 500, Umbarger said. Other guard armories in Hammond and Gary will remain in operation.
The new armory at the airport will have 250 square feet for the sole use of its Family Readiness Group, or what is known in Guard parlance as a "stay behind organization," Umbarger said.
The group, made up of soldiers and citizen volunteers, looks after the families left behind when soldiers deploy overseas. Its staff can answer questions on pay, insurance, contacting the soldier, or whatever the family's needs might be, Umbarger said.
"They don't wear the uniform but they also serve," Umbarger said.
The Indiana National Guard currently has 2,400 of its 15,000 soldiers deployed in Iraq and Afghanistan.
The Guard flight-readiness center at the airport opened immediately west of the armory exactly one year ago. It houses three UH-60 Blackhawk helicopters and 2 OH-58 Kiowa helicopters. They can be used locally for medivac operations in case of natural disaster. The guard also works with state police on drug interdiction operations.
Five Indiana National Guard units will train at the new armory at Gary/Chicago International Airport.
* 938th Military Police Detachment, 81st Troop Command: 45 soldiers providing command and control and administration for military police law and order teams.
* Company C Detachment, 2/238th General Support Aviation Battalion: Operate air ambulances and provide evacuation with three UH-60 Blackhawk helicopters.
* Company D Detachment, 2/238th General Support Aviation Battalion: Provides aviation maintenance and logistical support.
* Detachment 1, Company B, 1/112th Security and Support Battalion: 30 soldiers perform search and rescue, command and control, and reconnaissance missions in support of Homeland Defense and law enforcement with two OH-58 Kiowa helicopters.
* Company A, 2/151st Infantry: 131 soldiers perform combat missions.
The business news you need
With a weekly newsletter looking back at local history.