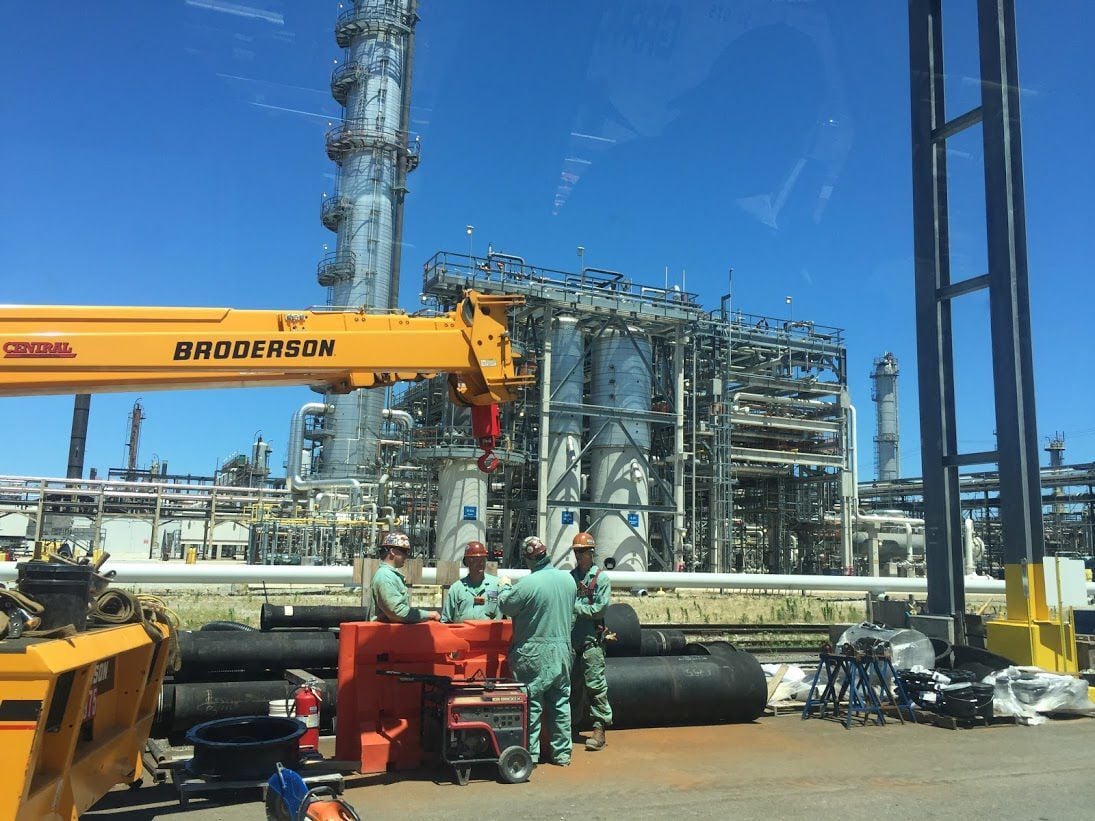 Energy use fell by 4.5% worldwide last year, the biggest drop since 1945, in what BP characterized as "one of the most tumultuous years for global energy in modern history."
BP, which operates the BP Whiting Refinery along the Lake Michigan shore in Whiting, recently released its "Statistical Review of World Energy 2021" report, which found energy and carbon emissions dropped at the highest rate in the post-World War II period, while solar power recorded its highest ever increase.
"Total energy demand fell by 4.5%. That's just huge," BP Chief Economist Spencer Dale said. "Likewise, carbon emissions from energy use fell by 6.3% — again, the largest fall we've seen for 75 years. And that took the level of carbon emissions back to levels not seen since 2011. So a very dramatic year."
Oil consumption fell by 9.1 million barrels per day or 9.3% to the lowest level since 2011, BP reported. It fell most sharply in the United States, by 2.3 million barrels per day.
Global oil production declined by 6.6 million barrels per day, with refinery utilization falling a record 8 percentage points to 74.1%. That's the lowest level since 1985.
"We stopped flying," Dale said. "Many of us stopped driving our cars. That had a huge impact on transport-related oil demand. So you saw this huge concentrated shock on oil demand with oil demand falling by more than ever seen in history."
Oil prices averaged $41.81 per barrel, the lowest since 2004.
"Initially we saw a huge surplus in oil," he said. "More oil was being produced than being consumed."
The growing inventories pushed prices down, he said. "Some oil prices in the United States even went negative, so it was a really dramatic impact in terms of the sort of stress we saw on oil markets last year."
Natural gas prices also declined to the lowest level since 1995 in the United States. Natural gas consumption fell 2.3% worldwide to 81 billion cubic meters, felling 17 billion cubic meters in the United States. The U.S. saw the world's third-largest drop after Russia and China.
Coal consumption fell by 4.2% worldwide, declining by 2.1 exajoules in the United States, according to BP's report. Global coal consumption fell by 6.2 exajoules to the lowest level since 1965.
As demand weakened, coal production dropped by 8.3 exajoules, a decline of 5.2%.
Renewable energy continued to gain market share, growing by 9.7% worldwide. Solar electricity generation shot up by 20% or a record 1.3 exajoules as solar capacity expanded by 127 gigawatts.
Wind capacity grew by 111 gigawatts, growing by 1.5 exajoules. Hydroelectricity grew by 1% while nuclear energy dropped by 4.1%, including by 0.2 exajoules in the United States.
Overall electricity generation fell by 0.9% worldwide last year. 2009, during the Great Recession, was the only other year electricity demand fell since BP started tracking it in 1985.
"Those lockdowns affected people, the ability to move and travel. That's then fed through to energy demand and carbon emissions," Dale said. "So I think the likelihood is, as the virus is brought under control, lockdowns are eased, much of those falls in carbon emissions will be reversed. The challenge we now face is to bring about similarly sized falls in carbon emissions that we saw last year but we need to do that on a sustained basis so they don't reverse."