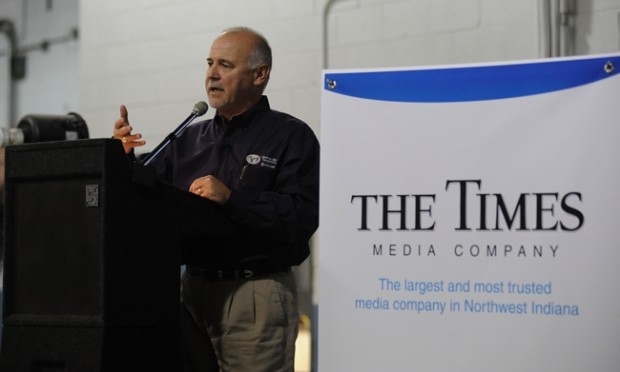 MUNSTER | The newspaper business is not dead and regional cooperation is the key to regional advancement, according to Times Publisher Bill Masterson Jr.
Masterson told members of the Lakeshore Chamber of Commerce on Tuesday although information is being delivered in different platforms, newspapers will be around "as long as we're relevant in the lives of the people that read us."
"Newspapers are doing fine," Masterson said. "Are we struggling right now? Yes. We're struggling like others because of the economy, not because people aren't interested in reading newspapers."
At least 70 people attended the chamber meeting held at The Times with some members touring the Munster office and production center. The chamber represents businesses from Hammond and East Chicago.
Masterson touted The Times' effort to increase video offerings through nwitimes.tv and the company's plans to put a studio in the newsroom -- known now as a media center -- to offer breaking news video to readers. He showed the Northwest Indiana video weather forecast now available at nwi.com.
He also showed advertising partnerships with local businesses featuring coupons on the company's nwi.com site. He said such advertising coupled with Yahoo allows advertisers to better market products to online readers and expand revenue for the company.
Masterson also discussed The Times sponsored "One Region: One Vision" initiative, saying it was created to help bring leaders from around Northwest Indiana together to identify and discuss regional issues and work for the common good of area residents. Masterson said Lake and Porter county mayors have begun to regularly meet to discuss regional issues and a Northwest Indiana Healthcare Advisory Council is pursuing several projects.
He also said he is hopeful Gary will receive sufficient money from the U.S. Housing and Urban Development Department to demolish abandoned buildings in the city. Cleaning up such properties is important because these buildings can hinder economic development, he said.
Masterson became publisher of The Times in November 2006 and has worked with The Times' parent Lee Enterprises since 2000.
The business news you need
With a weekly newsletter looking back at local history.