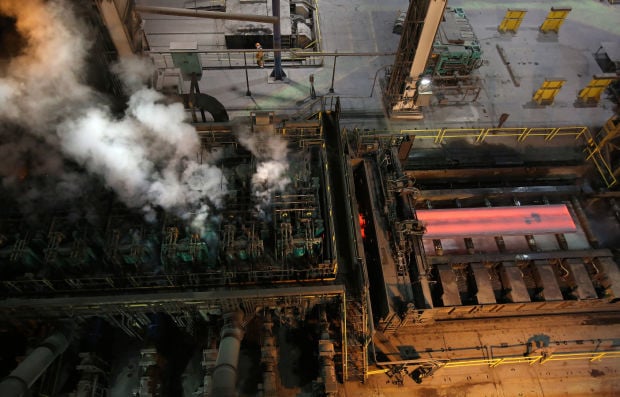 U.S. Steel warned investors it will lose more than expected in the third quarter as a result of a dramatic drop in revenue amid sluggish steel prices, restructuring costs and ongoing recovery from the December fire at its Clairton coke-making facility in Pennsylvania.
Wall Street analysts projected that U.S. Steel would lose 6 cents per share in the third quarter. U.S. Steel issued revised guidance saying it expects to lose 35 cents per share, after pulling in only $115 million in EBITDA, or earnings before interest, taxes, depreciation and amortization, a steep drop of nearly 80% year over year.
The Pittsburgh-based company, one of the largest employers in Northwest Indiana, pointed to weak steel prices that peaked last summer after Section 232 tariffs of 25% were imposed. Prices have been largely declining ever since.
"The positive flat-rolled steel market indicators experienced earlier this summer have softened after a brief recovery in steel selling prices," U.S. Steel said in a news release. "The impact of falling steel prices through the second quarter, combined with the impact of a larger than expected drop in scrap prices on market sentiment, is expected to negatively impact flat-rolled earnings in the second half of the year."
U.S. Steel has idled a blast furnace near Detroit and the No. 8 blast furnace at Gary Works, which it now says likely will remain down for the rest of 2019.
"Our current assessment of the flat-rolled segment suggests two blast furnaces will remain idled through at least the end of the year," the company said in its news release. "Based on the continued idling of our two U.S. blast furnaces and current demand forecasts, we now expect full-year flat-rolled shipments to third-party customers to be approximately 10.7 million tons. We will continue to evaluate our footprint to best match our production with our order book."
The steelmaker has eliminated 1,800 jobs through layoffs and attrition in Europe and expects to have reduced its headcount there by 2,500 by the end of 2021.
"In Europe, market conditions have continued to deteriorate, as the dislocation between steel selling prices and raw material costs continues to result in significant margin compression," U.S. Steel said in the news release. "Based on current market conditions and the continued high level of steel imports into Europe, we do not expect to restart the currently idled blast furnace this year. As a result, we reiterate our full-year shipment guidance of approximately 3.6 million tons."
Once a bright spot as U.S. oil and natural gas production ramped up, U.S. Steel's tubular business also continues to struggle.
"We expect our tubular segment to remain under pressure for the remainder of the year as market conditions have turned negative and import levels remain high," U.S. Steel said in the news release. "Weaker demand for oil country tubular goods product, which has reduced our full-year shipment expectation to approximately 0.7 million tons, and lower selling prices for seamless and welded pipe, are expected to have a significantly negative impact on earnings in the second half of the year."
After the lowered guidance, the independent investment research firm CFRA Research downgraded U.S. Steel stocks from hold to share. U.S. Steel stock sold at $11.06 a share when the markets closed Thursday, down from a high of $24.12 a share in February.
"Steel fundamentals continue to deteriorate, given the dislocation between falling steel prices and rising raw material costs," analyst Matthew Miller wrote in the note. "U.S. Steel guided for a third-quarter adjusted EBITDA of just $115 million, or 78% below last year. We think U.S. Steel will need to revisit its capital allocation strategy, given weak fundamentals."
The steelmaker has been making major investments to upgrade its mills, including planning to pour $750 million in Gary Works over the next few years.
The business news you need
With a weekly newsletter looking back at local history.