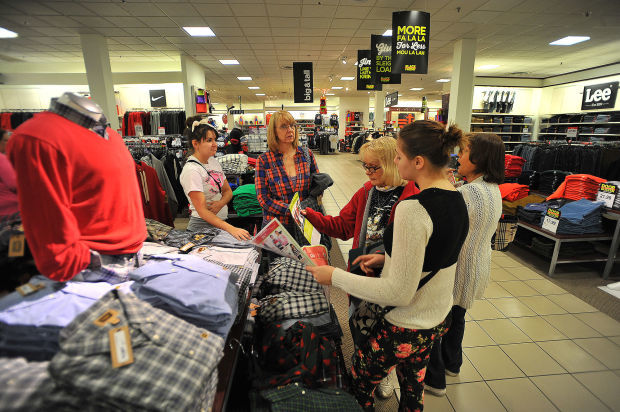 Black Friday remains crucial for Region retailers, even though many stores now open on Thanksgiving, hoping to pry savings-minded shoppers away from family, football and turkey in the warmth of their homes.
Best Buy, Bass Pro Shops, Big Lots, Cabela's, Dick's Sporting Goods, Dollar General, Family Dollar, Game Stop, JC Penney, Kmart, Kohl's, Macy's, Old Navy, Sears, Target and Walmart all plan to open on the Thanksgiving holiday this year.
At Home, Barnes & Noble, Bed Bath & Beyond, Costco, Guitar Center, The Home Depot, Hobby Lobby, Lowe's, Office Depot, Staples and T.J. Maxx will wait until Black Friday, which had been the traditional start to the holiday shopping season until a few years ago.
Beyond the doorbuster deals that have caused shoppers to camp out in parking lots in past years, the Southlake Mall in Hobart hopes to lure Black Friday shoppers with a free performance by The Spaniels Forever from 12:30  to 1:30 p.m. at the Center Court near the Mrs. Fields store.
The iconic R&B group from Gary is known for hits like "Goodnight Sweetheart Goodnight" and "Baby It's You," and will regale shoppers with Christmas Carols.
Big day for small business
Black Friday is the 5th best revenue day of the year for independent retailers in Indiana, which see an 80 percent increase over normal, according to a study by Womply, a small business software-as-service firm.
Its "State of Local Retail Report" found Indiana consumers prefer to get holiday shopping done early, and that average daily revenue for independently owned stores falls 25.9 percent during the holiday season after the initial Black Friday spike, possibly because shoppers gravitate to chains, malls, and big-box stores.
Independent businesses pull in an average of $2,889 in revenue on Black Friday in Indiana, with an average purchase price of $122, the study found. That falls to $1,539 on Small Business Saturday and $1,216 on Cyber Monday.
BlackFriday.com found 22 percent of shoppers will seek out tech deals this year, and that Google searches showed the most coveted item in Indiana this year is the Nintendo Switch.
An outdoor alternative
For those looking to escape the frenzied crowds angling for this season's must-have gifts, the Indiana Dunes National Lakeshore is offering an "Opt Outside Hike" from 1 p.m. to 3:30 p.m. in West Beach and from 9 a.m. to 11 p.m. through the Miller Woods.